John Muir wasn't wrong when he said we should "…break clear away, once in a while, and climb a mountain or spend a week in the woods. Wash your spirit clean." But in an age of comfortable beds, indoor plumbing, and world-class chefs, sleeping on the rocky, cold ground and digging latrines can add some dirt to your already-smog coated spirit.
Collective Retreats, however, offers the best amenities of hotels while still immersing you in the great outdoors, leading to a resplendently clean spirit.
You may technically be sleeping in a tent, but at Collective Retreats it's the Ritz Carlton of tents. They offer spacious canvas tents, complete with hardwood floors, a king size bed with Egyptian cotton sheets, carefully curated books and maps that pertain to your location, even an antler chandelier over the bed (because it's also got electricity). They also tack on an en suite bathroom that hosts a shower with hot water, sink, mirror, and plush Turkish towels.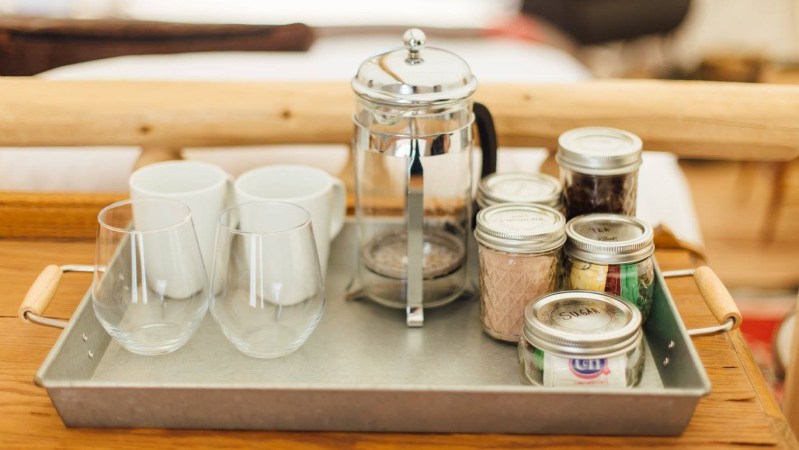 Don't worry about packing hotdogs and granola bars. Breakfast is always included, offering anything from pancakes to heart-healthy yogurt. Throughout the day, your tent is stocked with local coffee, bottled water, and snacks. At night, you're invited to sit around the crackling campfire and make s'mores. They also have lunches you can buy, but dinner is where it gets really exciting. You could buy the boxed BBQ dinner, or, reserve the farm to table three-course meal. The chef uses local, seasonal ingredients and you dine by the light of billions of stars.
The concierge is there to help you as much or as little as you want when figuring out your activities. You could hike, fly fish, horseback ride, canoe, paddleboard, swim, relax, hell, take a cooking class with one of their chefs or get a massage in your tent. The team at Collective Retreats is so obsessive about their locations, they personally scout it out, finding the best trails, hidden spots, the choice places to look for wildlife– it's way more impressive than just knowing where the city's best sushi spot is.
Each location has a camp of tents but they're spaced at least 100 feet apart, so you don't feel crowded. While there is a communal aspect to the nightly s'mores, there's no pressure to engage with other people if you don't want to. Or, rent the whole place– they're fully capable of hosting weddings, company retreats, family reunions, etc. Kids and pets are most welcome (except no pets at the Vail location since it is a working ranch).
So, where can you do all this luxurious spirit cleansing? Moonlight Basin in Big Sky, Montana, just on the edge of Yellowstone (you also get access to the Moonlight Basin club for pool, spa, and golfing). In Vail, you'll be staying on a 1,000 acre working ranch (where there's also a winery). Sonoma is a new location opening in the fall of 2017 that's deep in the heart of wine country, providing you with easy biking to some of the nation's best vineyards. The Vail retreat is open from May to October and Yellowstone is June through the first bits of October. You'll definitely want to book early– at least three months ahead of time: more if it's a holiday or you have a big group.
Collective Retreats are designed with nature in mind, allowing you to unplug and recharge in the wild. They just allow you to also get a luxury-hotel-worthy night's sleep.