Encounters between humans and wild animals like bears, sharks, and mountain lions are rare. Full-blown attacks are even rarer. Still, large swaths of the United States and Canada are home to grizzly and black bears. Adventurous outdoorsmen know that it pays to be safe while hiking, camping, and exploring the backcountry. The best defense for surviving a bear attack is having and knowing how to use a reliable bear spray.
Bear sprays might seem like little more than industrial strength pepper spray. From a chemical standpoint, that's mostly true. They're essentially heavy-duty versions of standard police pepper spray with massive doses of capsaicin (the active ingredient in hot peppers). But, there are a few important points to consider when shopping for a portable bear defense system. These include:
Time to Deploy: Basically, the time it takes to unholster the can and start spraying. Every second counts in a bear attack, so you want a bear spray canister that deploys fast.
Effective Range: Bears can easily outrun humans. A full-grown adult male can charge up to 44 feet per second. You need a bear spray with the longest effective range — experts suggest a range of at least 25 feet, but 30-35 is better.
Spray Time: Bear spray cans are designed to empty very quickly. Look for a can with around 6-9 seconds of spray time. Anything less won't prove nearly as effective.
We researched the best bear sprays on the market, including some of the best bear deterrents. Here are the best bear sprays for keeping safe in the wild in 2021.
Counter Assault Bear Spray and Training Can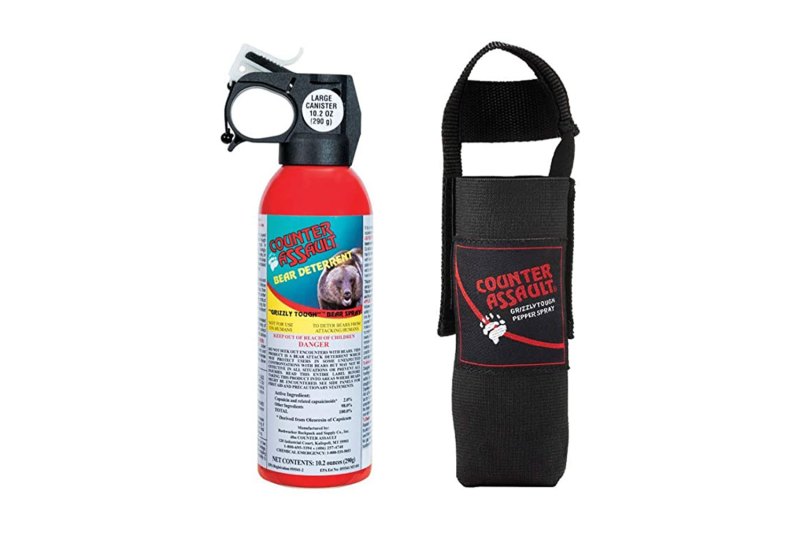 This combo pack from Counter Assaults is still our go-to bear spray in the backcountry. It ticks all the boxes mentioned above. The 8.1-ounce can boasts a maximum strength of 2% capsaicin and related capsaicinoids. Pulling the trigger can release a seven-second blast up to 32 feet. It works on eight bear species, including brown bears, black bears, and even polar bears. The included holster makes it easy to strap to your belt, hip, or shoulder strap, so it's always within easy reach. Plus, it features an inert training can that's identical in every way to the main can (save for the capsaicin), so you can practice deploying it long before hitting the trail.
Mace Brand Maximum Strength Bear Spray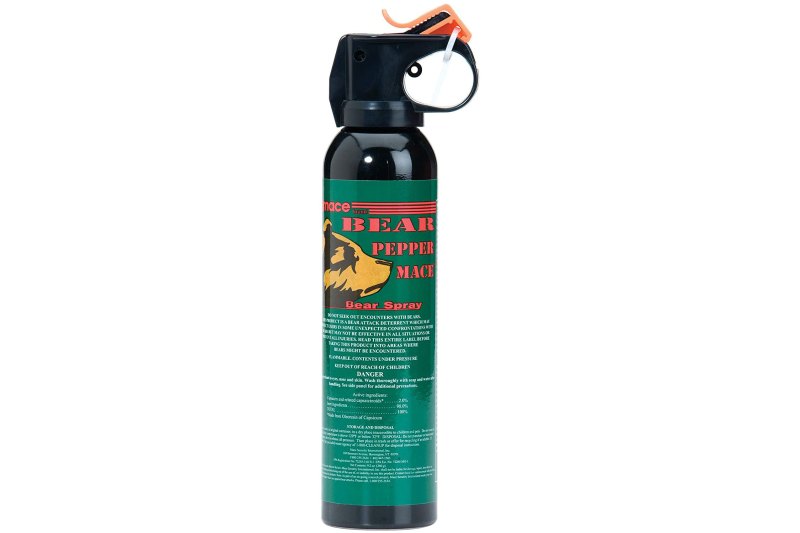 Mace is arguably the most recognized brand in the world for self-defense sprays. The company's Maximum Strength Bear Spray is likewise one of the best on the market. The six-second spray time is at the lower end of the range recommended by experts. But, it mostly makes up for it with a 35-foot effective range, which is especially helpful in windy conditions. This bear spray is a special formulation of oleoresin capsicum bear-safe formula.
Udap Bear Spray with Griz Guard Holster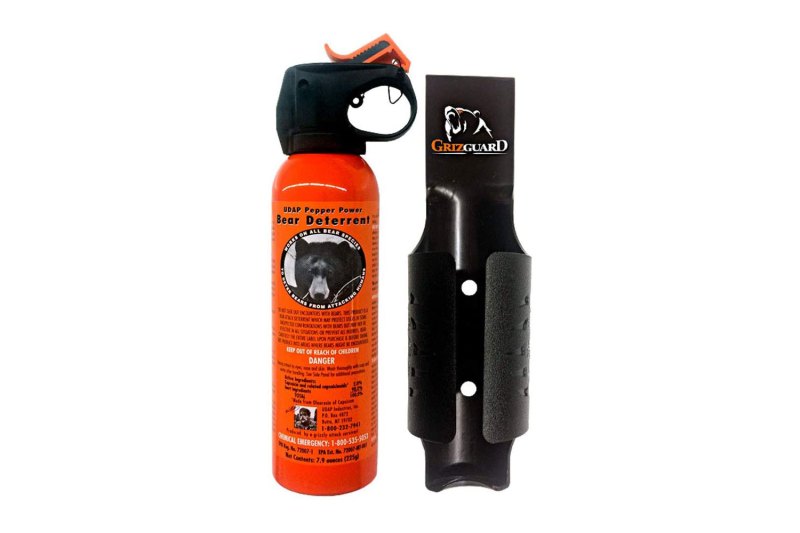 Udap makes the only bear spray we're aware of developed by a legit bear attack survivor. The powerful fogger spray pattern boasts an effective range of up to 30 feet. An oil-based solution ensures a longer-lasting airborne disbursement. Like others on this list, it's formulated with 2% capsaicinoids — the highest concentration allowed by law. This pack also includes the brand's exclusive Griz Guard Holster, so there's no need to wear a belt. Just clip it directly to your backpack, waistband, or bike.
Sabre Frontiersman Bear Spray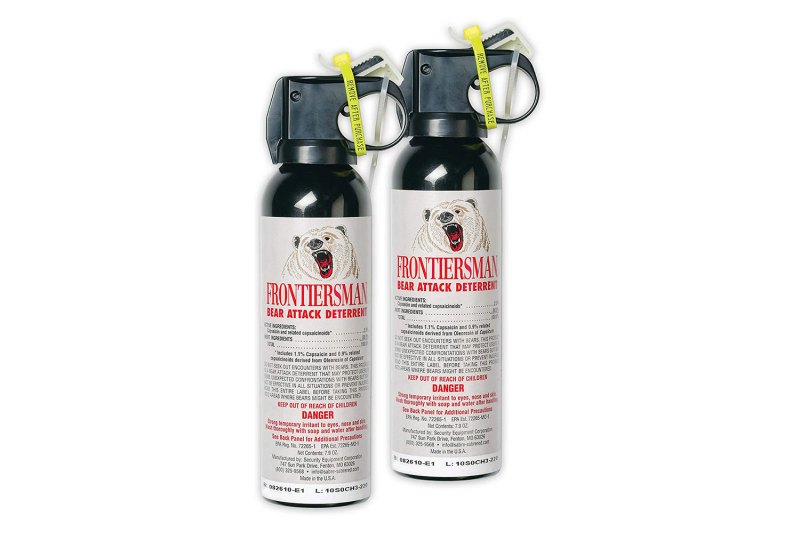 Sabre's history of developing defense sprays dates back nearly 50 years. Frontiersman Bear Spray alone has been around for more than two decades, so it's field-tested. The 9.2-ounce can deploys in under two seconds, blasting a shotgun-style fogger cloud at more than 35 feet. It's lab-tested and guaranteed for maximum strength with a 50% stronger concentration than police-strength pepper spray. Sabre also offers various carry options for those who want to strap it to their hip or chest.
What is The Best Bear Deterrent?
The best bear deterrent is to be proactive in the backcountry to avoid encounters in the first place. Sing, talk, or make noise while hiking to ensure you don't startle bears along the trail. Hang a bear bag near your campsite to keep food and any scented supplies (including toothpaste, deodorant, and the like) off the ground and out of reach. Lastly, make sure you actually know how to use the bear spray you buy before heading out. You don't want a real-life bear attack to be your "practice" run.
Editors' Recommendations