You'll never forget your first grappa experience (whether you want to or not). This journalist's was after dinner at her uncle's house in Isola del Liri, a small town located an hour southeast of Rome. The grappa in question was the homemade stuff brought to their house by a neighbor, and damn was it harsh. If you've ever heard someone compare grappa to lighter fluid or rocket fuel, this is the kind of stuff they were talking about. But just as with any other spirit, there are excellent, smooth grappas, and there are harsh, tear-inducing grappas. The key is to get to know the spirit and taste a variety of different bottlings to find out what types you like the most.
What is Grappa?
Grappa — which by EU law must be produced in Italy, in the Italian part of Switzerland, or in San Marino, the lovely microstate within Italy — is a pomace brandy, or a spirit that's distilled from the leftovers of winemaking. These scraps are the skins, pulp, seeds, and stems that are often discarded after all the juice is pressed out of the grapes. But just like using the whole animal is important to Italian cuisine, squandering these byproducts is considered prodigal in Italian society. "Grappas express a concept dear to the Italians: the culture of sustainability and no waste, the culture to drink together, a celebration of local product, and finally, the patience for maturation," says Pietro Caldarelli, the sommelier and beverage director at Feroce Ristorante in Manhattan.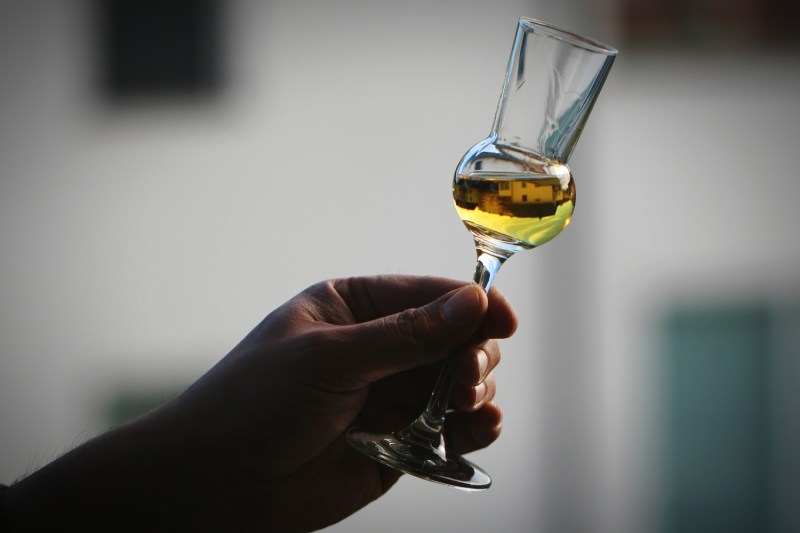 As a certified sommelier, Caldarelli began working in Italian restaurants around New York City, including the lauded Roman import Antica Pesa. But throughout his experience, no matter how authentic the restaurant, Caldarelli realized that no place featured an extensive grappa menu that reflected the diversity and beauty of the spirit. Which is why he decided to stock Feroce's grappa cart with more than 30 expressions, including a few truly special reserve bottles. As grappa fans, we're used to only finding one or two bottlings in a restaurant, if we're lucky to find any at all. So we were stunned when presented with the sheer variety of grappa types when we recently dined at Feroce.
What Grapes are Grappas Made From?
Just like wine, grappa can be made from one type of grape or a blend of different grapes. A single grape grappa is called a "monovitigno" or "di vitigno" and must be comprised of at least 85% of one grape varietal. "Some monovarietal grappas are more expensive than blend grappas, but they express a totally different structural aromatic compound," Caldarelli says. "Monovarietal grappas made of ribolla, like the Tosolini Van Gogh, are some of the rarest and most expensive grappas around. Grappas made from 100% Chardonnay, like the Nonino movarietale, express notes of tropical fruits and have a delicate finish."
Can Grappa Be Aged?
Like spirits, grappa can also be aged. "Grappa, by law, has different levels of aging: Bianca, Vecchia, and Stravecchia or Riserva," Caldarelli says. "The more time the grappa spends aging, the more expensive it will be."
We recently attended a grappa seminar at Bar Convent Brooklyn, led by the Wine & Spirit Education Trust, and they thoroughly explained what each of these aging terms means:
Bianca or Giovane:Giovane literally translates to "young" and denotes a grappa that is unaged.
Affinata (in Lengo): "Refined (in wood)." This is a term sometimes used to describe grappa that's been aged for less than one year in wood.
Vecchia or Invecchiata: "Old or aged." This is a legal designation denoting grappa that's been matured in wood for at least 12 months.
Stravecchia or Riserva: "Very old or reserve." This is a legal designation denoting grappa that's been matured in wood for at least 18 months.
Grappa doesn't need to be aged in a particular type of barrel, so the variety of wood and seasoned casks used to rest the spirit gives each expression its unique flavor profile. "The choice of the oak is very important for the final flavor of the grappa," Caldarelli says. "La Trentina ages its top grappa in port wine casks, giving a robust flavor to the grappa. Sassicaia is aged in the same oak barrel of the Sassicaia wine. Ornellaia ages its grappa in used French barrique. Aged grappa is very much like a luxury product—it is delicious, elegant, and made for thinking. You should sip it with dark chocolate and dried figs."
If you're new to grappa, these aged bottlings could be a solid place to start because they are mellowed in wood. But if you're still unsure about the spirit and don't want to spend a lot, Caldarelli has some suggestions for folks who want to try it for the first time. "Something like the Alexander Bianca or the Produttori del Barbaresco Bianca would be great starter grappas," he says. "If somebody wants to try something a little more particular, I would recommend the Poli Camomilla—that softens a little bit of the power from the distillate."
No matter which grappa you choose, we suggest sipping it after dinner (hopefully a big Italian meal) as it is one of the best digestifs out there. If you're into amari and have extensively explored the category, then consider grappa to be your next boozy assignment.
Editors' Recommendations