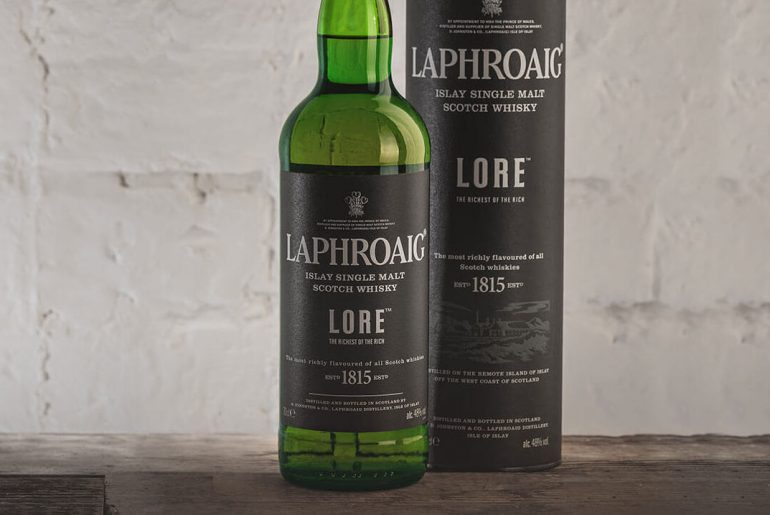 Fall is the perfect time to enjoy a nice dram of scotch (spring and summer are great, too, and winter is perfect, but we're not there yet). This fall, Laphroaig (la-froyg for the uninitiated) is offering up two expressions that'll warm you just enough to stave off the dipping temperatures.
First up is Laphroaig Lore, the distillery's 2016 age statement-less release. Lore is composed of whiskies that have been aged in sherry casks, quarter casks, and reused peated casks, all of which are between 7 and 21 years old (in addition to three other ages in between, as Distillery Manager John Campbell has said on Twitter). Lore was created by Campbell to honor the generational knowledge that is passed between everyone who has or will work at Laphroaig. Campbell calls Lore the "richest" Laphroaig ever made.
When sipping Lore (48% ABV), you'll get the signature Islay smoke on the nose mixing with salinity and minerality, leading into notes of bitter, bitter chocolate and a little bit of ash. On the palate, you'll again taste the peat, this time mixing with fairly bold spice notes. The finish is short but sweet.
The second expressions is Cairdeas Madeira, which is made by Campbell to celebrate friendship (cairdeas is Gaelic for friendship) and honor the Friends of Laphroaig community. Cairdeas is aged in ex-bourbon barrels and finished in Madeira hogsheads.
This year's expression of Cairdeas (51.6% ABV) is going to give you orange and licorice notes backed by smoky peat that you would expect from an Islay Scotch whisky on the nose, followed by more peat and minerality on the palate. You're likely to taste the land and sea, which is followed up with a dry, somewhat spicy finish.
If these sound like bottles you want to pull up next to the fire with you, Lore retails for $124.99 and Cairdeas retails for $74.99.
Editors' Recommendations