If you're reading this, then you are as excited as we are for the return of Twin Peaks. Maybe you were in college when Agent Dale Cooper first drove into that tiny little Pacific Northwest town (population: 51,201) to investigate the death of Laura Palmer. Maybe you were only a kid and discovered the show later on. Whatever way you found out about David Lynch's surreal TV series, it doesn't matter. What matters is it's back. And because it's back, we wanted to mix up some damn fine cocktails to celebrate.
With a show as weird as Twin Peaks was and is sure to be again, we asked spirits professionals from across the country to create wonderful and strange cocktails that would complement that weirdness. What they came up with, we think, is just as good (if not better) than any slice of pie the Double R ever served.
Forest From the Trees
(Created by Max Messier, Cocktail & Sons)
Method: Add all ingredients (sans Cava) to cocktail shaker. Top with ice and shake hard and fast for 5-10 seconds. Add .5 oz cava or Prosecco to chilled coupe glass. Double-strain into chilled coupe and garnish with a single mint leaf, smacked.
The Black Lodge
(Created by Zack Berger, Analogue, NYC)
Method: Stir liquid ingredients with ice in a mixing glass. Strain into a coupe glass and garnish with dehydrated lemon wheel.
The Log Lady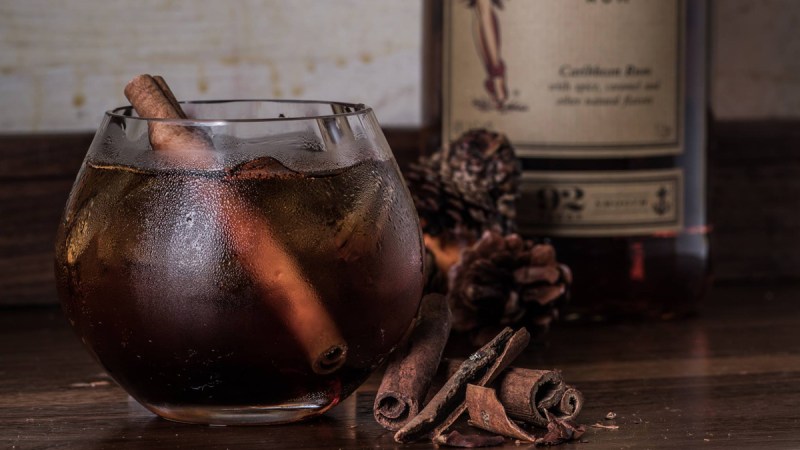 drinks.jpg?fit=800%2C800&p=1" alt="log-lady-drinks" width="800" height="449" />
(Created by Riley Hagey, San Diego)
2 parts Sailor Jerry Spiced Rum
.5 part Green Chartreuse
.5 part Averna
.25 part Diplomatico Reserva
.5 part cane syrup
Method: Combine all in shaker, pour over fresh ice in a rocks glass. Garnish with lemon peel and a cinnamon stick.
Damn Good Coffee
(Created by Ashley Marsh, Sailor Jerry Brand Ambassador)
Method: Pour all but milk in heat safe mug, stir and top with frothed milk, cinnamon and bacon. Serve warm.
Red Room Punch
(Created by Sam Slaughter)
4 c rum
2 c cognac
.5 c cherry brandy
4 c hibiscus tea
1 c white sugar
.5 c lemon juice
.5 c lime juice
4 limes, peeled, peels reserved
Method: The morning before making the punch, take a Bundt cake pan, fill with water, and freeze. Add sugar and lime peels to a large bowl and mash together to release the citrus oils into the sugar. Allow mixture to infuse for at least between thirty and forty-five minutes. Dissolve sugar mixture with tea. Add rum, cognac, lemon juice, lime juice, and cherry brandy. Mix. Add ice block to mixture. Garnish with lime wheels.