Unless you're loaded (or living in a city with a low cost of living), city life almost always means sacrificing space for proximity to, well, the city. Cramped apartments are the norm. What space you do have is usually covered with your stuff. Your kitchen probably isn't just your kitchen, but your clothes-drying rack, the place for the dog's food and water, and seven other uses depending on the day.
This is an issue in general (how will you ever be able to store all of the Scotch whisky you actually want to own?), but it really becomes a problem when you need to entertain. Sure, you may just opt to order out most of the time, but there's something about a homemade meal that can really seal the deal on a date. Why wouldn't you want to show off your culinary skills if you can? The fact that your kitchen is the size of a closet shouldn't stop you.
That's where this new book, Tiny House Cooking: 175-plus Recipes Designed to Create Big Flavor in a Small Space, comes in handy. In it, you find recipes that are perfectly portioned for two people, meaning you don't have to worry about running out of room, storing ingredients before you cook, or trying to fit your leftovers in behind the milk that's about to spoil and that thing of Greek yogurt you bought to be healthy but forgot about. Sure, you could make the argument that the book is directed at those living in actual tiny homes, but the same rules apply to tiny apartments as well.
Below, we've picked out four recipes that will show you how to make an entire meal from beginning to end for you and your date. Each is so packed with flavor that you'll forget that from Monday to Wednesday your counter is usually just the mailbox and key holder.
With only a little bit of space, you can make prosciutto and avocado with hazelnut vinaigrette; endive, walnut, and blue cheese salad; seared skirt steak with cilantro and lime; and pears poached in white wine and vanilla.
Don't forget the wine and the right outfit!
Prosciutto and Avocado with Hazelnut Vinaigrette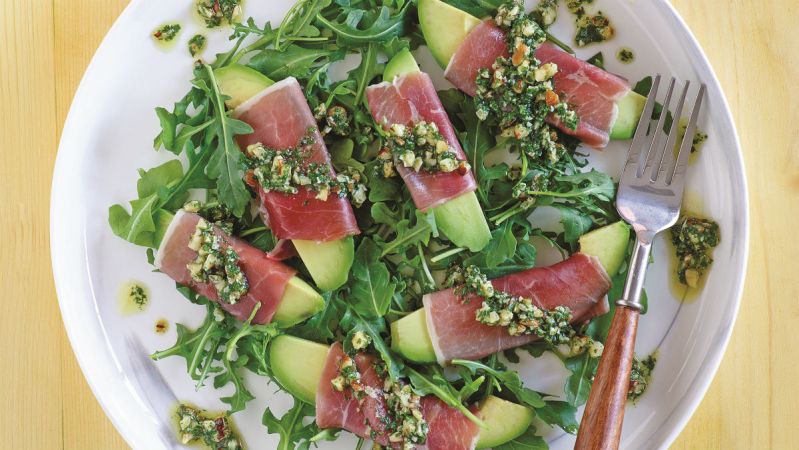 Ingredients:
1 medium ripe Hass avocado
1/3 pound prosciutto, thinly sliced
1 cup loosely packed arugula leaves
2 tbsp toasted and crushed hazelnuts
1 tbsp extra-virgin olive oil
1 tbsp hazelnut or walnut oil
2 tbsp red wine vinegar
2 tbsp chopped fresh parsley
1/2 tsp freshly ground black pepper, divided
1/4 tsp salt
Method:
Cut the avocado in half lengthwise and remove the pit with a knife. Peel the skin gently away and cut out any bruised portions.
Cut the avocado lengthwise into .5-inch slices and season them with .25 tsp pepper. Loosely wrap each avocado slice in a slice of prosciutto.
Make the dressing in a small bowl by mixing together the hazelnuts, oils, vinegar, parsley, and salt and remaining pepper.
Arrange the arugula leaves on two plates as a bed. Arrange the prosciutto-wrapped avocado across the plates and spoon the dressing over each piece of avocado.
Differences in Avocados
There are usually two kinds of avocados offered in the United States: bacon and Hass. The bacon avocados are much larger, are light green in color, and have a smooth skin. They also have less fat and more water. The Hass avocados are smaller and darker in color, have a pebbly skin sometimes with a purplish hue, and have a much richer, less watery flesh. They originated in California, first grown (and named) by Rudolph Hass.
Endive, Walnut, and Blue Cheese Salad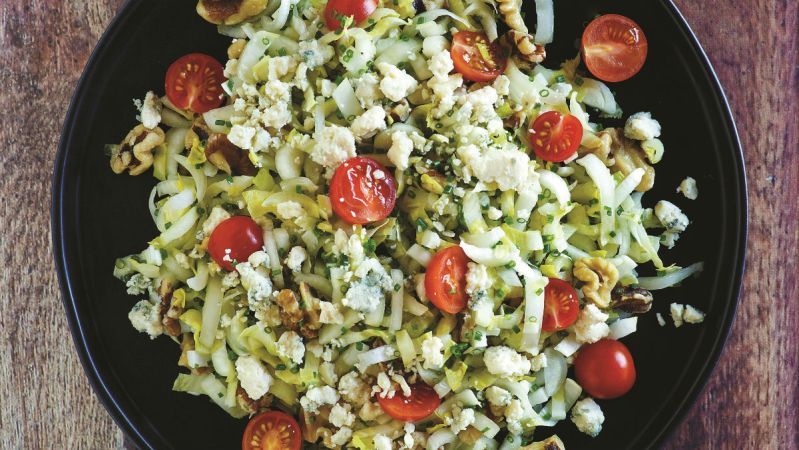 Ingredients:
6 cherry or grape tomatoes, cut in half
3 cups endive, chiffonaded
1/2 cup blue cheese, crumbled
1/2 cup walnut halves, toasted
2 tbsp hazelnut oil
2 tsp apple cider vinegar
2 tbsp fresh chives, finely minced
1/8 tsp salt
1/8 tsp black pepper, freshly ground
Method:
In a medium bowl, toss the endive with the hazelnut oil, vinegar, chives, salt, and pepper. Arrange in the center of a large salad plate.
Top with the blue cheese, tomatoes, and walnuts.
Seared Skirt Steak with Cilantro and Lime
Ingredients:
2 skirt steaks, 8 ounces each
3 cloves garlic, minced
Juice of 2 medium limes, divided
1/2 medium jalapeño pepper, seeded and minced
5 cups jicama, small-diced
1/4 cup extra-virgin olive oil
1/4 cup tomato, diced
1/4 cup red onion, finely minced
4 tbsp fresh cilantro, chopped and divided
1/4 tsp salt, divided
1/4 tsp freshly ground black pepper, divided
Cooking spray
Method:
In a blender, combine the oil, half of the lime juice, garlic, 2 tbsp cilantro, and 1/8 tsp each salt and pepper. Purée until smooth.
Pour the mixture over the steaks and let marinate 1 hour in the refrigerator.
In a small bowl, mix together the jicama, tomato, onion, jalapeño, and the remaining lime juice and cilantro. Season with remaining salt and pepper and set aside.
Heat a medium pan over medium-high heat and spray with the cooking spray.
Drain the steaks and wipe off most of the marinade. Add steak to the pan and sear well on both sides, about 2 minutes per side or to desired doneness.
Remove from the pan and let rest 3 minutes. Serve with the salsa.
Skirt Steak 101
Skirt steak is a thin muscle that acts as a diaphragm inside the cow. It is a great and often underutilized cut of beef, although it is commonly used for fajitas, a popular Southwestern dish. It is very thin and has a conspicuous grain to the meat.
Pears Poached in White Wine and Vanilla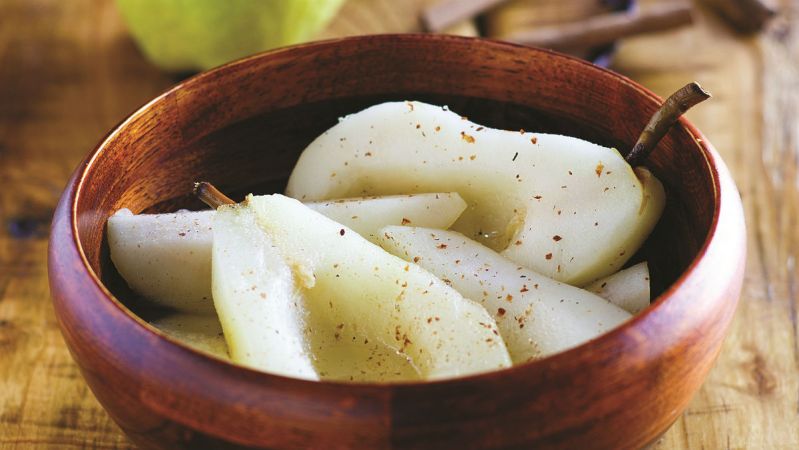 Ingredients:
2 cups water
2 cups dry white wine
Juice of 1 medium lemon
2 medium firm pears, peeled and cored
1 cinnamon stick
1 vanilla bean, split
2 cups granulated sugar
Method:
In a medium pot, mix together the water, wine, and lemon juice. Add the pears, cinnamon, sugar, and vanilla and heat over medium heat to just below a simmer.
Place a clean dish towel on top of the pears to keep them from floating too high. Allow the towel to totally soak.
Cook on a gentle simmer 13 minutes or until a small knife inserted in the bottom of the pear comes free with no resistance.
Pour the pears and liquid into a shallow dish and place in the refrigerator to cool uncovered, around 1 hour. Serve the pears in bowls with some of the liquid poured on top.
Poaching vs. Boiling
The difference between boiling and poaching is the temperature and movement of the water. Poach items that are delicate and risk falling apart if cooked too fast, such as fruit or fish. The temperature of the liquid should be between 185 degrees Fahrenheit and 200 degrees Fahrenheit so the water does not move fast or boil.
And there you have it — an entire meal made without extra fuss or mess all from the confines of your tiny space, regardless of it's intentional or forced.
Excerpted from Tiny House Cooking: 175+ Recipes Designed to Create Big Flavor in a Small Space by Adams Media, with a foreword by Ryan Mitchell, founder of thetinylife.com. Copyright © 2018 Adams Media, a division of Simon and Schuster. Used by permission of the publisher. All rights reserved. Photographs by James Stefiuk.
Editors' Recommendations