There is a wide selection of iconic craft beers and tasty cheap beers available to drink in cans and bottles, but nothing beats a good, heady pint served right from a kegerator. A kegerator is a refrigerator that keeps a keg of beer cold and fresh while allowing you to dispense the contents from a built-in pressurized tap system on top.
However, it is a costly appliance, so it's recommended to do your homework and invest your hard-earned money in a top-notch quality unit that will surely keep your beer fresh. To help you save some time on researching the best ones, we've listed our top kegerators for 2021, with our selections ranging from on-the-go options to innovative dual-tap kegerators.
Related Guides
Best Overall: EdgeStar KC2000 Full-Size Kegerator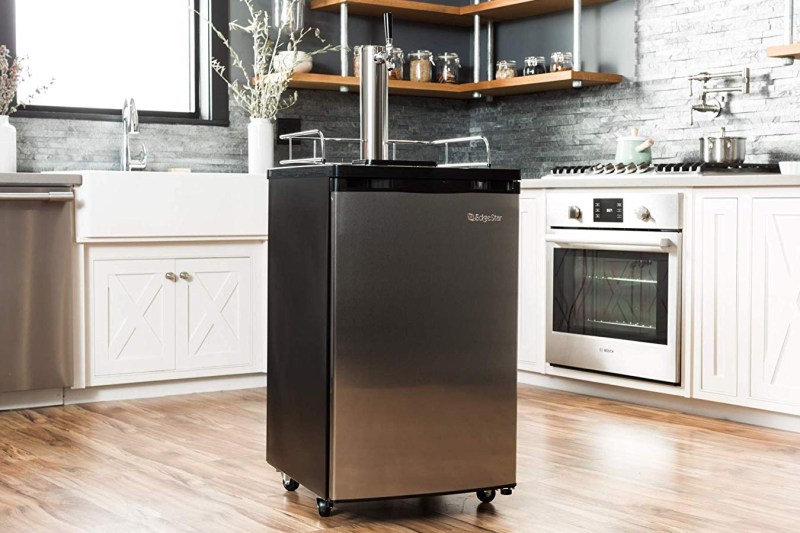 If you're on a hunt for the best no-nonsense, high-value kegerator out there right now, the EdgeStar KC2000 is the one. It also pleases the most Amazon customers, as it's the top-rated kegerator. This sturdy unit comes with all the hardware you need right out of the box, including a 5-pound CO2 canister (although you'll need to get that filled yourself). It can keep your beer cooled to as low as 34 degrees Fahrenheit. The fridge compartment itself is just over 20 inches wide and fits standard U.S. half-barrel (and smaller) kegs, but it doesn't support oversized or rubberized kegs. At around $540, this is also one of the cheapest kegerators you'll find.
Best Dual-Tap: EdgeStar Dual-Tap Kegerator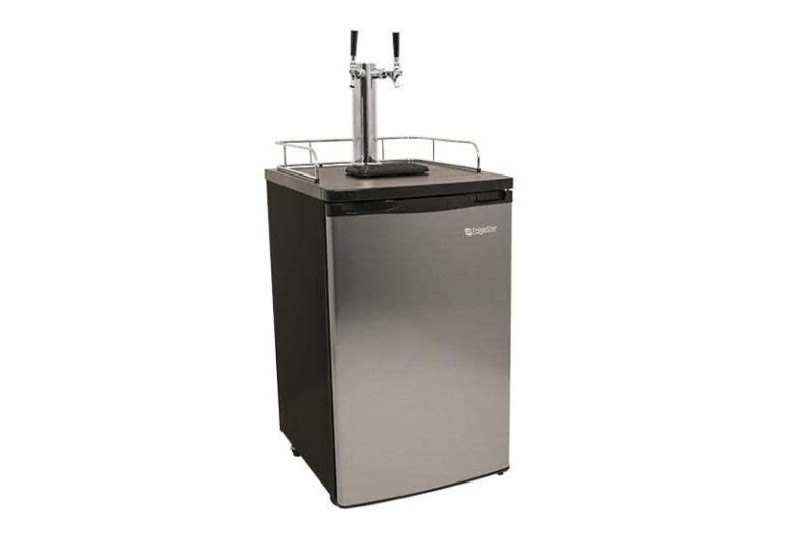 You ain't seeing double. This model is the dual-top version of the above-mentioned EdgeStar model. EdgeStar's Dual Tap Kegerator's versatility is praiseworthy since it can accommodate a variety of keg types– from full-size kegs (half-barrel) to slim pony kegs (quarter-barrel) — all while keeping them ice-cold for your fellow beer enthusiasts. The product is also easy to assemble, which makes it the perfect entry-level kegerator for those who plan to set up their first home bar.
Best Do-it-Yourself Kit: Kegco Tower Kegerator Conversion Kit
You might be wondering, "Why couldn't I just convert a mini-fridge into a kegerator?" Well, you actually can do just that with a good conversion kit like this one from Kegco. This setup is a solid alternative to a pre-built kegerator for dedicated DIY-ers or any other handy drinkers building a custom keg dispenser setup. The Kegco Tower conversion kit is essentially the same pressurized dispenser system used in the company's kegerators, featuring a 5-pound CO2 tank, draft tower, pressure regulator, D-system coupler for use with American kegs, and all the piping and hardware needed to hook everything together.
Naturally, you'll have to do the cutting, drilling, and other handiwork yourself to turn a refrigerator into a kegerator, but with complete single- and dual-tap kits available starting at around $270, the Kegco Tower conversion system is a superb DIY solution for building a custom kegerator for a home bar.
Best Mini-Kegerator: Pyle NutriChef Pressurized Mini Keg Dispenser
Kegerators are great for hosting parties at home with your beer-loving friends, but they're not really built for portability. When you want to drink beer from the tap during camping trips, tailgating parties, and other on-the-go get-togethers, the Pyle NutriChef jockey box is what you need. The NutriChef isn't technically a "kegerator" in that it doesn't feature a refrigeration unit to cool the keg itself, but its purpose is similar — that is, it lets you enjoy cold, carbonated draft beer away from the bar.
What sets Pyle's NutriChef apart from a simple mini-keg is that this little unit packs a proper tap with an adjustable CO2-powered pressure regulator. Rather than a refillable CO2 tank, this system utilizes a small disposable canister that provides enough carbonation for its 128-ounce capacity (eight U.S. pints). And, unlike a standard growler in which beer will go flat relatively quickly, the NutriChef mini-keg is great for keeping your beer fizzy and fresh for weeks or even a couple of months.
Best On-the-Go Kegerator: Coldbreak Jockey Box
If you want to bring the party wherever you go, this portable kegerator is the best option. Requiring no batteries or electricity, the Coldbreak Jockey Box is convenient to pack for any event. Whether you're going camping or on any other outdoor adventure, this is is the kegerator to have. The Jockey Box has an innovative keg system with built-in insulated coolers to keep your beer cold and refreshing.
The main features, such as the coils, shank plates, and faucets, are all made of high-quality stainless steel. All you need to keep this kegerator going is a CO2 tank and lots of ice. The set already comes with the Jockey Box itself, a dispensing kit, and a 5-pound CO2 tank for your convenience. This compact kegerator also has a durable exterior build that can withstand harsh or wet environments.
Widest Temperature Range: Kegco K199B-1 Keg Dispenser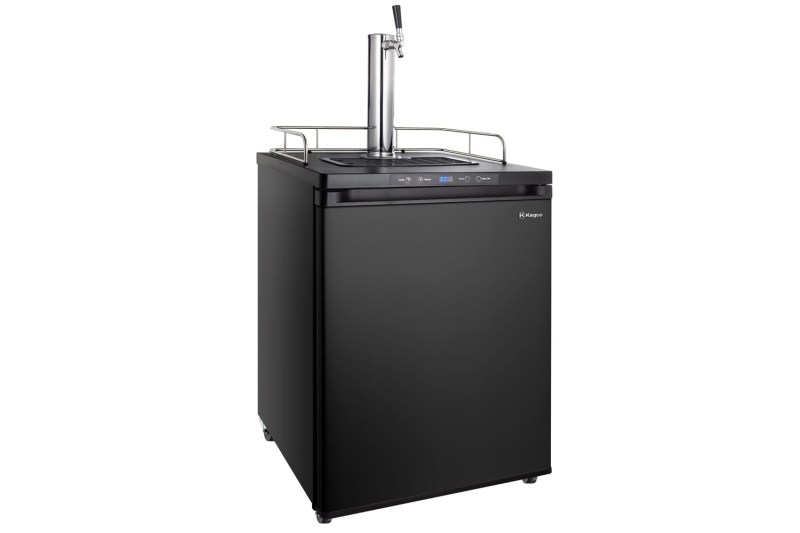 The Kegco K199B-1 kegerator has wide temperature range options. It can be set to 34 degrees to get your beer as close to freezing as possible to 45 degrees Fahrenheit. Just keep an eye out for frost buildup over longer periods of time. For beers that are best served a bit warmer (porters and stouts), you can set the temp to around 45 degrees.
Best Personal Kegerator: GrowlerWerks 64-oz Carbonated Growler
Maybe you're the type of person who needs forced moderation when it comes to your beer consumption. Or perhaps you just don't like to share. Either way, this GrowlerWerks uKeg 64-ounce Carbonated Growler is for you. Just add your favorite cold beer, and the vacuum insulation will keep it cold all day. Disposable CO2 cartridges will keep your beer carbonated and fresh for weeks. And, if you are the sharing type, this comes in a 128-ounce size. This personal kegerator is a more practical solution for more intimate, on-the-go gatherings.
How Long Will a Keg of Beer Stay Fresh in a Kegerator?
The important thing here is the CO2. If your kegerator is properly pressurized, pasteurized beer will last about three to four months. Unpasteurized beer (most homebrews) will last around a month and a half to two months.
Do You Save Money with a Kegerator?
The upfront cost of a kegerator may seem steep, but you definitely save money on beer in the long run. Just do the math. Let's use Bud Light as an example. A standard half-sized keg holds 15.5 gallons (1,984 ounces), which is 165 12-ounce beers (13.75 cases). The average cost of a keg of Bud Light is around $185, depending on where you live. The average cost of a case of the same beer is around $16 to $20. Buying the same amount per bottle/can would work out to be $220 to $302.50. That works out to around $35 to $117.50 every time you refill.
Can You Keep a Kegerator in the Garage?
You can keep a kegerator anywhere that has a power supply and is protected from the elements.
Editors' Recommendations