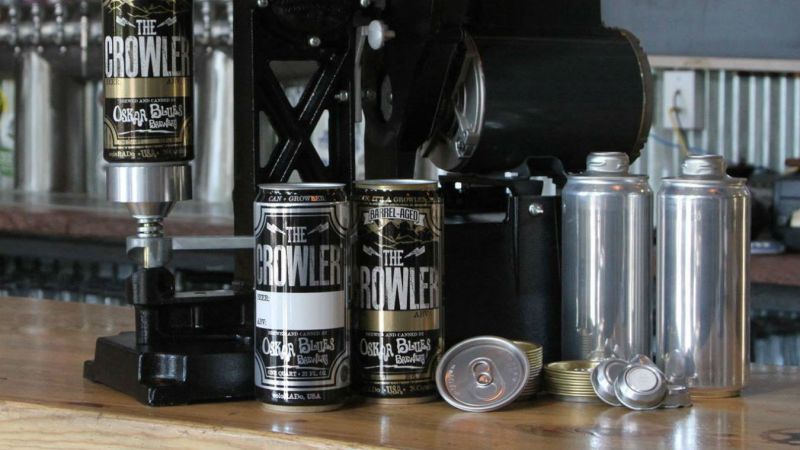 There are a handful of options for enjoying draft beer at home. You can always create beer yourself using traditional home brewing equipment or one of the new countertop appliances, and then serve it up in a handy kegerator. Or, you can buy a smaller party tap system that utilizes single-use size kegs. But, for most of us, drinking draft beer at home means filling up a growler straight from the tap at the corner bar or brewery.
The growler system is tried and true, but it does have some significant drawbacks. Glass vessels are heavy and easy to break, which limits their functionality when camping, boating or tailgating. Glass growlers also have a relatively short shelf life; the bottles need to be opened within a few days of being filled to avoid the beer going bad due to light leaks or an improper seal.
Leave it to the original superstars of craft beer canning, Oskar Blues Brewery, to create a viable alternative. A few years ago, the Colorado-based brewery teamed up with Ball Corporation to manufacture a device that seals individual, 32-ounce aluminum cans on demand. Thus, the crowler was born. (The name crowler is a simple update on the original word growler, but with a "c" to designate the canned format.) While the original home of the crowler was Oskar Blues, you can now find these devices in hundreds of tap rooms all over the country produced by several different manufacturers.
Cans offer a number of benefits over glass bottles. They completely eliminate light from the equation, meaning your beer will stay fresh longer. Store your crowler in the fridge and you can wait a couple of weeks to drink, if necessary.
They weigh less and are more durable, enabling you to throw them in a backpack or a cooler. Cans are often allowed in places where bottles are not, like beaches. And you're more than doubling the amount of beer in a traditional can with a 32-ounce crowler. It's true that you need to drink all of the beer in the crowler after you open it, but that's not necessarily a bad thing.
Just like with glass growlers, crowlers need to be filled by a professional who knows how to purge the oxygen from the empty can and fill it from the bottom up via a tube. By buying a crowler at your neighborhood brewery, you're not only getting to drink great craft beer at home, you're also supporting your local brewers, and that will leave a good taste in your mouth.
Editors' Recommendations