With everything going on in France recently, we at The Manual thought it would be a nice gesture of solidarity for us to honor the country that stood by us during tough times.
Thanksgiving is coming up, and we wanted to give a tip of the hat to our friends by incorporating a little bit of French cuisine into our traditional American meals. We recently spoke with master chef Sylvain Harribey about his favorite American dishes.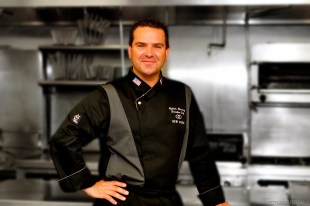 Chef Harribey happens to not only be the executive chef at the fantastic Gaby Brasserie at the Sofitel Hotel in New York City, but also a "Chopped' champion. "Some of my favorite dishes at Thanksgiving are roasted pumpkins with Chanterelle mushrooms, broccoli with garlic and herbs, and potato gratin casserole," Harribey said.
As for his favorite French dishes?
"Honey roasted duck breast, porcini potato gratin , grilled lamb chops , garlic sauce , grilled salmon , eggplant caviar, sautéed baby kale , olive tapenade," the Chef added.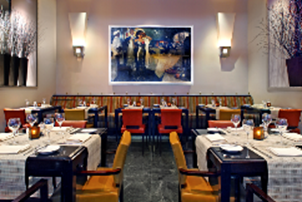 So what are some ways we can incorporate the two eclectic cuisines this holiday season? Well, it's a lot closer to home than you'd think.
Some French staples might already by on your menu. "A wild mushroom sauce," Chef Harribey says would apply nicely, as would "truffle mashed potatoes."
If you truly want to "French-ify" add this dessert to end your dinner on a sweet note.
Pumpkin Crème Brûlée (Feeds 6 People) 
Ingredients: 
5 whole eggs
5 egg yolks
1 quart of heavy cream
1 vanilla bean
1 small cup of sugar
8 oz. pumpkin puree
Directions: 
Cut one vanilla bean in half vertically, remove the beans with a paring knife, add beans to the heavy cream, and heat to a low boil.
Be sure to include the casings of the vanilla bean to the heavy cream to reinforce the vanilla flavor.
Crack the whole eggs into a mixing bowl. Separate an additional 5 yolks and add to the mixing bowl.
Pour the sugar and whip the mixture until it becomes white.
Then mix in the pumpkin puree with the current batter.
When the heavy cream is hot, pour it slowly on the batter while gently mixing with a whisk.
Once it is all mixed together, a foam will start to form. Skim this foam with a small ladle. Pour the mix into the ramequin. Cook in the oven at 250 degrees for 45 minutes in a bain-marie and cover.
Once cooked, let it sit until chilled. This can be made 2-3 days in advance.
When you are ready to serve, use raw brown sugar and brule with a torch (or use your oven on broil; heat to 400- 450 degrees).
When the sugar is a nice light brown color, remove from the oven. Be careful, however, not to burn the sugar, as it cooks very quickly and will be bitter if overcooked.
Top with fresh berries for decoration.
Editors' Recommendations