Some say the cocktail is on the comeback but did it ever really go away? Yes, beer and wine are all the rage currently but what's better than a classic drink redefined using organic and local ingredients? In the fall and winter, drinks tend to center on darker spirits such as bourbon and whiskey. In the lazy hazy days and nights of summer, rum, tequila and gin reign supreme. We asked three of the best bartenders around the country to give us their choices for top summer cocktails. Here's what they had to say: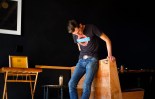 At Expatriate in NE Portland, bartender/owner/DJ Kyle Linden Webster crafts some of the best cocktails in town. The photogenic Webster is often behind the wooden bar playing tunes from his eclectic record collection while he shakes, rattles and rolls iconic drinks. His choice for a summer cocktail is The Royal Hawaiian, made famous in the 1950s by the hotel of the same name on Waikiki.
"The Royal Hawaiian is a great summer cocktail because it strikes a perfect balance between rich tropical flavors and refreshing citrus on top of, in Martin Miller's Westbourne Strength, a beautiful base of gin," Webster says. "We're very excited to revive it because a well-balanced drink in the tropical style is something that most people interested in cocktails have never had executed this well before. There is a great wealth of really good classic rum drinks, but the Royal Hawaiian is a bit off the edge of that map. It's one of those recipes that's been floating around for decades without being fully realized. To give credit where it's due, the difference is really the gin."
Webster's version also uses locally sourced orgeat and pineapple gomme syrup made by the Commissary in Portland.
Ciara Joye has been tending bar since 2007, first at Old New Orleans Rum Distillery on Frenchman Street in New Orleans. These days you'll find her behind the bar at BLVD 16 at the Hotel Palomar in Los Angeles. Joye likes to feature the "subtleties of the distillate." Her summer cocktails are fruit and herb forward. Her pick is the Buckaroo, which boasts vodka and peaches with just a touch of Absinthe for some bite.
"The cocktails I designed feature bold peak-summer produce—raspberry, peach, and celery—and fresh seasonal herbs—basil, lavender, fennel—to keep the flavor profile interesting and playful, just like summer. Bright, natural sweetness, with a crisp dry finish," says Joye. "Vodka has little to no flavor, making it very versatile and open to interpretation. I recommend using local products found at your local farmer's market in addition to supporting California distilleries such as SquareOne, Tru, St. George, or Hangar One."
Not all summer cocktails are fruit forward. Back east in Vermont, the Farmer's Tan Martini is all the rage at the Hotel Vermont's eco-friendly Juniper restaurant. It's a classic dirty martini redefined with a pickled vegetable of the day—recent guests have been treated to pickled fiddleheads—pickling juice and a vegetable salt rim. "It's perfect for sipping on an outdoor patio," says bearded bartender Eben Hill who teaches mixology classes at Juniper. Hill infuses his own liquor and tries to use as many Vermont-based ingredients as possible, making Juniper a hit with locals and guests alike.
The Royal Hawaiian
2 oz Martin Miller's Westbourne Strength gin
3/4 oz fresh orgeat
3/4 oz pineapple gomme syrup
3/4 oz fresh lemon juice
1/2 oz fresh orange juice
1 dash Angostura bitters
Shake/Strain/Rocks/Garnish with a slice of orange, a mint tip, and an Amarena cherry.
The Buckaroo
1.5 oz Vodka,
1 oz lemon juice,
1 oz fresh peach puree
1 oz Honey syrup (equal parts honey and water)
dash Absinthe
Shake, serve over ice, garnish with rosemary.
The Farmer's Tan Martini
2.5 oz Green Mountain Vodka
.5 oz of pickling brine
Shaken and served in a Martini glass with a Vegetable Salt Rim. Garnish with Seasonal pickled vegetable.