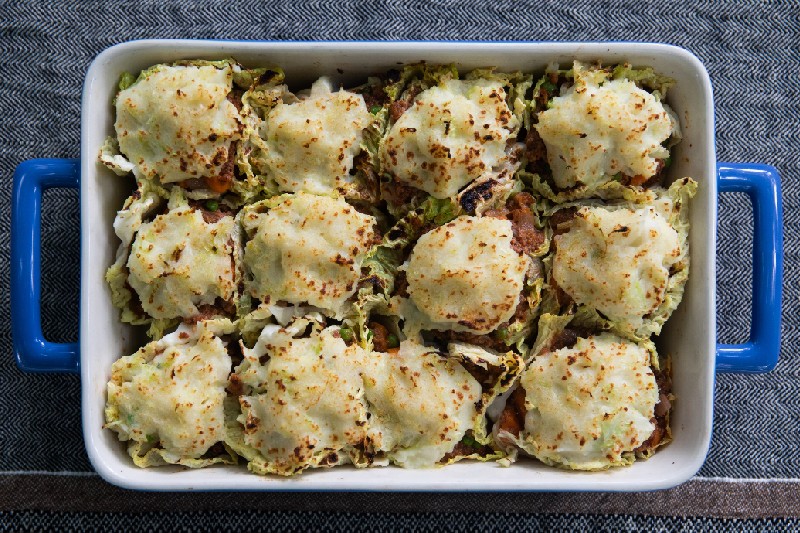 Although Saint Patrick's Day has come and gone, it doesn't mean that we want to stop eating delicious Irish-American dishes. Hence, the reason you sought out a shepherd's pie recipe. We don't want to burst your bubble, but shepherd's pie isn't a traditional Irish dish. But, for that matter, neither is corned beef. However, this colcannon version of shepherd's pie really ups the level of the dish's Irishness.
Shepherd's pie has its roots in English cuisine. Dishes like corned beef and shepherd's pie have found their way into Irish-themed menus thanks to Irish-American celebrations, with emphasis on the American part. However, that doesn't mean you can't enjoy a delicious shepherd's pie on St. Patrick's Day or any day. It's a hearty and filling comfort food for the chilly winter and spring months.
Shepherd's pie is traditionally comprised of minced lamb sautéed with carrots, onions, garlic, and peas baked under creamy mashed potatoes. It can be cooked and served in individual ceramic dishes or be made family-style in a large cast-iron skillet or baking pan. You can swap out the lamb for ground beef, but then technically, you should call it "Cottage Pie."
The Manual teamed up with Licia Kassim Householder, co-author of the Loaves and Fishes Farm Series Cookbooks, to bring you this deliciously Irish version of shepherd's pie. Loaves and Fishes is a staple food store serving gourmet takeout in the Sagaponack, New York area.
Colcannon Mash shepherd's pie
by Sybille van Kempen with Licia Kassim Householder, The Loaves & Fishes Farm Series Cookbook: Long Ireland Beer Co.
"Traditionally, colcannon is a potato mash with sautéed cabbage folded in," Kassim tells The Manual. "We wanted to combine those flavors with shepherd's pie and bring a fresher, lighter feel to it while still celebrating the coziness of the dish. Making it in individual cabbage leaves gives the dish a new and inspired take and is one that can be served at an elegant dinner party or a St. Patrick's Day dinner."
Ingredients
For Meat Mixture
2 tablespoons olive oil
1 large yellow onion, chopped
1 large carrot, diced
2 cloves garlic, minced
1 ½ pounds ground lamb or beef
Kosher salt and freshly ground black pepper to taste
2 tablespoons all-purpose flour
2 teaspoons Worcestershire sauce
1 tablespoon tomato paste
1 cup beef broth
1 tablespoon chopped fresh thyme
1 cup fresh or frozen peas
1 head green cabbage, leaves separated
For Potato Topping
1 ½ pounds russet potatoes, peeled and cut into large chunks
4 ounces (1 stick) salted butter, divided
¼ cup whole milk
Kosher salt to taste
Remaining head of cabbage, shredded
Method
For Meat Mixture
In a large skillet, heat olive oil on medium-high heat until shimmering.
Add in onions and carrots and cook for 7-8 minutes, stirring occasionally, until vegetables are softened.
Add in garlic and lamb and cook another 5-6 minutes, breaking up the lamb, until lamb is cooked through.
Season with salt and pepper to taste.
Sprinkle meat with flour and stir to coat.
Add in Worcestershire sauce, tomato paste, beef broth, and thyme and simmer for 10 minutes, until sauce has thickened.
Add the peas and stir.
Blanch 12 outer cabbage leaves and place them into a 9″ x 13″-size casserole dish, fitted snugly against each other.
Take a large spoonful of meat mixture and place it into the center of each cup.
For Potato Topping
Preheat broiler.
Place potatoes in a medium-sized pot and cover with cold water.
Bring to a boil and cook for 10-15 minutes, until potatoes are fork-tender.
Drain and place back into the pot.
Mash potatoes, then add in 6 tablespoons butter, milk, and salt, and fold together.
Heat a large sauté pan with the remaining 2 tablespoons butter and cook cabbage until wilted, about 8-10 minutes.
Fold into mashed potatoes.
Place on top of meat mixture and broil on low for 5-10 minutes, until browned.
Editors' Recommendations