If you ever watched Emeril Live! when it was on television, the star chef often talked about "Smell-o-vision" when he cooked — wishing on behalf of the audience at home that they, too, could smell how amazing it was standing behind his the burners on his kitchen stage. We haven't gotten there yet, but a new bacon cookbook is at least trying with a scratch and sniff feature that is aimed at, well, everyone who loves bacon (we call them "the good ones").
The Scratch & Sniff Bacon Cookbook by Jack Campbell (Smith Street Books, 2018) is a collection of 40 bacon-centric recipes that run the gamut from snack foods to desserts. But before we get to those, we need to address the most important question first: does it actually smell like bacon?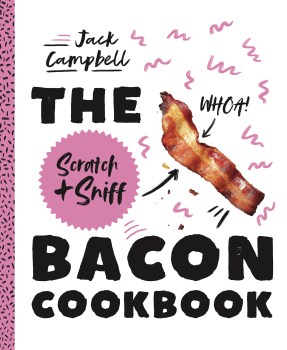 The short answer is yes, it does. The cover image smells like almost-burnt bacon. For those that love a good, crispy bacon, this will be right up your alley. We will admit that we were disappointed, however, to find out that the entire book wasn't a scratch and sniff adventure in porcine goodness — only the slice on the cover was sniff-able. Yes, it says as much in the product description, but when it comes to the issue of bacon, we were more than willing to hold out hope. Sadly, any other image of bacon found in the book smelled like, well, paper. (This could be amended, obviously, by slathering the book in bacon grease, but that's on you — it's a pretty book and we didn't want to mess ours up.)
In terms of how long the scent will last, we've had our book for about a week and the scent is still going strong, not dissipating once it was removed from the protective plastic wrap.
All in all, if bacon is your thing, this is a handy AF book.
On the recipe end of things, we were impressed with the bacon-ness of the recipes. The bacon mac and cheeseburger is literally mac and cheese wrapped in bacon to make a patty. How genius is that? The bacon polenta chips are handy, delicious, and pretty easy to make. Campbell also gets bonus points for teaching the bacon-minded how to properly make a bacon weave.
All in all, if bacon is your thing, this is a handy AF book. The photos are beautiful homages to our favorite piece of pig and will make you contemplate eating the page.
Now, as if you haven't been salivating enough, check out these two recipes from the book. Need bacon before you start? Order some that will show up at your door. You can pick up The Scratch & Sniff Bacon Cookbook here.
Bacon-Wrapped Sriracha Onion Rings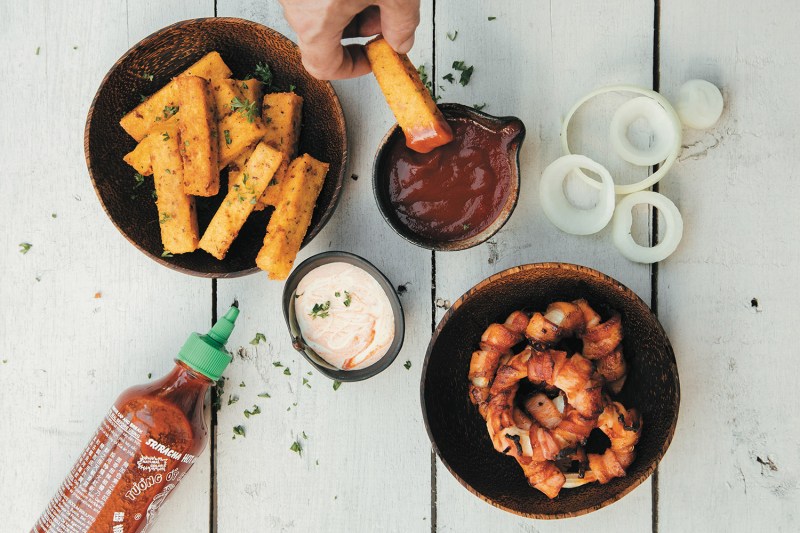 (Makes 8)
The holy trinity of savory: bacon, sriracha, and onion. These are a hit at parties (just make it a small party, you don't want to have to share) or serve in a pile with burgers or mac and cheese.
Ingredients:
4 large onions, peeled
3 tbsp sriracha hot sauce
16 slices rindless streaky bacon, halved lengthways
125 g (4.5 oz/0.5 c) sour cream or Sriracha Mayo*
Method:
Line two large baking trays with foil and place a wire rack on top of each. (There's no need to pre-heat the oven for this recipe. It's better to start with a cold oven.)
Cut two 1.5 cm (.5 in)-wide rings from the widest part of each onion, being careful to keep the slices intact. Carefully pop out the center two-thirds of each large ring, leaving two or three layers for each ring. You should have 8 onion rings. Save the leftover onion for another use.
Brush each onion ring with the hot sauce. Carefully wrap each coated ring with bacon, overlapping the bacon slightly as you wrap it around. You will need 4 strips of bacon for each ring. Secure the ends of the bacon strips with toothpicks as you go. Place the wrapped onion rings on the wire rack and place in the oven. Set the oven to 140 degrees Celcius/275 degrees Fahrenheit (fan-forced) and bake for 30 minutes.
Increase the oven temperature to 160 degrees Celcius/320 degrees Fahrenheit (fan-forced) and continue baking for a further 20-25 minutes until the onion is tender and the bacon is crisp.
Remove from the oven and carefully remove the toothpicks. Serve with the sour cream or sriracha mayo on the side for dipping.
*Sriracha Mayo
Ingredients:
150 g (5.5 oz) good quality mayonnaise
About 1 tbsp sriracha hot sauce
Squeeze of lime juice, to taste
Method:
Mix together, adding lime juice to taste.
Bacon & Pecan Brittle Ice Cream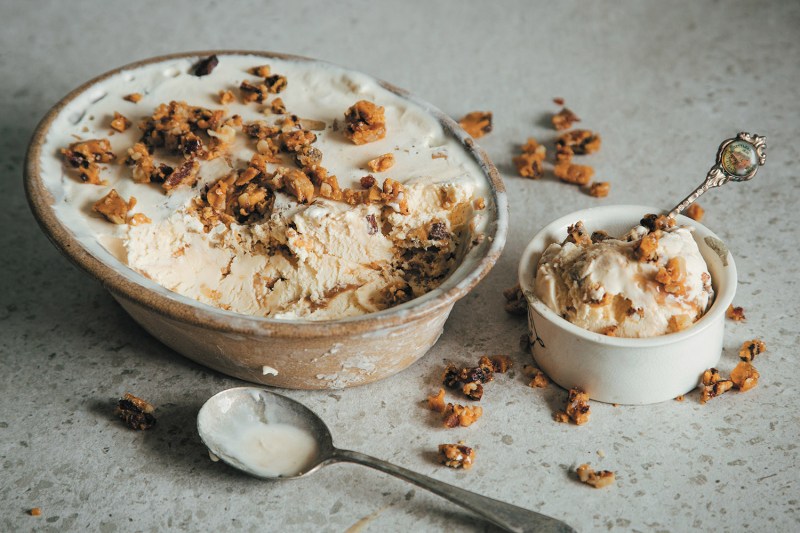 (Makes about 1 liter (34 fl oz/4 c)
You'll need to start this ice cream two days ahead, to allow for all of the bacony goodness to infuse. But it is well worth the wait, I assure you.
150 g (5.5 oz) rindless bacon, roughly chopped
500 ml (17 fl oz/2 c) full-cream (whole) milk
250 ml (8.5 fl oz/1 c) thickened (whipping) cream (35 percent fat)
1 tsp vanilla bean paste
2 tbsp Bacon-infused bourbon, optional
5 extra-large free-range egg yolks
150 g (5.5 oz/2/3 cup, firmly packed) brown sugar
Bacon & Pecan Brittle*
Method:
Put the bacon in a large, cold heavy-based frying pan and cook, stirring occasionally, over medium-high heat for 6-8 minutes until well browned. Remove with a slotted spoon and drain on paper towel.
Put the cooked bacon in a large jug or bowl and add the milk. Mix well. Cover and refrigerate overnight for the flavors to infuse.
The next day, pour the milk and bacon into a medium heavy-based saucepan and add the cream and vanilla paste. Cook, stirring constantly, over medium-low heat until the mixture just comes to the boil. Stir in the bourbon (if using). Remove from the heat and set aside.
Whisk the egg yolks and sugar in a large bowl until thickened. Gradually whisk in the warm milk mixture, and then pour back into the saucepan. Return the pan to a medium heat and cook, stirring constantly until the mixture thickens slightly and coats the back of a spoon (85 degrees Celcius/185 degrees Fahrenheit on a sugar thermometer).
Strain the ice cream custard mixture into a large bowl set over an ice bath, discarding the solids, and stir until cold. Cover and refrigerate the custard for at least 4 hours until thoroughly chilled, preferably overnight.
Churn the prepared custard in an ice cream machine according to the manufacturer's instructions. Working quickly, scoop the ice cream into a chilled 1.25 liter (42 fl oz/5 cup) container, alternating with sprinkles of the brittle (reserve some of the brittle to sprinkle on top). Gently swirl to ripple through the mixture and finally scatter with the remaining brittle. Freeze for 1.5-2 hours to firm up before serving.
*Bacon & Pecan Brittle
Ingredients:
100 g (3.5 oz) rindless bacon, cut into 1 cm (0.5 in)-dice
75 g (2.75 oz/1/3 cup) caster (superfine) sugar
1 tbsp glucose syrup 40 g (1.5 oz) butter, chopped
.25 tsp bicarbonate of soda (baking soda)
35 g (.25 oz/0.25 cup) pecans, roughly chopped
Method:
Line a large baking tray with non-stick baking paper. Put the bacon in a large, cold heavy-based frying pan over medium-high heat and cook, stirring occasionally, for 6-8 minutes until well browned. Remove with a slotted spoon and drain on paper towel.
Put the sugar, glucose syrup and 3 tablespoons water in a saucepan over medium heat.
Cook, gently swirling occasionally, until the glucose has dissolved. Bring to the boil and cook, without stirring, until the caramel is golden, about 5 minutes.
Remove from the heat and add the butter gradually, whisking until combined. Stir in the bicarbonate of soda, being careful as the mixture will bubble up slightly.
Working quickly, stir in the pecans and pour the mixture onto the prepared tray. Set aside for at least 30 minutes to set and cool. Roughly chop the brittle into bite-sized pieces.
Recipes and images courtesy of The Scratch & Sniff Bacon Cookbook by Jack Campbell. Smith Street Books, 2018.
Editors' Recommendations