Dumplings are a perfect comfort food: pillowy pockets of savory, delicious bliss that deliver big flavor in a neat little package. Lots of cultures have their own version of the dish, from Japanese gyoza to Italian ravioli. Some preparations are super traditional, while others put a modern spin on classic flavors. Ozi Dumplings, a bright shop in Brooklyn's Bushwick neighborhood, is a fusion spot that melds traditional Chinese flavors with American favorites. Ozi is also big on sake, so its well-curated list was made to pair with their diverse dumpling lineup, whether you're going for classic pork or trying something nouveau like Buffalo chicken.
To learn more about how to pair dumplings and sake, we caught up with Ozi owner Danny Cai, who wants his food to bring people together for a good time. "When we have a full house and there are people waiting, I buy a round of drinks for everyone," he says. "It's a sharing thing."
Cai guided us through a tasting of his favorite dumpling and sake pairings, which will come in handy the next time you're looking to couple the rice wine with a meal.
Shrimp + Ozeki Sake One Cup Daiginjo
Served with soy sauce and chili oil
Ozeki Sake One Cup Daiginjo is dry (but not too dry) and typically paired with seafood in Japan. It's especially popular in izakayas, which are known for their bustling after-work scenes and substantial drinking food like tempura. The dryness of the sake really makes the shrimp taste sweeter, while the sweetness of the shrimp brings forth a brininess in this sake. One Cup Daiginjo also has a light body, which complements the shrimp's thick, toothsome texture. When paired together, they become a well-balanced flavor bomb that makes you want to keep alternating between bites and sips.
Cheeseburger + Ozeki Sake Karatamba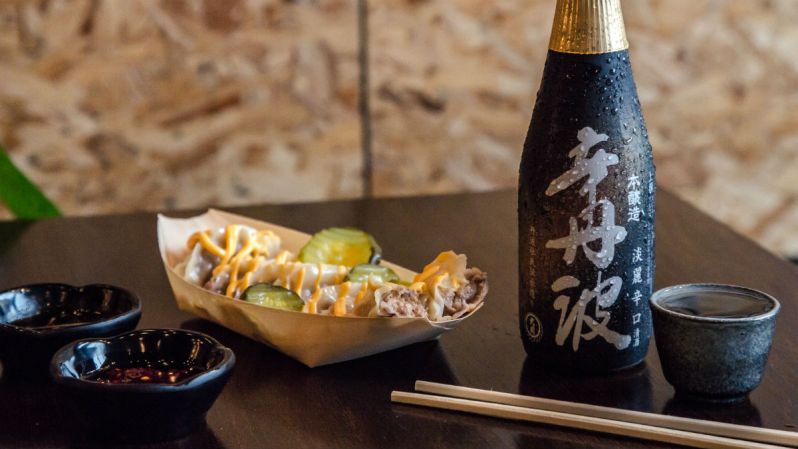 Served with cheese sauce and pickles
Ozeki Sake Karatamba is a drier and lighter-bodied sake that's usually served with salty or spicy foods (think meat and dishes seasoned heavily with aromatics like onions and garlic), so it was a natural pairing for Ozi's fun take on cheeseburger dumplings. The sake has more of a robust flavor, and the extra savory beef brings out sweet, floral notes in the beverage, especially on the finish. This is a great pairing for anyone who's looking to expand their sake horizons while leaning on some familiar flavors.
Teriyaki Chicken + Ozeki Sake One Cup Junmai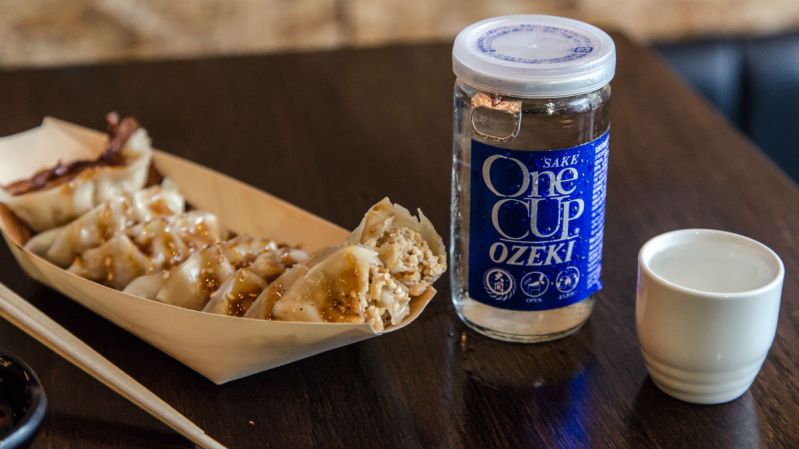 Served with teriyaki sauce
Teriyaki sauce is sweet and viscous, so it calls for a pairing that balances those flavors and brings out some of the saltier notes. Ozeki Sake One Cup Junmai does the job perfectly. It's very well-balanced, so it goes with everything, especially Ozi's satisfying, tangy teriyaki. Though we liked this pairing best, we have to shout out Sawa Sawa Sparkling Junmai as a runner-up. It has a sweeter flavor than the One Cup Junmai, but the bubbles cut the thickness of the sauce nicely.
Vegetable + Hakutsuru Tanrei Junmai
Served with soy sauce and chili oil
Hakutsuru Tanrei Junmai is the lightest sake served at Ozi. It's a high-quality bottling that has a very neutral flavor. Ozi's vegetable dumplings are a mix of wood ear mushrooms, peas, carrots, cauliflower, and spinach — as Cai explains, it's like a "whole salad bar in a dumpling." The sake cuts through some of the earthiness of this blend and brings out the individual flavors of the vegetables. Suddenly, the meatiness of the mushrooms and sweetness of the peas come through in a bolder way. The sake cleanses your palate in between each bite and also tempers the spiciness of Ozi's homemade chili oil, which should be served liberally with these green delights.
Buffalo Chicken + Ozeki One Cup Junmai Nigori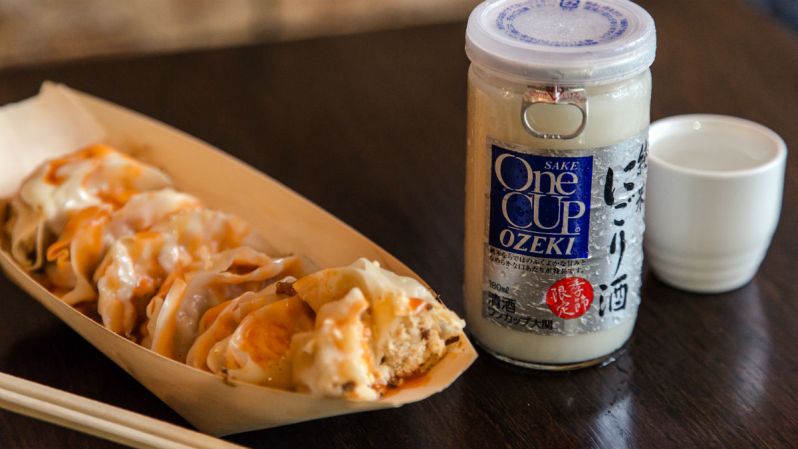 Served with Buffalo sauce and blue cheese
This was definitely the most interesting pairing we tried, and one that got us to sample a type of sake we've never had before. Ozeki One Cup Junmai Nigori is the sweetest and most full-bodied sake that Ozi carries. It's thick and almost grainy in texture — not far off from a viscous cocktail like a White Russian. Its sweetness cuts away from the spice of the Buffalo sauce and makes the combo of the tangy sauce and blue cheese even more savory and irresistible. This sake is actually quite versatile because you can pair it with ultra umami-packed dishes like this, but it also goes perfectly well with sweet desserts.
Pork + Ozeki Sake Dry
Served with soy sauce and chili oil
Ozi's original pork dumplings are packed with traditional, flavorful ingredients like cabbage, scallion, ginger, and onions, and were made specifically to go with soy sauce. For this pairing, Cai brought out the driest sake in the house (which was very, very dry indeed). He said that it's every wine drinker's sake. If people are trying to make the transition from red wine to the rice beverage, this is always his suggestion. The sake's dryness really cuts through the aromatic-packed pork dumpling and balances the saltiness of the soy sauce and chili oil.
Snow and Blue Crab + Chokara Extra Dry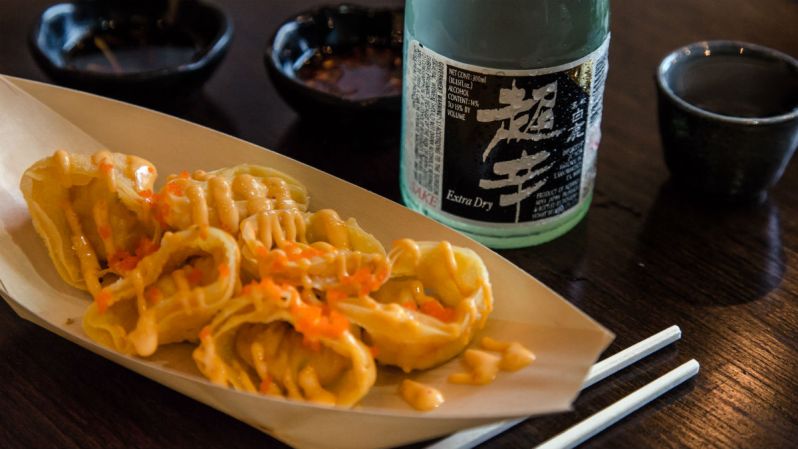 Served with spicy mayo and tobiko
These dumplings are extra special (and our favorite on the menu). Snow and blue crab are mixed with cream cheese, packed into a dumpling wrapper, and fried. They're then topped with spicy mayo and tobiko (flying fish roe). While these dumplings are actually quite light in texture for being so decadent, Chokara Extra Dry sake cuts through any heaviness and greasiness that the cream cheese or frying oil might leave behind. The crab mixture is incredibly succulent, and the sake brings out the sweetness of the shellfish even more. The crab works just as hard in this pairing and brings out the floral notes and minerality in the drink.
Nutella + Ozeki AMA Sake
Served with vanilla ice cream
Ozeki AMA is an unfiltered sake that is so low ABV (we're talking 1 percent ABV), folks actually drink it as an energy beverage in Japan. "People in Japan shoot two bottles before work because it contains ginseng, which gives them a boost," Cai says. It's milky and rich, so it pairs well with Ozi's creamy Nutella dumplings, which are downright addicting. The chocolate hazelnut spread is nestled inside dumpling wrappers, fried, then drizzled with more chocolate. The sake has a thick, yogurt-like texture and is quite sweet on its own, but when paired with the Nutella dumplings, the sweetness of the sake all but disappears and it takes on a more milk-like, neutral flavor for an adult treat that brings us back to our childhood snack time.
Editors' Recommendations