With many regions of the United States experiencing sweltering heat waves, late summer 2020 seems like an ideal time to explore meal options that don't require heating or reheating — which are, in fact, designed to enjoy in a chilled state. Salads, sushi, summer rolls, and grain salads all fall within this category, but it would be a mistake to undervalue the refreshment factor of cold soups. Lightweight, energizing, and packed with seasonal produce and bright summer flavors, the eight soups we're featuring here make excellent weekday lunches or suppers, even when the mercury starts to skyrocket on your outdoor thermometer.
Classic Gazpacho
(By José Andrés, owner/executive chef, Jaleo by José Andrés)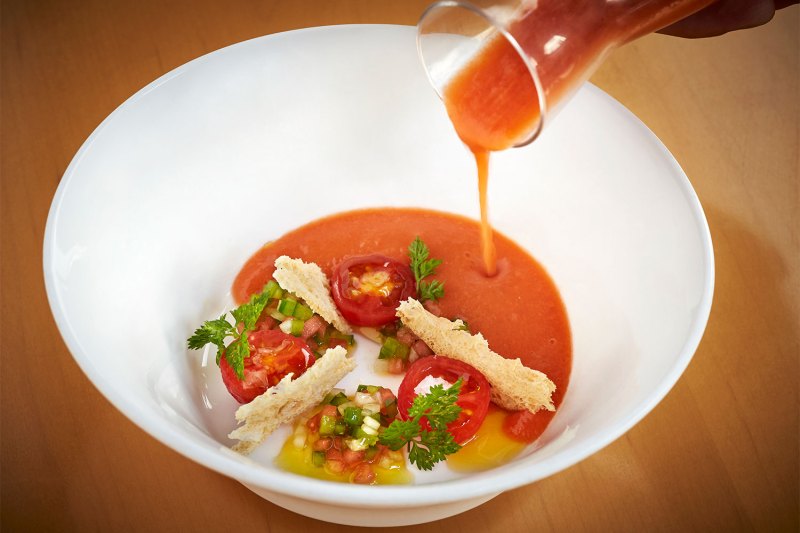 Gazpacho, a Spanish soup made with blended vegetables and traditionally served cold, is so synonymous with "chilled soups" that it almost seems trite to include a gazpacho on a list like this one. But because the following gazpacho recipe comes from iconic Spanish chef José Andrés, we figured that we'd take the risk. When developing this recipe, Andrés took inspiration from his wife's signature gazpacho; in fact, he claims that the prospect of getting his hands on her recipe helped motivate him to pop the question. If that's not a ringing endorsement of this gazpacho, then we don't know what is.
Ingredients:
1 cucumber, peeled, seeded, and chopped, plus ½ cucumber (peeled, seeded, and chopped) for garnish

1 green bell pepper, seeded and diced, plus ½ pepper (seeded and diced) for garnish

3 lb ripe plum tomatoes, diced

2 garlic cloves, peeled

.25 cup sherry vinegar

.5 cup Oloroso sherry

.75 cup Spanish extra virgin olive oil, plus ¼ cup for garnish

.5 red bell pepper, seeded and diced, for garnish

Sea salt, to taste
Method:
Add cucumber, green bell pepper, plum tomatoes, garlic cloves, vinegar, sherry, olive oil, and 2 cups of water to a food processor or blender. Puree ingredients until everything is well-blended into a thick pink liquid.

Pour the gazpacho through a medium-hole strainer into a pitcher. Refrigerate for 30 minutes.

Preheat oven to 450 degrees Fahrenheit. Cut the bread into 1-inch cubes and toss in a bowl with 2 tbsps of the remaining olive oil. Spread the bread cubes on a baking sheet and bake on the middle rack of your oven until golden brown, about 7 minutes. Remove the croutons from the oven and set aside to cool.

To serve, pour the chilled soup into cups or bowls. Garnish with croutons and the reserved cucumbers and peppers. Drizzle with the remaining 2 tbsps of olive oil and sprinkle with sea salt.
Chilled Borscht Gazpacho
(By Harris Mayer-Selinger, chef/partner, Pulkies, New York City)
This recipe cleverly melds two classic chilled European soups — Spanish gazpacho and Russian borscht — to excellent effect. "Our take features a blend of classic beet borscht and cool cucumber gazpacho, resulting in a light and refreshing hybrid soup that is perfect for these hot summer days. We top it off with a traditional garnish of crème fraîche for an herbaceous and creamy finish. It's also vegan and gluten-free!" explains chef Harris Mayer-Selinger.
Ingredients:
1 qt red beets, diced and roasted

1 cup red cabbage, shredded

.25 cup sofrito (long-cooked celery, carrots, onion)

1 quart water, plus 1 cup cold water

2 tsp salt

1 tsp white vinegar (for borscht), plus 1 tbsp white vinegar (for gazpacho)

2 qt English cucumber, chopped

.25 tsp black pepper

1 tsp hot sauce (Harris-Selinger uses Tabasco)

.5 cup olive oil

2 piquillo peppers, chopped

.25 tsp garlic, grated

*Cucumber dill crème fraîche, for garnish
Method:
Add cucumber, 1 tsp salt, black pepper, hot sauce, 1 tbsp white vinegar, piquillo peppers, 1 cup cold water, and garlic to a mixing bowl and stir to combine. Marinate in the refrigerator overnight.

Place beets and cabbage in pot with sofrito, 1 quart water, 1 tsp vinegar, and 1 tsp salt. Bring to a boil, then simmer until beets and cabbage are cooked through.

Add the cooked vegetables to a blender (Harris-Selinger uses a Vitamix) while they're still hot and puree thoroughly.

Strain the puree through a fine-mesh strainer, then put the puree in a metal container and set it in an ice bath to cool. Stir periodically with a ladle until fully chilled.

Remove the gazpacho from the refrigerator and add to blender. Blend until smooth.

Strain the gazpacho through a fine-mesh strainer. If needed, pour the gazpacho into a metal container and place in an ice bath to cool.

When ready to serve, whisk olive oil into the gazpacho, then whisk the gazpacho into the borscht. Ladle into a chilled bowl or mug and garnish with a spoonful of cucumber dill crème fraîche.
*Cucumber Dill Crème Fraîche:
Add 1 qt crème fraîche, 1 pint finely-minced dill, 2 tbsps salt, and 2 tbsps white vinegar to a small mixing bowl. Whisk to combine.
Chilled "Green" Soup
(By Traci Des Jardins, chef/owner, Public House, San Francisco)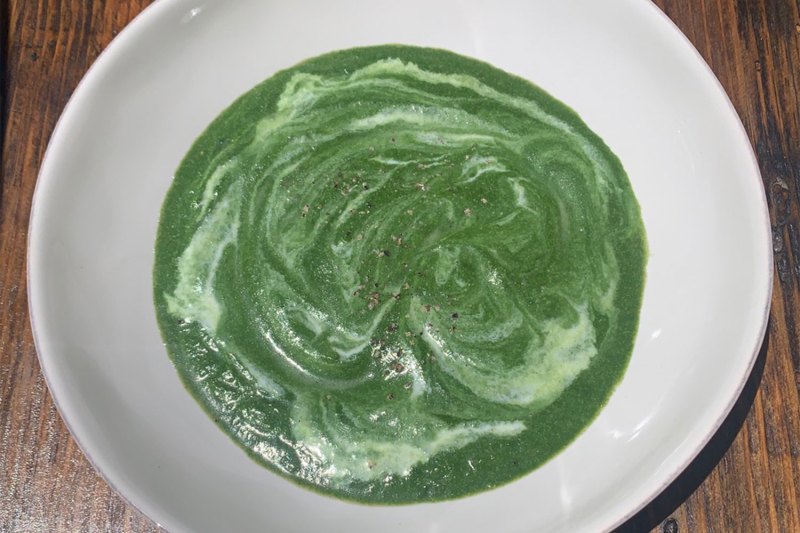 When making summer soups, renowned San Francisco chef Traci Des Jardins likes to customize her formula to accommodate the extra green vegetables she may have left over from an enthusiastic farmers' market shopping spree or a bumper crop in the garden. "The spirit of this recipe is really to use up leftover green vegetables to make a delicious green soup. The harder vegetables could include fennel, onions, spring and green onions, garlic, ginger, asparagus, broccoli, cauliflower — the possibilities are endless. These will serve as a base to give the soup body and should be well cooked until they are soft enough to puree to a smooth consistency. The brighter greens, including lettuces such as romaine, arugula, or red leaf, can be added next, followed by green herbs such as chives, basil, Thai basil, cilantro, parsley, spinach, and chrysanthemum. Once you've added the lettuces and herbs, cook the mixture for an additional 5 minutes to ensure everything is cooked through. Then blend!" she explains.
Ingredients:
2 onions, peeled and thinly sliced

4 cloves garlic, roughly chopped

1 large knob ginger, peeled and finely chopped

2 jalapeños (omit if you don't like spice), finely chopped

.5-1 bunch green onions, finely chopped

3 tbsp olive oil

1 head Romaine

2 bunches cilantro, stems and leaves separated, stems chopped

1 large bunch Thai basil, leaves picked (approximately 1/8 pound)

1 bag spinach

1 can light coconut milk

2 cups water or stock
Method:
In a soup pot, sweat the onions, garlic, ginger, jalapeños, and green onions over medium low heat in olive oil until soft (about 10 minutes). Monitor the heat, as you do not want any color/browning. Cover with a lid until soft.

Add the romaine and sweat for about 5 minutes.

Add 2 cups of water or desired stock and cook for another 10 minutes at a low boil. Add Thai basil, cilantro leaves, and spinach and bring to a boil.

Add the coconut milk and allow it to come back up to a boil.

Season with salt and pepper and blend in a blender (Des Jardins uses a Vitamix) until smooth.

Serve chilled or hot. If desired, garnish with a cream.
Hiro Mitsui's Tsukemen
(By Hiro Mitsui, CEO/executive chef, Ramen by Uzu, Washington, D.C.)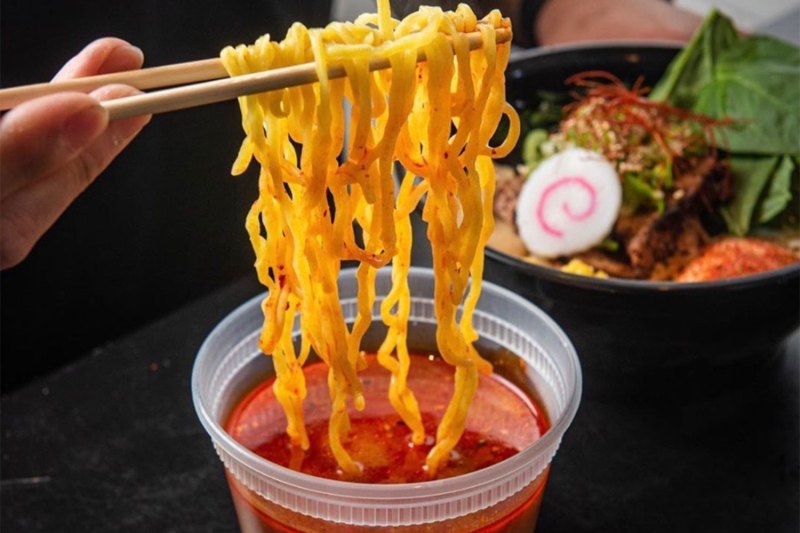 Chef Hiro Mitsui, who hails from Japan and also received his culinary training there, tells us that it's customary for the Japanese to eat hot soups throughout the year, regardless of the outdoor temperature. However, cold noodle dishes aren't unheard of in this part of the world, and one popular Japanese meal — tsukemen — consists of chilled noodles served alongside a warm broth, which serves as a "dipping sauce" for the noodles. This somewhat-deconstructed "soup" offers engaging flavors and an appealing temperature contrast, both of which contribute to its popularity as a street food in its home country.
Ingredients:
6-8 oz chicken stock

.7 oz dashi shoyu (Mitsui recommends looking for this product at Asian grocery stores)

1 tbsp crunchy/fried garlic (available at Asian grocery stores)

1 tbsp rice vinegar

1-2 pinches bonito flakes or dried fish powder (optional)

1 serving fresh ramen noodles

Seared pork/chicken, naruto, nori, bamboo shoots, poached egg (for garnish)
Method:
Boil water and cook ramen noodles, leaving them in the water for 1 minute longer than you would ordinarily. When cooked, strain the noodles and put them in an ice water bath to fully chill.

Add chicken stock to a saucepot and bring to a boil. Remove the pot from heat and add dashi shoyu, crunchy garlic, rice vinegar, and bonito flakes. Stir until fully combined.

When the noodles are chilled, add them to a bowl and garnish with fresh spinach, your protein of choice (like seared pork or chicken or naruto), a poached egg, bamboo shoots, and nori.

Ladle the broth into a separate bowl and use it as a "dipping sauce" before taking each bite of the chilled noodles.
Fresh Pea Soup
(By Sybille van Kempen, owner, Loaves & Fishes, Sagaponack, New York)
Cookbook author and restaurateur Sybille van Kempen operates a number of food-related businesses in the Hamptons, so she knows a thing or two about the seasonal demand for fresh produce and for refreshing dishes that utilize these fruits and vegetables while they're in their prime. When asked about her favorite chilled summer soup, van Kempen told us that "what I love most about the fresh pea soup is its versatility. [It can be] a perfect appetizer to begin dinner, or a bigger bowl [makes a great] lunch with salad and a small sandwich, served either hot or cold. No matter the weather, it will always be just right!"
Ingredients:
2 tbsp vegetable oil

2 cups chopped white onion

4.5 cups chicken stock

1 cup dry white wine

.75 tsp ground white pepper

1.25 tsps kosher salt

4.5 lbs fresh shelled peas OR

2 10-ounce packages frozen peas, thawed

1 cup heavy cream

Fresh peas and crème fraîche, for garnish (optional)
Method:
Heat the oil in a large saucepan. Add the onion and sauté over low heat for 5 minutes.

Add the chicken stock, wine, pepper, and salt. Bring to a boil, then simmer for 20 minutes. Remove from the heat.

Add the peas, cover, and allow the soup to cool for 30 minutes.

Add the soup to the bowl of a food processor or to a blender and puree; this may have to be done in several batches. Return the pureed soup to the saucepan.

While reheating over low flame, add the cream and stir. Serve warm or chilled.
Chilled Cucumber Soup
(By Eli Kirshtein, chef/consultant, Atlanta)
When some people think of MSG, they imagine dubious health consequences and incorrect (and, frankly, racist) assumptions about Chinese food. However, contrary to popular belief, monosodium glutamate can offer an appealing umami flavor to dishes while also reducing their sodium levels. For these reasons, Top Chef alum Eli Kirshtein likes to add a bit of MSG to his chilled cucumber soup. "I have always been a fan of cold vegetable soups in the summertime. With the bounty of beautiful produce that comes during the season, there are lots of options, but a personal favorite will always be cucumbers. Due to their intrinsic watery nature, the soup needs a little richness and pop to make it really satiating. To that end, I love to emulsify crème fraîche into the soup and season it with some MSG to really give it a full mouth feel. Oh, and a little caviar doesn't hurt either," Kirshtein says of his recipe.
Ingredients:
3 large cucumbers, washed and cut into 1 inch chunks, preferably not hydroponic

1 scallion, roughly chopped

5 large basil leaves, blanched

3 oz crème fraîche

1 tbsp lemon juice

.5 tsp MSG

Salt & white pepper, to taste

1 oz caviar, such as American Paddlefish or Hackleback (optional)
Method:
Add the cucumber, scallion, and basil to a blender and puree until smooth. Add the crème fraîche and continue to blend till completely emulsified.

Place in the refrigerator for at least an hour until very cold.

Just before serving, add the lemon juice, MSG, salt and pepper.

Strain the soup through a fine mesh strainer.

Place the soup in four chilled bowls or mugs and garnish with a quarter-ounce of caviar in each serving (optional). Serve cold.
Cold Yogurt Soup
(By Carla Capalbo, chef/cookbook author, Tasting Georgia: A Food & Wine Journey In The Caucasus)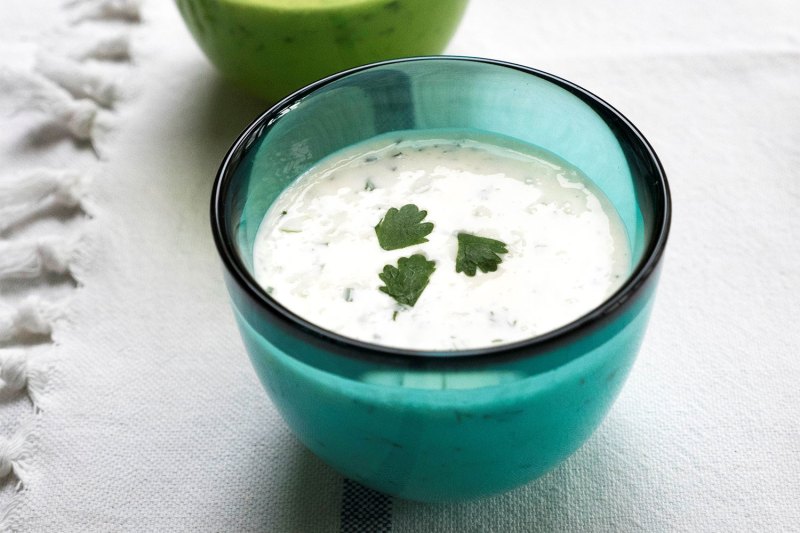 In the Eastern European nation of Georgia, "soups made with matsoni, or cow's-milk yogurt, are very popular," explains cookbook author Carla Capalbo. "Many [of these soups] are made with sautéed onions, rice, and herbs, and are served hot. I fell in love with this cold yogurt soup, which is so refreshing on a hot summer's day! Use good quality organic yogurt with a nice acidic tang to it, and serve it with a lightly chilled wine: I recommend amber Rkatsiteli or Mtsvane (of course, from Georgia)."
Ingredients:
2 cups plain yogurt

1 cup water

3 oz cucumber, finely sliced and chopped

2 spring onions/scallions, finely chopped (both white and green parts)

1 tbsp cilantro, finely chopped

1 tbsp dill, finely chopped

1 tsp mint leaves, finely chopped

1 tsp chives, finely chopped

.5 tsp medium-hot green chile, finely chopped

Salt and freshly-ground black pepper, to taste
Method:
Whisk the yogurt with most of the water until smooth. The consistency should be creamy but soup-like. If necessary, add a little more or less water.

Whisk in the remaining ingredients and season with salt and pepper. Allow the soup to rest in the refrigerator for at least 30 minutes before serving to bring out the flavors of the herbs. Serve chilled.
Curried Peach Soup
(By Bradley Griffin, chef/owner, Sarah Jean's Eatery, Glade Spring, Virginia)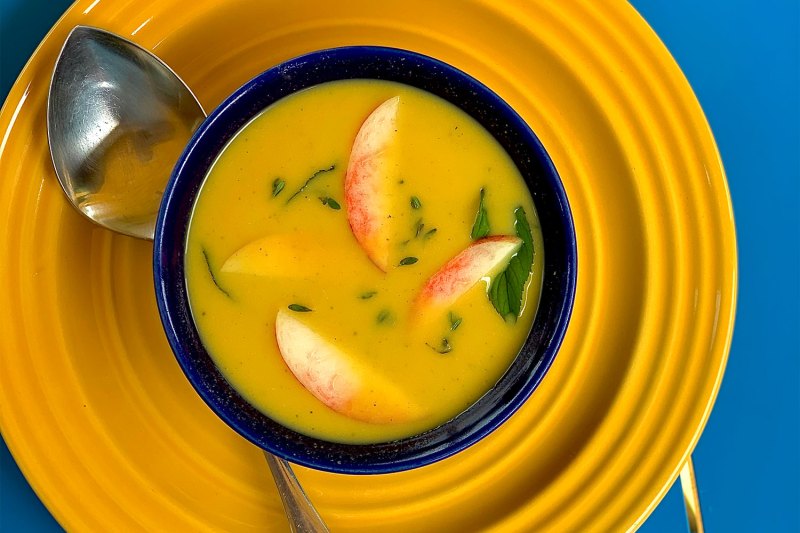 Fruit soups are often forced into the dessert category without much further consideration, but the addition of spices and summer vegetables can transform a peach-based puree into a light meal that's ideal for a warm afternoon or evening. When it comes to his recipe for Curried Peach Soup, chef Bradley Griffin says that "this soup is great if you are looking for a refreshing summer soup after a day by the water. The spices in this soup give off a subtle amount of heat that complements the sweetness from the peaches, and the herbs bring the freshness to make this a perfect dish for summer.
Ingredients:
5 peaches, cores removed and diced

1 medium yellow squash, diced

1 tbsp lavender, finely chopped

2 tsp curry powder

1 tsp nutmeg

1 tsp ground cinnamon

.5 tsp ground cardamom

2 tsp fresh thyme

1 tsp fresh mint

.25 cup apple cider vinegar or peach vinegar (Griffin makes this by soaking peach cores in rice wine vinegar overnight)

6 cups water
Method:
Place all ingredients in a medium sized pot and cook over high heat until soup reaches a boil. Reduce heat to medium low and allow to cook for 15-20 minutes.

Pour cooked soup into a blender and blend until smooth. Place blended soup in refrigerator and allow to cool completely before serving. Garnish soup with fresh mint, thyme, and peach or nectarine slices.
Editors' Recommendations