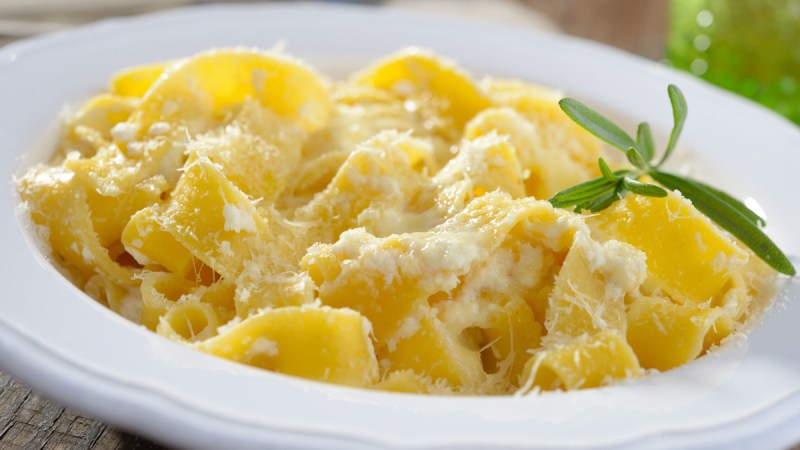 You've never had Fettuccine Alfredo.
You may have had cheese on fettuccine pasta, but unless you've been to Ristorante il Vero Alfredo in Rome, Italy, you ain't had the real deal.
Fortunately, your life can now change forever: The Only Original Alfredo Sauce is available in the US for the first time ever.
The dish has appropriately romantic origins: in 1908, Alfredo di Lelio's wife lost her appetite after giving birth to their son, so he concocted a simple dish of pasta and cheese for her. In 1914, he opened Ristorante il Vero Alfredo and incorporated this dish into his restaurant's menu, though he jazzed up the preparation a bit. He would have it prepared table-side.
It wasn't long before this dish made with love became the toast of Rome, which is no mean feat in a city known for food in a country famed for it. The original Hollywood power couple Mary Pickford and Douglas Fairbanks ate this Fettuccine Alfredo almost every night of their honeymoon and presented di Lelio with a spoon and fork made of gold inscribed with "To Alfredo the King of the Noodles." This audacious gift, (honestly, how do you even find a goldsmith to make last minute cutlery while on an international honeymoon?) would go on to form the symbol of his restaurant and is now on his Alfredo sauce packaging.
Despite its incredible fame, despite being enjoyed by people from all over the world for generations now, despite being seemingly simple, no one could figure out di Lelio's recipe. No one could recreate it. And it was a carefully guarded secret as some people passionately argued that it must have heavy cream in it, while others disagreed wholeheartedly. The mystery endured until now…
Alfredo's Alfredo Sauce is four simple, fresh, high quality ingredients: Parmigiano Reggiano, salted butter, olive oil, and cultured skim milk. We know this because The Original Alfredo Sauce is gloriously available here in the States thanks to Russell Bellanca, son of famous New York restaurateur Guido Bellanca. The younger Bellanca teamed up with de Lelio family to make it available here.
The sauce is thick and creamy, and gloriously melts into hot pasta cooked al dente. It coats every inch of the pasta, creating a uniform, silky, rich cheesy taste. Heap a bit more on for a thicker consistency, or use the age-old secret of mixing in some of the pasta water to thin it out.
This isn't any ordinary meal– Alfredo's Sauce is tasting history; it's tasting a culinary watershed in its virgin, unadulterated form. This is a meal a century in the making.