We at The Manual love cookin'. It's a great way to share time with your mate, good friends and family. And, hello, cooking and sipping something go hand in hand!
The Fat Radish is one of our favorite food spots when we are in New York City and we aren't the only ones. The Lower East Side restaurant has a serious cult following who crave their well-known fresh and local vegetable plates. Don't worry you meat lovers; their Bacon Cheeseburger, Heritage Pork Chop and Roasted Pekin Duck (not Peking! Pekin is a heritage breed from Pennsylvania) are no joke.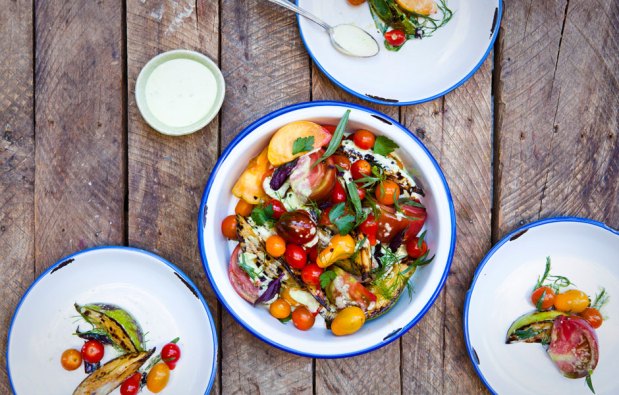 Last fall the boys behind the establishment Ben Towill, Phil Winser and chef Nick Wilber (along with food writer Julia Turshen) released their first cook book, The Fat Radish: Kitchen Diaries ($23). While the recipes are top drawer (we got down on some Kabocha Soup with toasted pumpkin seeds last week), the cookbook is just as much at home on your coffee table to enjoy with a great glass of bourbon. Reading about their summer adventures and Farmers Market favorites are equally as interesting as the incredible array of recipes, organized by season. With Ben and Phil hailing from England, there is no shortage of tongue-in-pork cheek musings.
We had the opportunity to catch up with Ben who has relocated to Charleston, South Carolina to work on an exciting project there to hear more about how this book came to be.
Why now for the book?
If truth be told a cookbook took longer than I ever expected. We started on it two years ago so that was the 'now'! We wanted to preserve everything we had done at The Fat Radish over the past four years, and with all the events we hosted around the country we really wanted to tell that story.
What is your favorite thing to cook?
To cook for other people it's the lamb. It takes a fair amount of effort but worth it.
The greens and garlic recipe are for an everyday thing.
The dish we have done the most are the scallops with sweet potato mash.
What are some tips for a guy just starting to cook?
Confidence
One good knife- (Ben has a Poglia)
Have two or three go to's that you have mastered
Don't get ambitious with desserts- it's forever a disaster
Have nice plates. An average thing can look amazing on a good plate. It does the work for you when cooking simply.
NEVER use square plates.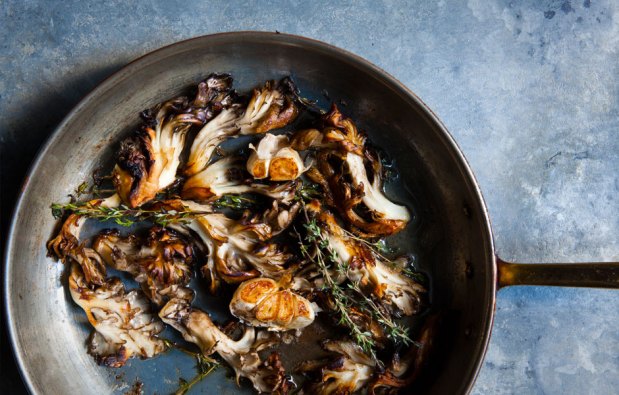 Are Americans changing when it comes to cooking?
The shift to vegetables as a main dish is very big on the fringe of culture.
Food today is what smoking was for the previous generation.
On the bike ride I took across the country I saw young generations with parents who had diabetes and that was a deterrent to the kids to lay off the crap food.
We have evidence that the food we eat affects us.
From a culinary perspective, more people are farming and producing good quality vegetables, which has been a tremendous boon to quality cooking. If you have a really wonderfully grown vegetable, you, as the cook, don't have much to do to them since the vegetable has such flavor. Regional and seasonal foods are really making a comeback. People are coming back around to feeling pride in their heritage. That is happening in England too.
Did you discover anything exciting while working on this book?
A cook book is much more challenging exercise than I thought it would be.
Pancakes are the hardest thing to photograph- that's why they didn't make it in!
The overriding thing is we had a lot of fun doing this cookbook. Working with Julia, Nicole (the photographer) and Nik was a lot of fun and made a great team. We had two English guys and an agent from Colorado as well as everyone who has contributed to The Fat Radish over the years. That was great.
What was the biggest challenge?
Phil and I being the prop stylists, the food stylists and the cooks. Juggling all the things that make the cookbook happen was intense. Recipe testing was a huge challenged so I hope it worked!
What are you cooking next?
My fiancé's family members are the biggest holiday people I know, so pre- holiday I eat super healthy including lots of vegetables. Also we enter an annual chili cook off outside of Greenville, South Carolina in Travelers Rest so we have to get working on that.
I also want to be playing around with Southern ingredients in a healthier way.
I want to find a light way to do it that is just as flavorful.
We will gladly be your taste testers for 'Healthy Fried Chicken."