Booze and elections go together like a horse and carriage. Politicians have a long history of buying voters a round to garner some goodwill. In the 19th century, "cooping" was chosen method of being democratically elected: gangs would grab unsuspecting men off the street, ply them with liquor and force them to vote multiple times for a specific candidate, often sporting (no doubt hilariously terrible) fake mustaches and beards to fool poll workers. It has even been suggested that Edgar Allen Poe might have been a victim of an overly-ambitious cooping scheme. 
But from October 8 through November 8, BOURBON STEAK at the Four Seasons in Washington, DC has a much more agreeable way to toast an election that is most certainly driving the country to drink: presidential cocktails. Head bartender Torrence Swain has created four cocktails inspired by past presidents and ordering one up could win you a night in the Presidential Suite at the Four Seasons! Not in DC? No worries, Swain also gifted us with a recipe for so we can make our own version at home!
Bourbon Steak is the brainchild of renowned restaurateur and James Beard-award-winning-chef Michael Mena. The food and atmosphere are contemporary American at its best: an elegant, sophisticated dining room offering a menu of beautifully prepared, all-natural meats and line-caught seafood. Sure, you've got your filet mignons and New York Strip, but Mena also incorporates exciting cuts like the Elk Tenderloin and Venison Filet. It's a meat-lovers Valhalla with incredible service to boot.
Torrence Swain, head bartender for the Lounge at Bourbon Steak, is the kind of bartender you want to shoot the shit with and he's got a gift for creating the perfect drink for each person. In honor of the impending election, Swain chose two Democratic presidents, Harry S. Truman (fun fact, the "S" doesn't stand for anything) and James Buchanan, and two Republican presidents, Herbert Hoover (of Hoover Dam fame) and Dwight D. Eisenhower, Swain then designed craft cocktails inspired by the four presidents.
Swain tells us about each cocktail and its inspiration:
"Give Em Hell, Harry" – "This is named for the 33rd president, Harry Truman who was a Democrat. Truman was a bourbon man and was known to knock down a shot in the morning. The name comes from a famous incident that took place during Truman's election when a supporter yelled this line. It stuck and become a slogan. I wanted this drink to have an old-school vibe that reflects his era, so this keeps it simple and classic with Bourbon [of course!] along with Lustau Cream Sherry and House Spiced Tincture."
"Sherry Cobbler" – "This is inspired by our 15th president James Buchanan [Democrat]. Buchanan was known to love sherry and had a large collection. This is an American-born drink that rose to popularity during his presidency so it seemed like a fitting choice. We make ours a little differently than the original with Lustau Sherry, Brandy, Muddled Berries, Lemon Juice, Ginger and Bitters."
"The Chief" – "This cocktail takes its title from Herbert Hoover's nickname that he actually picked up decades before being in office. This Republican [who was the 31st president] had only one request while suffering from pneumonia: a good, dry martini. As a nod to this, we use a dry martini and take it up a notch with White Truffles, Absolut Elyx Vodka and House-made Truffle Brine, stirred and served up with a Truffle Pecorino Olive."
"Wizbanger" – "This drink is named for Eisenhower, our 34th president [Republican]. A "Whiz bang" is a classic scotch cocktail that got its name for a shell used in WWI. By adapting this drink, we're nodding to both Eisenhower's service in the armed forces and his love of scotch. It's made with Scotch, Grenadine, Absinthe, Dry Vermouth, Orange Bitters and a twist."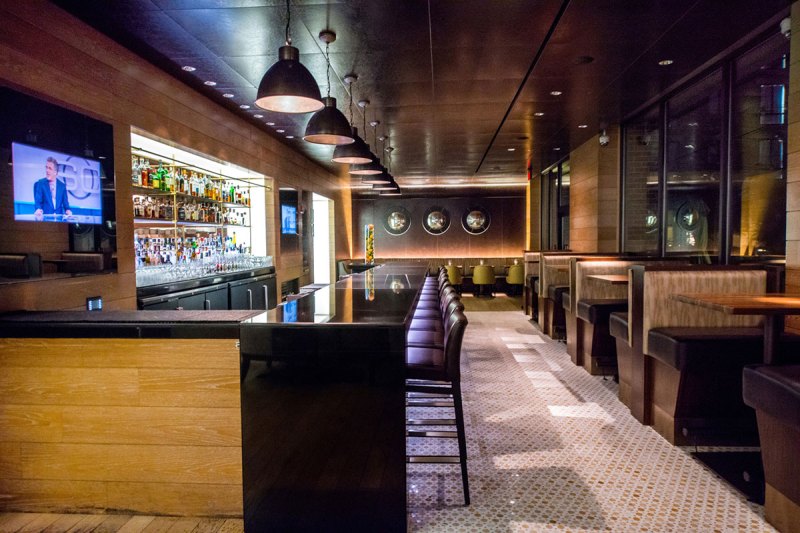 Each cocktail is $20, which may seem a bit steep, but $5 from each drink goes directly to Nonprofit Vote. But here's where the real fun comes in: you also get an old fashioned ballot with each cocktail where you write in your contact information and toss it into one of the full-sized whiskey barrels by the bar. You're tossing your ballot into either the Republican barrel, believing the Republican candidate will win on November 8th or into the Democratic barrel, saying the Democratic candidate will triumph. Once the election is over, a ballot will be chosen from the winning barrel and that lucky "voter" will become President for a Day, receiving a free dinner for two at BOURBON STEAK and a night in the Presidential Suite. All hail the chief!
Swain has also gifted us with a recipe for "Give 'Em Hell, Harry" so you'll have something in hand on the 8th to either toast in celebration or drink the doom away.
Give 'Em Hell, Harry

From Torrence Swain, Head Bartender, BOURBON STEAK at Four Seasons Hotel Washington, DC
Yield: 1 cocktail
Ingredients
2 ounces

Bourbon

1 ounce

Cream sherry

3 dashes

Angostura bitters

1 

Lemon twist to garnish

1 Bourbon cherry [or Maraschino Cherry] to garnish               
Procedure
Stir ingredients over ice and serve up in a coupe glass or in a rocks glass over ice. Garnish with a lemon twist and a cherry.  
Editors' Recommendations