The perfect espresso shot, for many, is a blissful burst of energy in an otherwise boring day. Firing up the espresso machine in your bathrobe and waiting anxiously for that little spark to start your lazy Sunday. Popping in to your favorite café (you know, the one that gets the crema just right and hands it to you piping hot) on the way to the office. And then there are the off days: you might be traveling, camping far from the comforts of home, or maybe there's no café-friendly route to your office, and you end up settling for stale hotel coffee, the last few drops of whatever that is in the break room machine, or, worse yet, nothing at all.
The XSPROFIX Portable Espresso Machine, launching June 1st on Kickstarter, is a compact caffeine brew-master that has a built-in cup and runs on a rechargeable Lithium Battery that's removable so you can take it on a plane. The XSPROFIX uses Nespresso pods and can brew with boiled or cold water, so you can enjoy your choice of flavors wherever you are. A slim travel bag (which also holds three Nespresso pods) and a matching accessory bag for the charger and battery, make this machine perfect for traveling, camping, and commuting.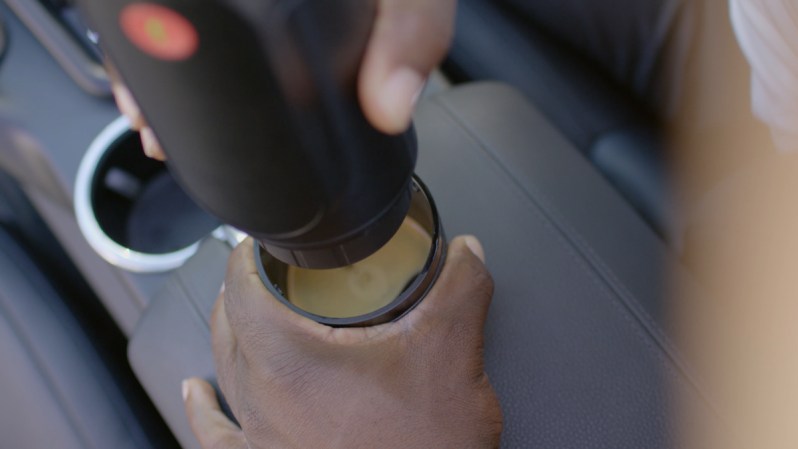 If you're an espresso lover whose getting sick of settling (or if you're just tired of sharing the office coffee machine with all those monsters who never clean it properly), check out the Kickstarter's Early Bird Special – available for the first five days of the campaign – to support the product and save $100 on the full XSPROFIX set with accessories. While you're there, watch for some of the other handy rewards and stretch goals, like a stationary stand that holds five pods, and a car charger to keep you fueled up on the open road.
Editors' Recommendations