More than a century after his death in 1900, the legend of Oscar Wilde lives on in his books, plays, poems, and most quotable quotes. Now, two New York restaurateurs honor his legacy with the opening of the appropriately named Oscar Wilde in downtown Manhattan's former Prohibition Enforcement Headquarters building. True to the author's larger-than-life exploits which oft included thumbing his nose at the conventional, the restaurant/bar is anything but boring.
To venture into the newly opened space is like stepping through a time portal — one dedicated to unabashed extravagance. Every square inch has been fawned over and meticulously curated with ornate Victorian-era seating, furnishings, and unique knick knacks, creating what could easily be confused as the set of a Sherlock Holmes tale-turned-film. The long list of one-of-a-kind antique accouterments (detailed on the bar's website) includes 18th-century castle fireplace inlays, French China cabinets from Paris, Welsh chandeliers, a Belgian piano from the 1890s, and a 19th-century London grandfather clock.
The gorgeous 118.5-foot bar is the longest in New York City, lined with one-armed Mexican bar stools inspired by "the Irish exit." A separate whiskey bar boasts more than 300 spirits with a Champagne-focused cocktail menu inspired largely by the Victorian and Prohibition eras. The drinks are every bit as flamboyant as the bar itself: the Prohibition Manhattan (Masterson's Canadian Rye, Carpano Antica, bitters, and a cherry) is served in a tea cup, while the Absinthe Drip is served traditionally with only absinthe and sugar via an authentic absinthe fountain. Lunch and dinner are available seven days a week. Every plate puts a creative spin on comfort food (like Crispy Cauliflower Buffalo Wings) and hearty, traditional Irish fare (think Cottage Pie and an Irish beef Wilde Burger with house-made pickled vegetables).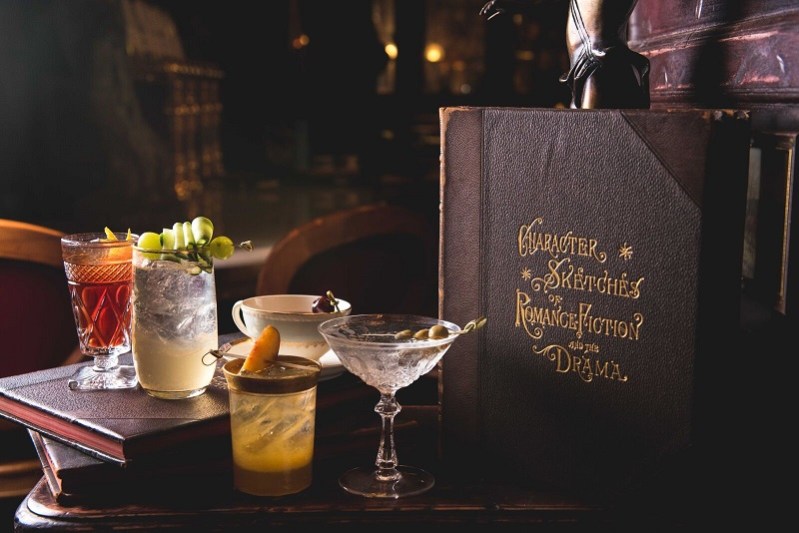 The Oscar Wilde bar is the brainchild of Irish natives Frank McCole and Tommy Burke, locally famous as the owners of Papillon Bistro & Bar and Lillie's Victorian Establishment (another worthwhile destination with locations in Union Square and Times Square). The two grew up reading the author's iconic literature in County Mayo. So, it's no surprise the duo wanted "the bar to celebrate his legacy and become an inclusive destination for all." Hats off, gents. It's a fitting tribute to a man who described himself thusly:
"I have the simplest tastes. I am always satisfied by the best."
Editors' Recommendations