Who isn't yearning for cool autumn air about now? It may be hot as hell around most of the country but we are already day dreaming about flannels, fire pits, and fall cooking. On a recent visit to Brays Island we met their Chef Ron Andrews. Andrews is a Certified Executive Chef and a 2013 inductee into the American Academy of Chefs. He was also named 2014 Chef of the Year for the American Culinary Federation Chefs of the Low Country and has earned several gold, silver and bronze medals competing in ACF-sanctioned competitions.
What the residents of Brays Island love about him most, however, is his Game Bird Pie. When quail season kicks in, Brays Island residents bring Andrews their haul and he turns their hunt into one helluva pie. What makes this pie unique (besides the quail) is the dark sauce. Most pies have a white sauce, but the brown gives this pie extra depth, richness, and character. Believe us, we tried it and nearly embarrassed ourselves eating it so fast.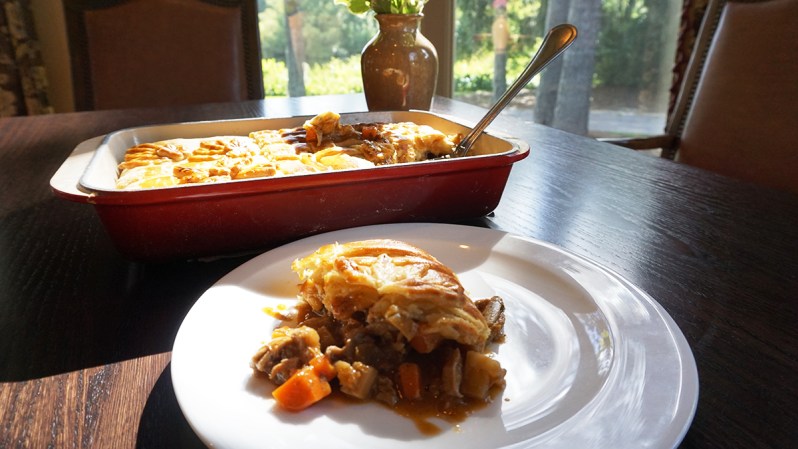 Quail season starts in September, so you don't have to wait too long to try this recipe. Maybe even do a test run with a chicken before going deep on the real McCoy. Chef Andrews also recommends duck, pheasant, and chukar, if you can't find (or shoot) quail.
Chef Ron Andrews Gamebird Pie Recipe
Ingredients
1 dozen Quail
2 quart water
4 tablespoon butter
1½ cups assorted root vegetables (diced)
1 cup onion (diced0
2 tablespoons tomato paste
2 ounces flour
½ cup good red wine
1 tablespoon fresh rosemary, chopped
½ tablespoon fresh thyme, chopped
tart dough*
egg wash
salt & pepper to taste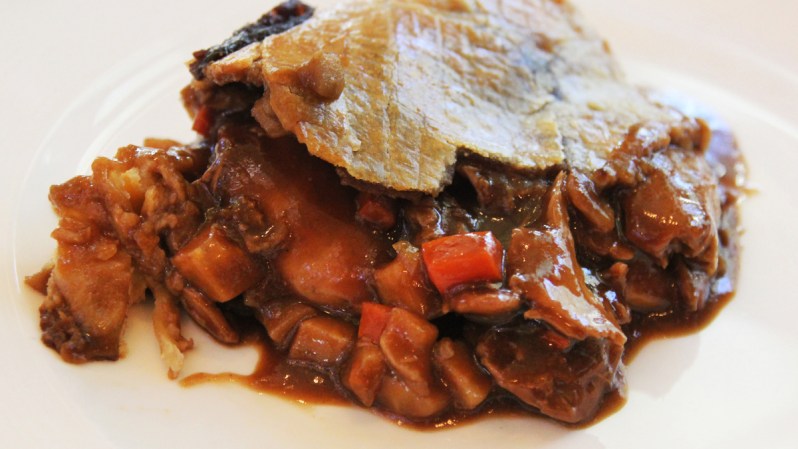 Method
Place quail in a pot with 2 quarts water, salt, and pepper. Bring to a boil and reduce to a simmer. Cook until quail are done. Strain quail and reserve liquid. Set quail and liquid to the side to cool. Once quail has cooled, pull from bones and discard the bones.
Sauté vegetables in butter until tender. Add tomato paste and stir until evenly distributed. Add flour, stir and cook until flour starts to brown.
Add red wine and stir. Using the liquid that was used to cook the quail, add just enough to cover the vegetables. Add herbs. Stir until flour is completely incorporated into the liquid.
Cook for 20 minutes stirring frequently.
Add quail and season with salt and pepper. Set aside to cool.
Line an 11¾" x 8" pan with tart dough on the bottom and sides. Place quail mixture inside and spread evenly throughout the pan. Lay another sheet of tart dough on top. Brush with egg wash.
Bake in a preheated 375-degree oven for approximately 1 hour or until golden brown.
*Tart Dough
12½ ounces all purpose flour
1 tablespoon salt
10½ ounces butter, cold
1/3 cup water, cold
Blend flour and salt. Add butter and pinch to the size of hazelnuts with your fingertips. Add water and mix by hand just until the dough comes together. The butter should still be lumpy. Gather dough into a ball and then flatten. Cover and refrigerate at least 1 hour prior to using. After putting the dough into a pie shell or tart pan allow to rest for at least 30 minutes before baking to prevent shrinkage.
Editors' Recommendations