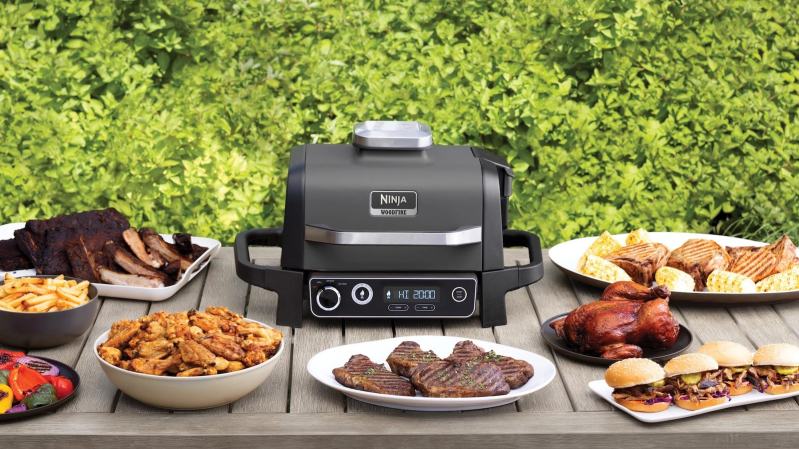 Why buy one of the smoker deals currently available when you could get a great grill and smoker combo for a great price? At last, the Ninja Woodfire Outdoor Grill & Smoker has seen its first discount bringing it down to $323 from a previous high of $370. A price cut of $47 is great to see on a highly well-regarded brand and setup. Anyone keen to upgrade their BBQ equipment this year will love it. Here's all you need to know, or you can just hit the buy button below if you've been waiting for this moment.
Why you should buy the Ninja Woodfire Outdoor Grill & Smoker
Ninja is keen to make an impression on the best grills and smokers world and that seems to be easily accomplished with its Woodfire Outdoor Grill & Smoker. It offers 100% authentic woodfire flavours with the advantages of the performance of a full-size propane grill with great char and searing without needing to use actual propane.
Its fool-proof BBQ smoker can create authentic BBQ bark and flavors fast and easily with just half a cup of pellets. Impressively, it also has an outdoor air fryer so you can add the woodfire flavour to all your air fried favorites as well as opt to cook side dishes outdoors. While the flavor comes from real burning wood pellets, the whole thing is powered by electricity so it's simple to control.
Weather-resistant yet also apartment-friendly, it's a versatile unit that means you can cook all year around as well as store it outside safely even in the winter months. The Ninja Woodfire Outdoor Grill & Smoker is big enough to grill six steaks or up to 30 hot dogs at once. You can also air fry up to three pounds of wings or BBQ smoke a nine-pound whole brisket, so it's perfect for a large gathering that needs feeding. It's easy to clean too with a non-stick grill grate that makes cleanup duty fast and effort-free.
The Ninja Woodfire Outdoor Grill & Smoker is the ideal addition to your outdoor cooking setup. Packed with features while being simple to use, it's so much more exciting and comprehensive than simply using a basic grill or smoker. Normally priced at $370, you can buy Ninja's exceptional grill & smoker for $323 for a limited time only from Best Buy. Snap it up now and enjoy a summer of tasty delights.
Editors' Recommendations