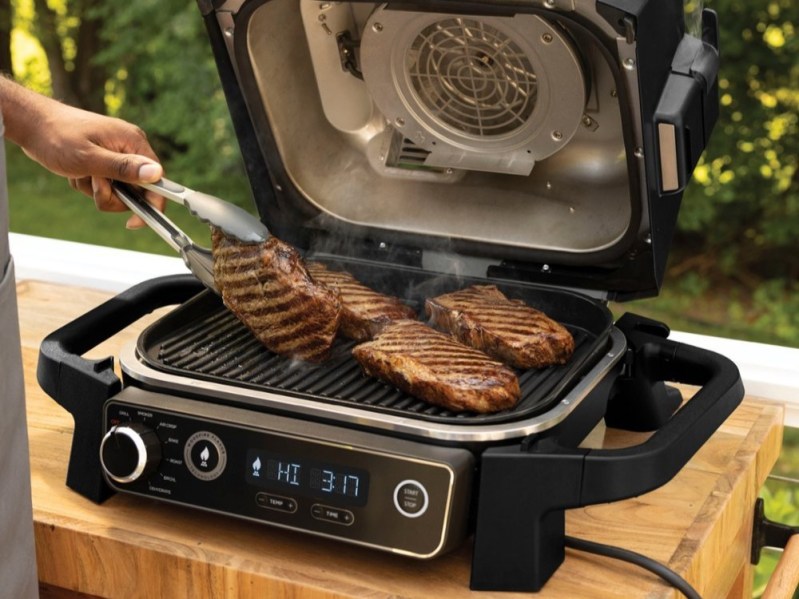 Looking to do some cooking, searing, or grilling this weekend? You're in luck, because thanks to an exclusive Best Buy 48-hour sale, you can take advantage of an excellent Ninja Woodfire outdoor grill deal. Here's the lowdown. Ninja's Woodfire is a 7-in-1 outdoor master grill, smoker, and air fryer that utilizes woodfire technology — powered by electricity yet burning real wood pellets. Needless to say that will give your food a delicious and unique flavor. The deal drops the price of the Ninja Woodfire down to $330, when it's normally $370, saving you $40. Hurry, though, this deal is only good for a few more hours.
Why you should buy the Ninja Woodfire outdoor 7-in-1 grill
One of the coolest features of Ninja's Woodfire is that it actually uses wood pellets to deliver flavor, smoke, and proper even cooking to your foods. That's pretty crazy since it's still an electric grill. That means you can create rich, smoky flavors in a variety of uncommon situations. For example, since this grill doesn't use charcoal or propane, and isn't prone to flare-ups like other grills, it's apartment and small-living friendly. You won't have to spend much time learning how to make perfect grill marks, either. The grated surface will do that for you.
It's plenty large enough to cook up a feast during a barbecue, too. You can grill up to six steaks at a time, or 30 hot dogs, three pounds of wings, or even a whole nine-pound brisket. You can also use it to grill fish like an executive chef. My mouth is already watering thinking about it. The nonstick grill grate is super easy to clean after you're all done too. No charred remains are left all over the surface. Learning how to clean a grill is an essential part of the cooking process, but here, it's almost unnecessary. Non-stick is a modern wonder.
You will need to use Ninja-brand woodfire pellets, but this grill comes with two packs to get you started. They're used to flavor the foods, not as a fuel, so you don't need much — only about half a cup at a time. The two packs should last you for quite a few grills, smokes, cookouts, or whatever you have planned.
Normally $370, as part of Best Buy's exclusive 48-hour sale, you can grab the Ninja Woodfire outdoor grill and smoker for just $330 today. That saves you $40, money you could put towards fresh cuts of meat. Get grilling! Or smoking, or air frying, or searing… you get the point.
Editors' Recommendations