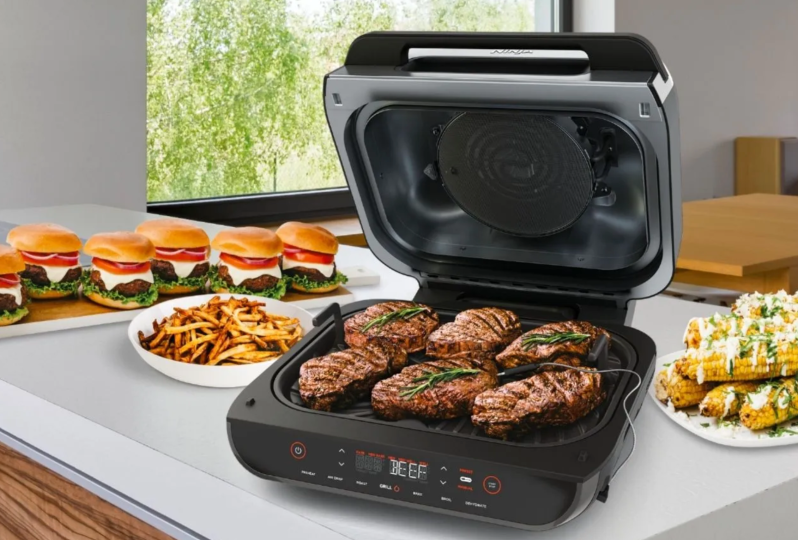 Are you ready to get your grill on? If there's snow outside, you don't have to forego grilling your favorite foods and snacks, especially with a Ninja indoor grill. Best Buy has a tantalizing deal today for the Ninja Foodi Smart XL 6-in-1 indoor grill with an integrated 4-quart air fryer. Ninja's versatile kitchen countertop appliance can grill, air fry, roast, bake, broil, and dehydrate. If you score this deal today, the Ninja Foodi Smart XL  is yours for $180, an $80 savings from the regular $260 cost.
Why You Should Buy the Ninja Foodi Smart XL Ninja Indoor Grill
The concept of a combined grill and air fryer may sound kludgy, but when you cook with this multifunction cooker, one of the best Ninja air fryers, you'll quickly realize the Ninja Foodi Smart XL indoor grill is designed to help you turn out snacks or meals perfectly, every time, with no guesswork or hassle. You can easily select the type of food you're about to cook and then choose from nine levels of doneness. The Foodi Smart Cook System includes a smart thermometer that monitors the cooking progress, so you don't have to cut or stick a manual thermometer in your food to be sure you don't under-cook or overcook it. Want to save even more hassle when you grill? You don't have to flip to food while grilling because the Ninja Foodi Smart XL has a cyclonic air system that surrounds the food with 500-degree heat to match the 500-degree grill surface temperature.
With the XL-sized Ninja Foodi Smart indoor grill, you can cook up to six steaks or 24 hot dogs simultaneously, so no one has to wait for their food. The 4-quart air fryer basket quickly prepares up to two pounds of fries or other crispy foods or snacks. Ninja minimizes the smoke from the grill with a cool air zone that works in conjunction with the grill's spatter shield. You can also use the air fryer to defrost items you forgot to take out of the freezer so you can begin grilling sooner — according to Ninja, you can transform food from frozen to perfectly grilled as quickly as 25 minutes. When the meal is over, you'll also appreciate that cleanup is fast and easy because the grill grate, air fry crisper basket, and an included 4-quart cooking pot are all dishwasher safe.
Whether grilling is your game or you're just looking for a practical, multifunction kitchen countertop cooker, Ninja's combination indoor grill and air fryer has you covered. And this deal at Best Buy saves you money, too. Buy the Ninja Foodi Smart XL 6-in-1 indoor grill with 4-quart air fryer from Best Buy today for just $180, and you can laugh at the snow and ice while you cook your favorite snacks in the air fryer and grill burgers, steaks, salmon, and ribs on the indoor grill. Act today to save $80 off this Ninja's normal $260 price tag.
Editors' Recommendations