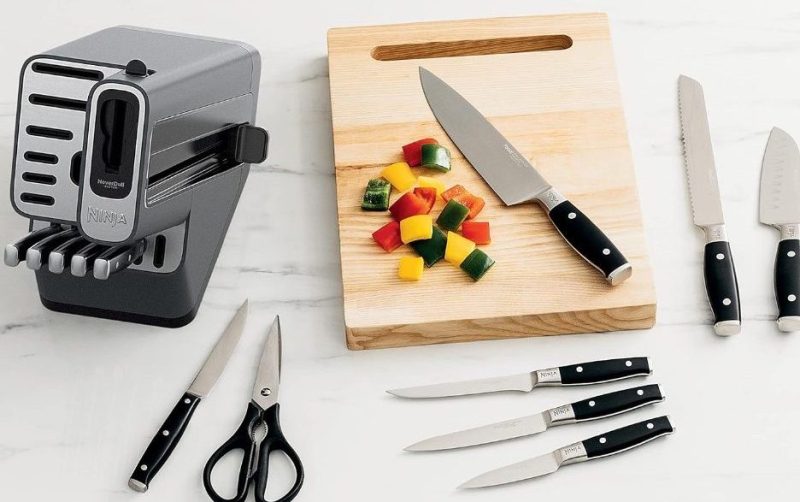 There's never a dull moment in the kitchen. That's true, at least, if you have sharp knives and a lot of inspiration. To boost your knife collection and give you a way to keep those knives sharp, we're recommending the Ninja 14-Piece Knife Block Set today. The reasoning? For one, it is a great set, with just about everything you'll need to chop, slice, and snip your way through the kitchen. It's also being sold for an incredible price at the moment. While this deal is active, you can get your knife set for just $180. That's 40% off (or $120 down) from the usual price of $300. Tap the button below to shop the deal yourself, or keep reading to get a quick run-through of the kit and its capabilities.
Why you should buy the Ninja 14-piece Knife Block Set
This set is divided into cutting instruments and a block for those instruments. Let's run through both, starting with the things that cut. To borrow from our complete guide to kitchen knives, there are two camps of knife construction: Japanese or German steel. This set includes the latter, using rust-resistant German stainless steel. The set includes an 8-inch chef knife, 8-inch bread knife, 5-inch santoku knife (a more delicate alternative to a chef's knife), 5-inch boning knife, 3.5-inch paring knife, and six steak knives. All the knives have a wide, comfortable grip. The set also includes kitchen shears, also referred to as "kitchen scissors".
The block portion of the set includes a safe resting space for each knife and a convenient sharpening station. If you already know the best way to sharpen a knife, you'll know that angle is critical. The stone sharpening wheel in this kit is considered "foolproof" as it engages at the perfect angle already. Another great thing about the storage block and sharpener is how compact it makes everything. The block, with knives and shears in, is just 12.63 x 6.75 x 14.37 inches.
To grab your Ninja 14-Piece Knife Block Set while this 40% off deal is on, just tap the button below and checkout via Amazon's store. This deal brings the set from $300 to $180, saving you a fantastic $120.
Editors' Recommendations