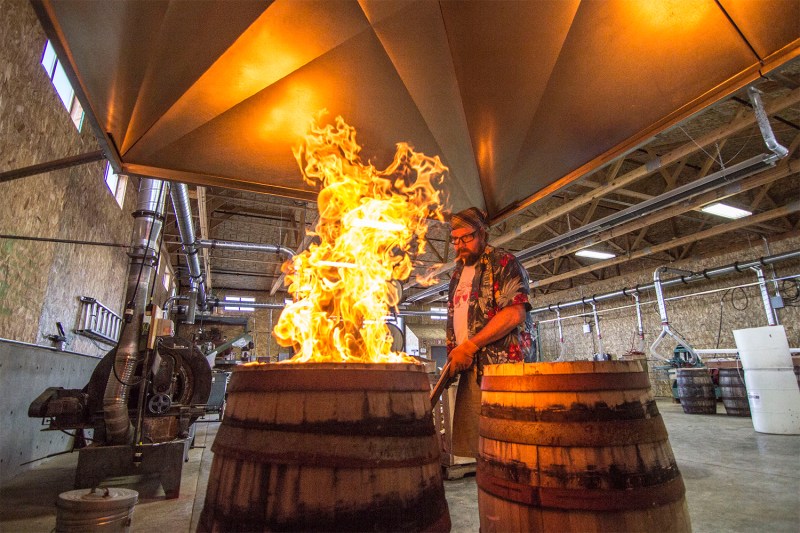 Of the countless cool professions within the drinks realm, the title of Master Cooper still stands out as one of the best. These builders of barrels have been servicing the drinks sector for about as long as it's been around, although with a longer and larger history abroad.
Domestic cooperage began with the rise of whiskey and bourbon in the United States and the need for barrels made specifically of American oak. Supply followed demand and outfits in and around Tennessee started to crop up. Today, Brown-Forman — who owns Old Forester, Jack Daniel's, and other brands — still run their own cooperages in Alabama and Kentucky.
Where wine and beer are concerned, stateside coopers have only recently come to the fore. Larger outfits like Seguin Moreau tend the California wine machine, but a small but increasing number of smaller coopers are rolling up their sleeves and finding a niche elsewhere.
Oregon Barrel Works (OBW) is the only cooperage in the Pacific Northwest. Rick DeFerrari, a master cooper with decades of experience, founded it over a decade ago. He worked harvests in the Willamette Valley in the early 1990s before training at lauded cooperages in Burgundy.
OBW has become the regional go-to for custom barrels and repairs. The company oversees the entire process, from sourcing wood from France, Hungary, and Oregon to bending and toasting the staves and finally, piecing together the barrel. It's an eye-catching, roughly ten-day affair that involves all of the most appealing and instinctive labors (woodworking and open flames, especially).
Rogue Brewery in Oregon has been making barrels since 2015. Their in-house cooper, Nate Linquist, uses old tools for this even older trade (his equipment predates World War II). He trained under bona fide barrel guru DeFerarri at OBW before branching out.
At first, Nate turned out about a barrel a day. Presently, he has a small staff under the Rolling Thunder Barrel Works name and efficiency has picked up. The barrels are used to age beers like the winter-tastic Imperial Stout and some of their spirits.
Evan Martin of Martin Woods Winery in the Willamette Valley is in the midst of an interesting, barrel-minded project. In a quest to maximize the concept of terroir, the vintner is harvesting and drying oak from his property. It is turned into staves and handed off to DeFerrari, who assembles them into barrels for wine aging.
The concept of local oak for wines continues to evolve. Like soil type or grape variety, the type of wood used heavily influences the resulting flavor and texture of the wine. Winemakers are known to fret forever over which forest in France to source their barrels from. Labels that use local wood are not only elevating the idea of localized flavor but potentially saving some serious money as new French oak barrels run somewhere around $1,200 a pop.
Certain types of local wood are simply too hard on certain beverages, but as domestic coopers continue to tighten their craft, we consumers will have some interesting drinks to look forward to. We're not likely to see cooperage as a college major any time soon, but the ancient art form is here to stay.
Editors' Recommendations