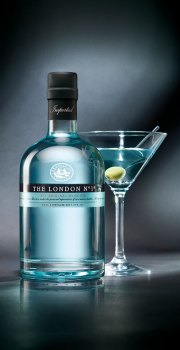 If history has taught us anything, it's that all things run in cycles. (Though if you ask Michael Corleone, history has taught him something different.) Gin, once one of the most popular post-War liquors, is back in style once again.
Though there are a variety of small batch gins being made in America and elsewhere across the globe, to many, gin will always be associated with the United Kingdom (even if the liquor was invented in Holland). There's just something about the image of sophisticated Brits quaffing gin and tonics and martinis that are "shaken, not stirred."
That's why we are thrilled with The London No. 1 Gin, which is a triple distilled gin that comes right from England. Made by Master Distiller Charles Maxwell—an eighth generation gin-maker—The London No. 1 Gin is distilled in small batch pot stills with twelve key botanicals (juniper, angelica root, savory, coriander, cassia bark, liquorice, cinnamon, almond, lemon peel, orange peel, lily root, and bergamot.  At first smell, London No. 1 gin is almost overpowering with its floral notes on the nose.
However, upon tasting the gin, you will see that all of the botanicals come into play with each passing second. First there is an intense warmth, which rises through your mouth—that most likely comes from the cinnamon (without any kind of real cinnamon flavor). Then, the cooler flavors of juniper, the lemon and orange peels, as well as the subtle touch of liquorice tie the flavor of the liquor together and you can actual taste the sweetness at the back of your tongue as the effect of the spirit lifts after each sip. You may not feel the same way, but with the variety of flavors in The London No. 1, there is a certain enjoyment to just pouring the gin neat over ice and savoring each floral effect.
What sets The London No. 1 apart,though (aside from its complex flavor and British citizenship), is its color.  You'll notice that London No. 1 is a pale shade of turquoise. That's not the effect of the bottle—like, say, Bombay Sapphire—that is how the liquor appears. This effect is achieved by using gardenia flowers and a final infusion of bergamot oil. The result is a very appealing looking and tasting gin.
Whether you're a gin aficionado or a tentative gin sipper, this product of England is certainly a spirit you're going to want to spend at least a little time getting to know better.
Editors' Recommendations