Leon's Oyster Shop is one of our go-to drinking spots in Charleston, South Carolina. While the vibe is laid back (it's located in a former garage after all), the food and drinks are always top notch (enter all the James Beard accolades).
One of our favorite summer sippers over there is The Little Bird, so we asked Genevieve Mashburn to whip one up for us on camera. But beyond just knowing how to make the cocktail, we wanted to know the backstory of the drink, so we also rang up Leon's main man Brooks Reitz to give us the 411.
"Wish there was a more interesting story!" he laughed.  "At this point, I don't recall where the name came from, but I usually pull from esoteric movies or songs and weird lines in them that I might come across. As for this one, I probably heard something in a song while we were putting together the cocktail list and just nabbed it out of the ether." And now you see why we have a bro crush on Reitz. 
As far as the drink itself Reitz explained, "It's basically a subtle riff on a Margarita – something tequila forward that is citrusy, elegant, and refreshing. I'm a sucker for grapefruit and wanted to use the liqueur in the drink, which is one of my favorite liqueurs on the market. The lime simply balances the sweetness and the rose water gives it a nice aroma and a slightly more exotic finish."
To make your own refreshing, citrusy number, shake up the below and enjoy.
The Little Bird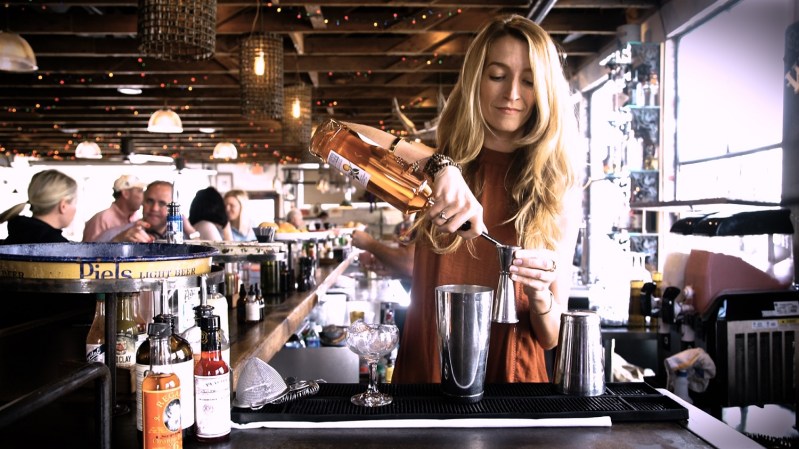 Ingredients
1.5 oz blanco tequila
.75 oz fresh lime juice
.75 oz Giffard Pamplemousse grapefruit liqueur
3 drops rose water
Method: Combine ingredients into glass, shake with ice, double strain, serve.
Editors' Recommendations