For meat lovers, Korean BBQ, with its array of meat and sauces, is one of the best culinary experiences in the world. While there's a ton of variety from grilled pork belly to gut-busting all-you-can-eat buffets, a few Korean restaurants have risen to showcase the fine-dining potential of barbecue, complete with tasting menus and curated wine lists.
Chef Luke Yoon, a Masa, Aquavit, and Brushstroke alum, showcases that style at Anto Korean Steakhouse. With in-house butchered American Wagyu beef from Oregon, the restaurant recently launched a new menu centered on a modern twist to Korean royal cuisine. This is Korean cuisine that presents and tastes different from most Korean BBQ restaurants.
"The royal cuisine aspect to this mostly refers to the way in which Korean food preparation is deliberate, thoughtful, and time-intensive, a contrast to the fast-paced nature of New York City," said Yoon. "It is also usually not so heavily seasoned or spicy."
The ingredients are the star
By now, the concept of what is Korean BBQ is largely familiar in North America. Sitting down at a table in Anto, the first thing you'll notice is the tabletop grill. Like most Korean BBQ restaurants, the meat will be cooked table-side alongside a range of sauces, dips, vegetables, and accompanying banchan (side dishes). The difference at Anto is the quality of ingredients, the preparation of those ingredients, and the thoughtful presentation of those finished dishes to the diner.
The new five-course menu is centered on an American Wagyu platter featuring strip loin, ribeye, and marinated galbi. And all of these cuts are immaculately presented, featuring a careful preparation process.
"The meats at Anto are properly trimmed and butchered twice during the process," explains Yoon. "Once the products are received, they are aged between 15-21 days, trimmed just before it is served to our guests. We are currently using American Wagyu so with all the marbling, proper aging is required to maximize the flavor of the meats."
Because the meat quality is so high, Anto also pays extreme attention to the marinades and accompanying sauces to best highlight the meat. As Yoon explains:
"We're combining the premium meats on the grill with cheongs (syrups made from naturally macerated fruit or vegetable with high sugar content; yields a gentle and pleasant sweetness compared to using white cane sugar or refined table sugars to season) and jangs (sauces fermented over long time periods from vegetable sources to yield deep, rich flavors) to push this mission forward."
A modern twist on historical tradition
While many eaters of Korean BBQ might be familiar with the flavors of the slightly sweet and aromatic Korean BBQ sauce, Anto is focused on bringing forth the full diversity of Korean flavors The meat platter is served with house-made kimchi, various greens for wrapping, such as whole perilla leaves, and an array of salts and sauces. A standout is the Tofu Romesco, Yoon's take on ssamjang, a fermented soybean dip popular in Korean BBQ.
Anto's flavor pairings with their meat are sourced from an interesting focal point — Korean royal cuisine. Specifically, the restaurant is inspired by the Korean medical encyclopedia, Donguibogam: Principles and Practice of Eastern Medicine, compiled by a royal court physician in 1613.
"The Donguibogam suggests balancing out beef (heavy saturated fat content) with sesame oil (unsaturated, healthy fat content), so we provide that option at the table," explains Yoon. "During our barbecue course, we recommend starting with the tenderloin and pairing it with the smoked sea salt to experience the depth of its flavor fully. Then combine the strip loin or rib eye with our tofu romesco paired with the lettuce ssam (assortment of leafy veggies) set. Finally, the Anto galbi goes best with the Anto sauce, which is made with a delicious charred onion cheong."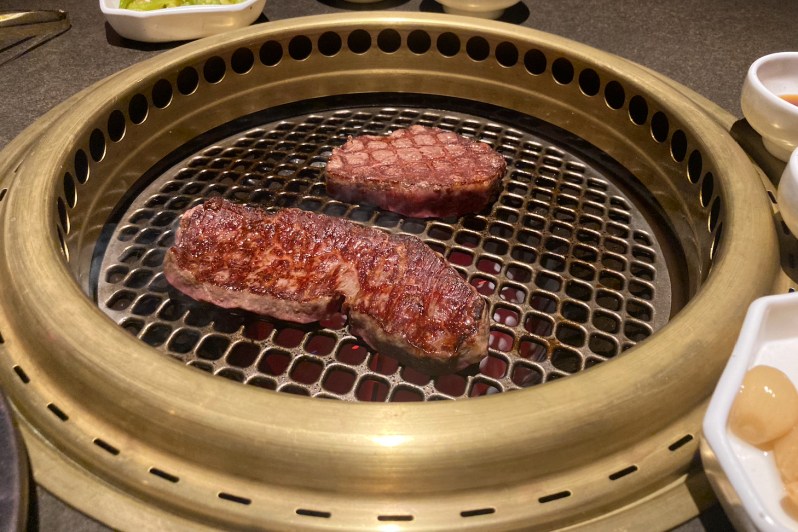 How to cook and enjoy high-end Korean BBQ
Unlike many Korean BBQ restaurants, at Anto, servers will cook, cut, and serve your meat for you. All you have to do is sit back and relax. The meat is seared fast, then cut with scissors while still on the grill into bite-sized pieces before the servers place them on your plate. This concept of carefully trimmed portions is key to high-end Korean BBQ, especially as it relates to proper cooking.
"More than the thickness, each meat is portioned out by weight," said Yoon. "We also make sure that there is enough thickness so it takes proper amount of time to cook on our tableside grill."
While the cuts at Anto are butchered by professionals, for those interested in achieving elements of this high-end style at home, Yoon recommends obtaining the right tools. The key to butchering, according to Yoon, is a very sharp chef knife or other speciality butchering knives. This will make the removal of any excess fat and sinew much easier and neater.
Of course, no Korean BBQ is complete without some excellent alcohol. Because this is a Korean fine-dining style of grilled meats, Anto recommends going behind the classics like soju and beer for Korean BBQ. In fact, think classic steakhouse — wine with beef.
"The way our menu is right now is incredibly versatile with wine," explains Anto's Beverage Director Joo Lee . "When it comes to grilled meats, red wines from Burgundy and Northern Rhône offer a great balance between their brightness and aromatics that contrast and complement our food incredibly well."
Editors' Recommendations