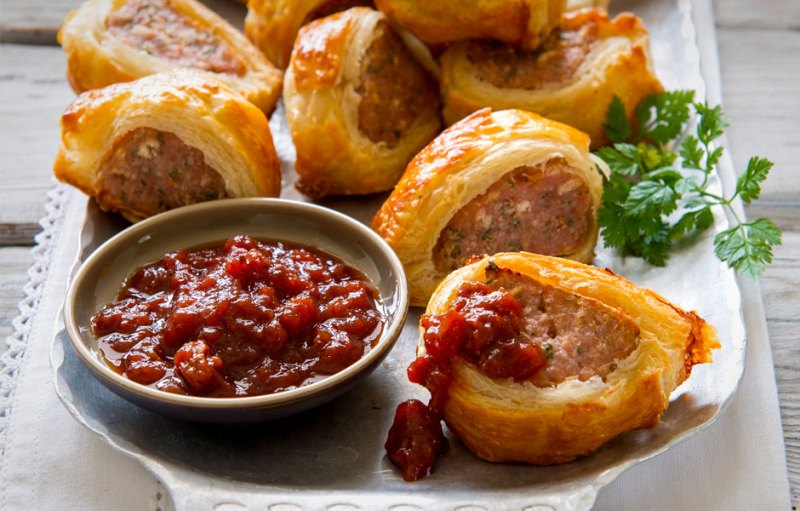 If you want to make your St. Pat's party a hit, take some tips from a real Irish family-run business. They've created a line of relish, ketchup and sauces that will add that extra zing to your dishes.
It started in the 1930s when Ivan and Myrtle Allen had an overflow of tomatoes on their Ballymaloe Farm in Ireland. Myrtle began making a country relish and when they opened a restaurant in 1964, the relish became a customer favorite.
Spin the clock forward to 1990—that's when their daughter, Yasmin, used the relish recipe to fill orders for shops and restaurants. Ballymaloe Foods now offers a variety of products. We love the taste of the Gourmet Irish Ketchup, even more so when we found out it only has nine 100% natural ingredients: tomatoes, vinegar, sugar, onions, raisins, tomato puree, salt, mustard seeds and spices. The ketchup is non GMO, gluten free and suitable for vegetarians.
Sausage Rolls Served with Ballymahoe Original Sauce (pictured above)
Makes 8-10
For the sausages:
• 8 oz lean pork, minced
• 8 oz pork fat, minced
• 1 clove garlic, crushed
• 1—2 teaspoons thyme, marjoram, basil and rosemary, mixed and chopped
• 1 egg, beaten
• 1 1/2 cups soft breadcrumbs
• salt and pepper to taste
For the pastry:
• 10 oz puff pastry
• 1 egg, beaten
• A little milk
For serving:
• Ballymaloe Original Sauce Method
Preheat the oven to 350ºF/180ºC/gas 4.
Combine all the ingredients for the sausages together and mix well. Fry a little of the mixture in a pan to check the seasoning, adjust if necessary. On a floured work surface, roll the pastry out into a large rectangle, a little thicker than a nickel, and cut lengthways into two long, even rectangles. Roll the mixture into sausage shapes with your hands and lay along the center of each rectangle. Mix the egg and milk and brush the pastry with the mixture, then fold one side of the pastry over, wrapping the filling inside. Press down with your fingers or the edge of a spoon to seal. Cut the long rolls into the sizes you want and space them out on a baking tray. Brush with the rest of the egg wash. Bake in the preheated oven for 25 minutes or until puffed, golden and cooked through. Serve with Ballymaloe Original Sauce.
Editors' Recommendations