When we think of Miami, most of us imagine steamy year-round temps, sandy beaches, frozen cocktails, and energetic, dance-filled gatherings. At least, that's what Will Smith taught us to expect in his iconic 1997 ode to the Magic City. So when you're sitting indoors on a chilly March evening in the Northeastern or Midwestern parts of the country, bundled up in sweaters and warm socks and cursing the groundhog for seeing his damned shadow and condemning you to a few more weeks of winter, it's easy to resent Miami denizens for the ability to party outdoors and continue their revelry into the wee hours of the morning whenever they please.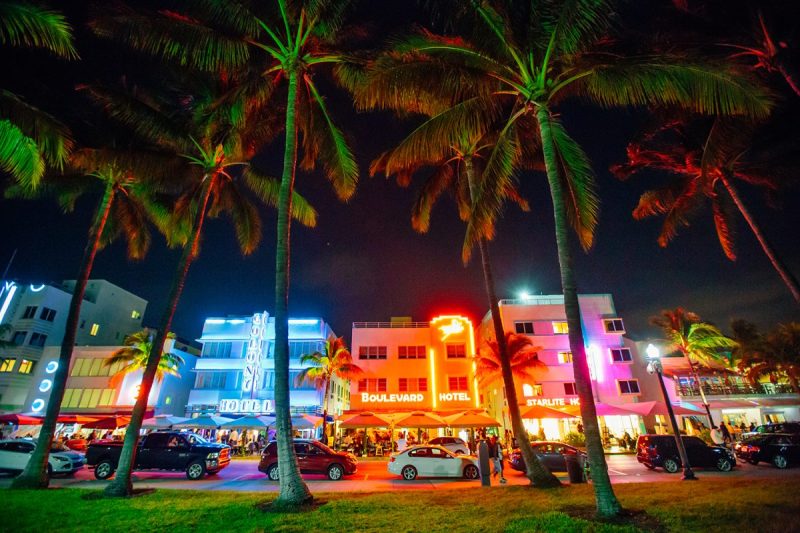 Luckily, we've got some good news for you. According to the Miami-based chefs we met this year at the South Beach Wine & Food Festival, it's entirely possible to throw a Miami-style fête, even if the weather in your hometown doesn't line up with the balmy norms of South Florida. Read on for specific advice on what to serve, how to Miami-ify the ambiance, and the characteristics that truly define Miami hospitality.
Salt and spice factor heavily into the Miami culinary canon, as do other Latin flavors.
According to the U.S. Census, over 70% of Miami residents identify as Latinx. Therefore, it's no surprise that Miami cuisine relies in a major way on influences from Latin America, and the spices, seasonings, and recipes that run rampant throughout the city's dining landscape unquestionably reflect Miami's Hispanic heritage.
"If you want to have a Miami party, you gotta show love to the Cuban community. You need empanadas and croquetas as hors d'oeuvres, because you can't escape them in Miami."
"[In dishes from Miami, you'll find] spice from hot chiles, habaneros, and Scotch bonnets (because of our influence from the Caribbean). Also, salinity and salty bites play a large role in [our cuisine], and crispy, fried textures are a big play here [in] things like crispy chicharrones," says executive Gregory Sgarro of Isabelle's Grill Room & Garden at the Ritz-Carlton Coconut Grove.
Chef/owner David Foulquier of Fooq's in Overtown encourages anyone who wants to throw a party inspired by Miami to add specific Cuban dishes to their menu. "If you want to have a Miami party, you gotta show love to the Cuban community. You need empanadas and croquetas as hors d'oeuvres, because you can't escape them in Miami," Foulquier insists.
When it comes to Miami fruit flavors, go ahead and put the lime in the coconut.
When we asked him to name the fruit flavors that most represent Miami, executive chef Brad Kilgore of Ember and Kaido in the Design District gave us two clear options: "Coconut and limes, which are versatile ingredients. You can use them for savory and sweet."
Chef Giorgio Rapicavoli of Grove Bay Hospitality Group's Glass & Vine in Coconut Grove tells us that "when I think of Miami, I always think of a great balance of acidity. A squeeze of fresh lime can really go a long way on your dish." Whether you're using lime juice to brighten up a ceviche or mixing up a cocktail with citrus and tropical fruits, these natural flavors instantly transport diners and drinkers to a warm climate, which is exactly the vibe you want from a cold-weather "Miami beach party."
If you have the space and the inclination, a whole-pig or a whole-fish roast totally fits the theme.
Miamians treasure communal dining, and one of the best examples of this entertaining style at work comes in the form of whole-roasted pigs and fish. Of course, it's easy to do an al fresco roast when it's 78 degrees outside and you can build a fire pit on the beach, but if you have even a small outdoor backyard or patio, a party-sized roast is possible with the right equipment.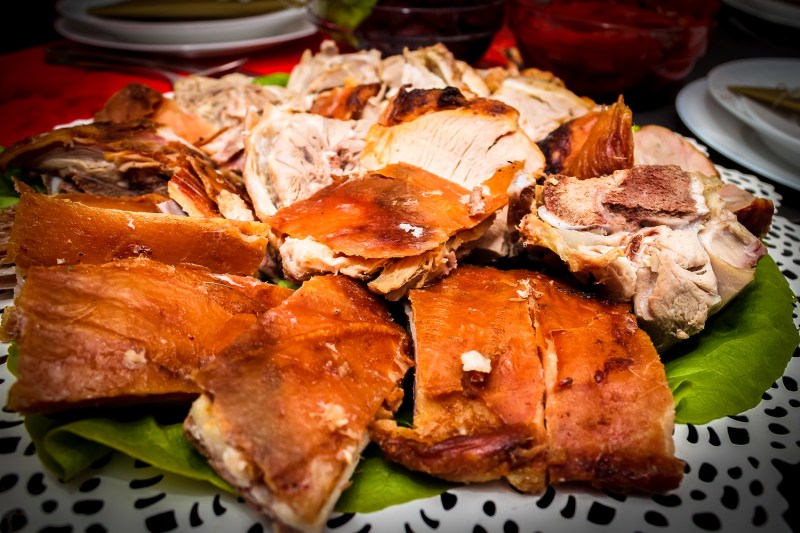 "You can get a La Caja China, which is a Chinese-inspired hot box to cook a whole pig in. All it requires is charcoal and a pig. It's very simple to do and you can buy them relatively inexpensively. Just fire it up early in the day in your backyard [or outdoor space] — even in the winter — and put your pig in there, throw some charcoals on, and let the pig roast all day long. Just maintain the coals, and it does its own thing. Then, you pull it out and put the pig on the table and serve with a guava barbecue sauce. You can have people just pull the meat off — it shreds right off at that point — and I'd put out some white corn tortillas or flour tortillas and a bunch of accoutrements, like diced mango, radishes, cilantro, avocado (of course), and tostones (which are fried green plantains). That way, you can do really rustic roast-pig open tacos," advises Sgarro.
Nervous about trying a whole roast for the first time? Don't be, says Sgarro: "People get scared away by [the idea of] roasting a whole pig, but they really shouldn't. With a little practice, you can do it. I'd also look into doing a whole-roasted fish. Get a whole grouper and rub it with fresh herbs like cilantro and garlic, then wrap it in banana leaves and roast it in the oven. That really makes for a wild Miami beach bash."
Latin-inspired sweets are the name of the dessert game in the Magic City.
"When I think of Miami-style desserts, I think of flan, or anything with coconut or banana," Sgarro tells anyone planning a Miami-themed spread of sweets.
Owner and head baker Ingrid Herrera of T'antay Miami recommends an array of Latin-inspired pastries: "Because it's Miami and [the city is] such a melting pot with so much Cuban influence, I would go for tres leches. It's a signature dish of Miami — if you're here, you're gonna have it, and every bakery carries it. Also, pastelitos [puffed-pastry pockets] with cheese and guava filling are a must-have when you're in Miami."
You can't have a Miami party without rum cocktails and Champagne.
Miami cocktail culture counts among the most notable in the country, and the local favorite spirit is rum. For that reason, a Miami beach party should feature rum cocktails with plenty of fresh herbs and tart citrus. "You've definitely gotta have Mojitos," says Sgarro of the rum libation most closely associated with Miami. "The Mojito is a very classic Miami cocktail. Anything with citrus and rum falls within the overall tone of what we do here; there's a very big population of Caribbean and Cuban people here, and rum is part of what they use to celebrate, even at the holidays."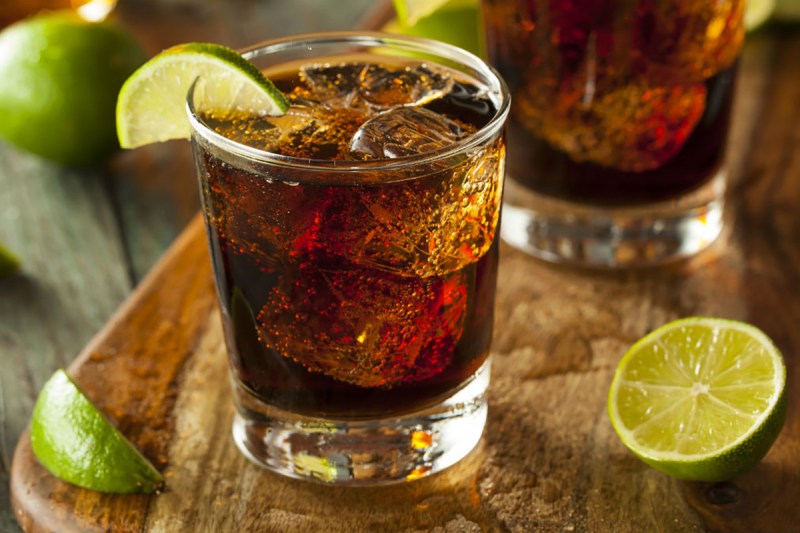 If you'd rather not go through the time-consuming trouble of muddling mint and mixing the perfect Mojito (and we can't say that we blame you), try another of Sgarro's favorite quintessentially Miami rum drinks: "We have a lot of Cuba Libres here, too; it's basically rum and Coke with a nice twist of fresh lime."
Miami events frequently offer chilled sparkling wine along with cocktails, and a good bottle of Champagne is always a welcome sight at a South Beach dinner party, according to Foulquier. "You have to have Champagne. People in Miami love to drink Champagne, and a dinner party here is not the same without it," he tells The Manual.
When you throw a Miami party, you've gotta get the playlist right.
Music and dancing are indelible aspects of any top-notch Miami gathering, so you'll want to invest some time and thought into building the perfect playlist to keep spirits high throughout the night and until daybreak. "Have some Celia Cruz music playing to put a real Latin flair on the party," Sgarro suggests.
In Foulquier's opinion, "you gotta have Buena Vista Social Club ripping on your Spotify. The first couple of years at [my restaurant] Fooq's, I just had Buena Vista Social Club on repeat to the point where my staff wanted to kill me. But it really personifies Miami. It has that Cuban, sub-tropical, folky-yet-sexy dinner party vibe that's unobtrusive, but sets a good mood."
"Kick off your shoes, relax, and enjoy the party."
That's the number-one piece of advice that Sgarro wants to give anyone hoping to bring a taste of Miami to their own bash.
"Miami has this open attitude — people don't judge you based on what you do [for a living]. Instead, they're interested in how you live."
"Party until the late hours of the night until the sun rises. That's how you have a real Miami party. Miami is one of the biggest party capitals in the world, and people come here to have fun. They have their weddings and bachelor parties and vacations here, and when you live in a place where lots of people vacation, you really adopt that spirit and that [desire] to show people a good time. When I first came here, I realized that I could go out any night of the week and meet cool, beautiful, super-friendly people. Miami has this open attitude — people don't judge you based on what you do [for a living]. Instead, they're interested in how you live. Miami is a city for people who want to live well. Everything starts a little later here, no one's in a rush. Miami hospitality is laid-back and relaxed, with people who want to enjoy themselves and don't take themselves too seriously," Foulquier says of Miami hospitality.
For a light, fresh, and VERY Miami party dish, try this ceviche recipe:
Miami Ceviche Recipe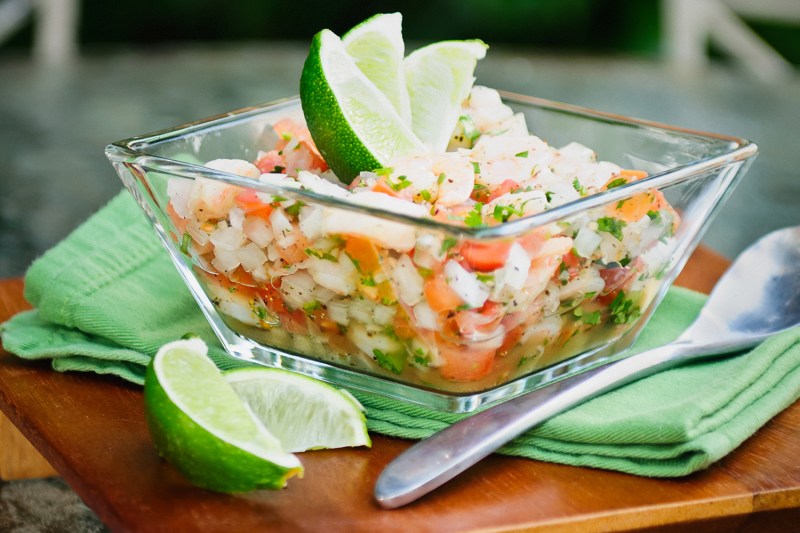 (Created by Gregory Sgarro)
"[At a Miami-style party], I would definitely have ceviche," Sgarro tells us. "Take any kind of local whitefish that you can find, mix it with lime juice, hot chiles, and plenty of cilantro and red onion. Maybe serve it in coconut shells or in a scooped-out pineapple to bring that tropical feel. It's kinda corny and quirky, but people get a kick out of it. They're coming in the winter with their parkas on, and they're like 'What is this, Gilligan's Island?' It's just a fun way to entertain."
Ingredients:
1 lb boneless fish, preferably Corvina

1.5 cups onion, julienned and rinsed in ice water for 30 minutes

1 1/3 cups fresh lime juice

.25 cup cilantro, rough-chopped

.25 cup small cherry tomatoes, split in half

Kosher salt, to taste

Aji Amarillo (yellow pepper paste), to taste
Method:
Cut the fish into bite-sized pieces and place in a glass bowl or container that is at least 2 inches high.

Add all the other ingredients and mix well. The lime juice should cover the fish. Cover with plastic wrap and place in the refrigerator.

Allow one hour for fish to cure in the lime juice and onions.

Garnish with cancha corn (found in gourmet markets) and serve with crisp plantain chips.
Editors' Recommendations