Cast iron pans are amazing. They're sturdy, they're versatile, and they have the potential to make some absurdly delicious dishes. However, many people are daunted by cast iron, and instead opt for cheaper non-stick aluminum cookware. The fact is, cast iron pans are very easy to use for frying, baking, and basically any other type of cooking. And with the holidays coming up, you should strongly consider upping your culinary game. Cast iron cookware company FINEX was kind enough to share a few pieces of advice to help us better understand how to cook with cast iron. We'd also like to present you with a tasty recipe, which you'll find below.
Related Reading
Things to Know About Cast Iron
If properly cared for, a cast iron pan can successfully cook delicious meals for decades. Cast iron cookware was said to be used as early as third century China, and have played a big role in culinary history. Cast iron can handle high heat — which it holds and distributes evenly — and provide a non-stick surface for all kinds of food. No matter what meals you like to cook, you can probably do it better with cast iron.
Cooking with Cast Iron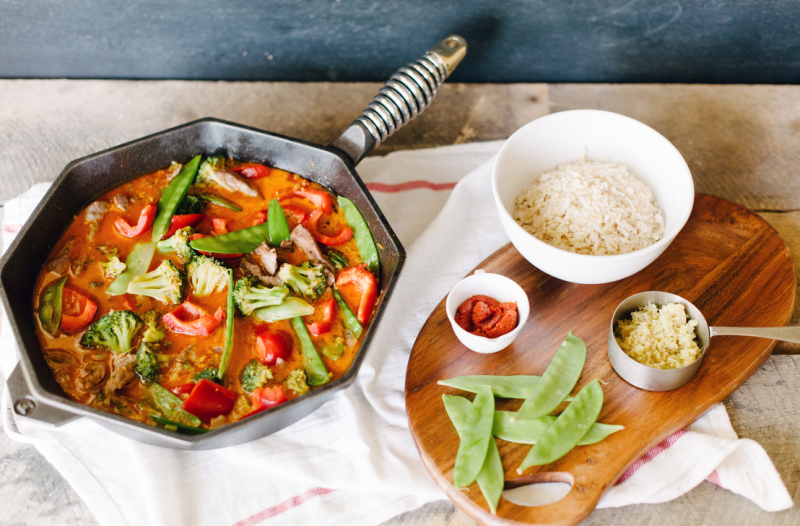 There's no reason to fear cast iron. For the most part, you can use a cast iron pan just as you would any other pan. However, you'll need to be careful when touching the handle, as it will get nearly as hot as the rest of the part on the heating element. That said, the FINEX spiral handle cools faster than most other cast iron handles. To enhance the flavor of your dishes, the folks at FINEX recommend seasoning with lard or bacon fat.
You can cook entire meals with your cast iron pan — vegetables and all. Just put the protein in the center and add veggies and herbs around the outside. You'll find that everything will cook evenly, with no burned edges. The more you cook with cast iron, the better your meals will be. According to FINEX, "Over time, all the great meals and delicious fats you cook seep into the pores of the pan creating a delicious seasoning." Here are a few more cooking suggestions, courtesy of FINEX:
Spatchcock and cook a chicken in cast iron pan – with cooking shears, cut the backbone out of a chicken, unfold like a book, crush it down flat in the pan

The pans retain heat longer than others. Leave them on the table and the dish will stay warm for an additional 10-15 minutes, more forgiving for timing large holiday meals.

Don't forget desserts are a breeze in cast iron: bread pudding, brownies, sheet cake, pie, tarts, cinnamon rolls.

Breakfast is the most important meal of the day: eggs, hashbrowns, sausages, potatoes, Dutch baby. FINEX has the touch with those tender but crispy dishes.
Cleaning Your Cast Iron
A lot of people just leave their cast iron skillets on the stove, and use it whenever they need to cook something. You might think of it as a tea kettle you can use to cook bacon any time you want. Here are a few of suggestions from FINEX for what to do after using your cast iron:
Deglaze the pan after a roast, make an au jus sauce to clean the pan, and wipe out with a cloth – save the good stuff!

To care for it, use lots of oils when cooking, clean with hot water and maybe a drop of soap, or rub with salt to clean. Be careful with water to avoid rust.
Related: How to Season Cast Iron
Now that you've had a brief introduction to cast iron, we suggest you check out this excellent recipe, which comes to us from Eva Kosmas Flores of Adventures in Cooking. Bon appétit!
Rosemary Roast Beef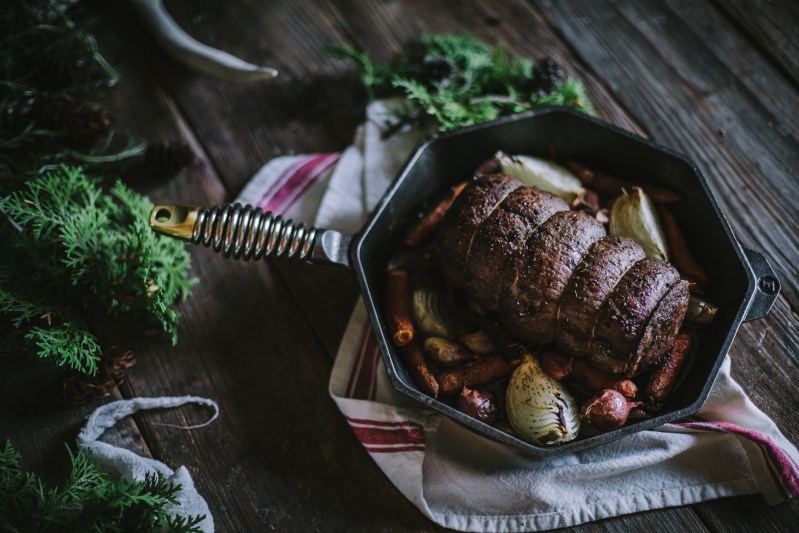 Ingredients:
3-4 pound boneless rump roast, tied

2 teaspoons salt

1 teaspoon black pepper

1 teaspoon crushed dried rosemary

1 teaspoon dried thyme

1 teaspoon garlic powder

1/2 teaspoon dried oregano

1 medium yellow onion, cut into sixths

4 carrots, cut into 2-inch long pieces

1 head of garlic, broken up into individual cloves with skin still on

2 tablespoons olive oil

3/4 cup beef stock

4 sprigs fresh rosemary
Directions:
Remove the beef from the refrigerator 30 minutes before you put it in the oven to allow it to come to room temperature. Preheat the oven to 400 degrees Fahrenheit.

While the beef is resting, mix together the salt, pepper, rosemary, thyme, garlic powder, and oregano in a small bowl. Place the vegetables in a large cast iron skillet and toss them with 1 tablespoon of the olive oil and half of the spice mixture until they're coated. Set aside.

Rub the beef down with the olive oil and the remaining spice mixture. Place the beef in the skillet, fat side up, arranging the vegetables around the roast. Add the beef stock to the skillet and place it in the oven.

Roast for about 1 hour for medium-doneness, basting with the pan juices every 20 minutes. The beef will be 135 to 140 degrees Fahrenheit when measured with a meat thermometer for medium, and 125 to 130 degrees Fahrenheit for rare. Remove from the oven, place the fresh rosemary sprigs around the beef, and allow to rest for 10 minutes before carving and serving.
View and purchase FINEX cast iron cookware on their website
Photos and recipes courtesy of Eva Kosmas Flores of Adventures in Cooking
Editors' Recommendations