Barbecue season is in full swing which means, by default, it's also brining season. As we prep proteins for the flame or smoker, a good brine can make a world of difference. Knowing as much, we reached out to a top chef for some additional insights on the matter.
Chef Jeremy Murray works at Nashville's Gaylord Opryland Resort at the Jack Daniel's Restaurant. He brines 8,000 pounds of meat a month, meaning he knows a thing or two about readying things for the grill. Of the many great grilling tips out there, knowing your way around a good brine is among the best.
What is brining?
Let's start with the basics. Brining is done to achieve to major things: tenderize the meat and impart some flavor. Brining allows the meat to stay moist and can be done with a water-based solution, often treated to herbs, spices, etc. The process is ideal for leaner meats like pork, chicken, fish, and other proteins that don't have the fatty marbling that, say, some steaks have. Leaner meats can dry out because of their lack of fat, and that's where brining really comes in handy.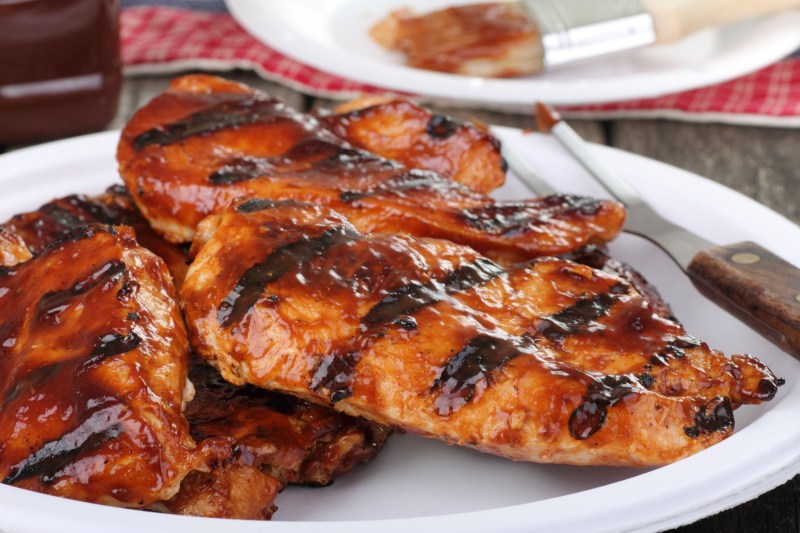 Chef Murray's tips
Working at a restaurant that specializes in barbecue and smoked meats, it's no wonder that chef Murray deals in so much brine. He was nice enough to offer some major tips, ranging from what ingredients to work with when making a brine to prep and things to watch for. Read on for his main brining pointers.
Stick to leaner cuts of meat
Brining works best with leaner cuts because there is less fat to add moisture. Chicken breast, whole chickens, turkey breast, whole turkeys, and pork chops are all great choices. Ribs can also work well because of the meat's tough texture.
Get creative with the ingredients
There is almost no wrong ingredient to add to a brine if it complements the flavor profile you want to accomplish. You can add anything from spices, honey, citrus, peppercorns, herbs, and sugar, to pungent spirits.
Liquid is essential
Completely submerging the protein into the liquid is important. Any piece sticking out of the brine will not be as tender as the rest. That said, make sure you have a good vessel that can accommodate the entirety of whatever it is you're brining (or break it down and do parts of the meat separately in smaller containers).
Pat down the skin
If you are brining something with skin, once you take it out of the brine, pat it dry with paper towels to remove excess moisture from the skin for a crispier finished product after cooking.
Beware of over-brining
Approximately one hour per pound is a good rule of thumb for time in the brine, advises Murray. But never more than 24 hours as it will end up breaking down the protein too much. Always keep the brine in the refrigerator.
Let the meat rest
Cold protein placed directly into a hot cooking environment may constrict, which will push out some of the moisture. So, after removing the brined meat from the refrigerator, allow it to rest for 30-45 minutes before cooking.
Ready to try it for yourself? Remember to clean your grill and check your bbq season inventory, you may need some good grilling tools or other culinary gadgets. And speaking of cooking with liquids, don't forget to work with some the best barbecue sauces.
Editors' Recommendations