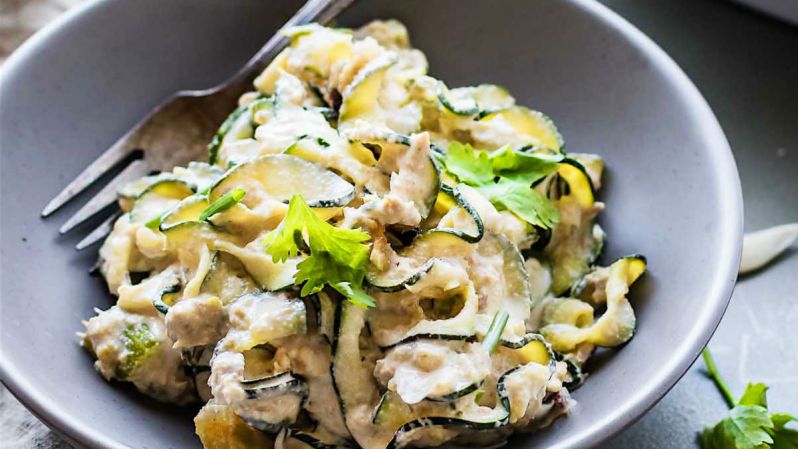 A staple of pot luck dinners for decades now has been the tuna noodle casserole. It's easy to make and has a little bit of everything. It says that you're coming to the pot luck because you're friends and you want to socialize, but you aren't so keen on the whole "cooking" part (and someone else had already called dibs on picking up fried chicken).
Typical tuna noodle casseroles, though, can be pretty bland and gross. Sure, the cream of whatever soup you're using has a little bit of flavor, but there's no real spice palate to play with. Then there's the texture. Outside of the one bit of crispy noodle that you'll get on the top, the best way to describe the meal: soft and mushy.
That's why we reached out to Safe Catch tuna to get their take on the matter. Since this brand features the lowest mercury levels in any canned tuna, we thought it would be a good place to look for a healthier, tastier version of the classic casserole. They did not disappoint.
The healthy tuna noodle casserole recipe below, created by Lindsay Cotter of Cotter Crunch, is Paleo- and Whole 30-friendly, includes the most fun food word to say (zoodles), and has a nice little kick thanks to some green chiles.
Safe Catch Paleo Tuna Green Chile Zoodle Casserole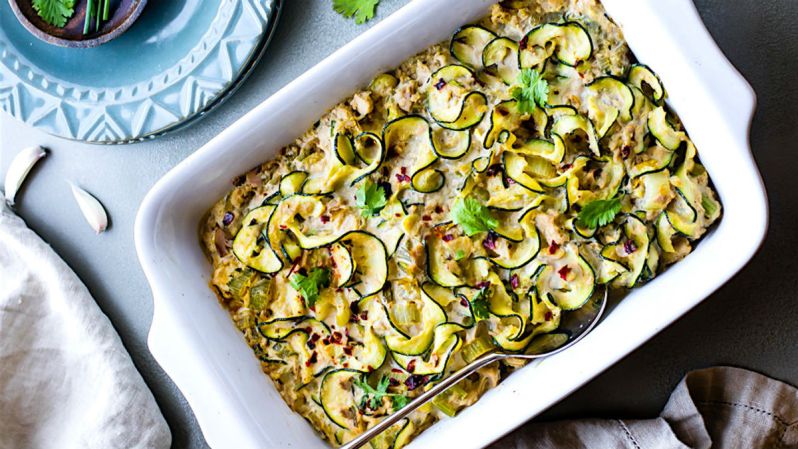 (Prep time: 15 minutes; cook time: 10 minutes; serves: 6-7)
Ingredients:
3 zucchini, 6-7 inches long
2 5-oz cans

Safe Catch Elite tuna

4 oz green chiles, diced (canned with no additives works)
.5 cup real mayo with olive oil (such as

Primal Kitchen Chipotle Mayo

; add .25 cup more if you want extra creamy)
.5 cup onion, chopped and peeled
.5 cup celery, chopped
.5 cup coconut milk or cream without additives
2 tbsp coconut flour or tapioca starch (almond flour works but does not hold together as well as other flours)
2 tbsp chopped chives (plus extra for topping)
1 tbsp organic mustard (spicy or regular without added sugar, like

Annie's Organics

)
1 tbsp avocado or olive oil
.5 tsp seasoning salt of choice, or natural sea salt with dehydrated garlic or onion added.
5 tsp chili pepper or red pepper flakes
.25 tsp garlic powder
.25 tsp black pepper
Parsley to garnish (optional)
Method:
Wash and clean your veggies.
Preheat oven to 350 degrees Fahrenheit.
Oil a 9 x 13 shallow casserole dish. Set aside.
Ribbon cut or spiralize your zucchini into noodles. Set aside.
In another bowl, combine your tuna (drained), green chiles, mayo, mustard, pepper, and garlic powder. Mix thoroughly. Set aside.
Oil a medium skillet. Add in your onion and celery and seasoning of choice. Cook for about 6 minutes to medium, or until onions brown a bit.
Add your coconut flour and milk to the skillet. Stir together with the celery and onion mix until no longer clumpy.
Add your zucchini noodles to the skillet and toss all together. Cover and let the noodles and mix together for 1 or 2 minutes on medium heat until zucchini is softened but not thoroughly cooked. Don't let it get soggy!
Remove skillet from heat and pour contents into a large bowl.
Mix your tuna/green chile mix in the same large bowl (with the zoodles/milk/onion mix).
Toss everything together.
Pour mix from the large bowl into your casserole dish. Top with extra seasoning of choice.
Bake for 3-5 minutes or until edges are brown.
Broil last minute or so to make crispier edges.
Remove from oven.
Garnish with optional parsley and red chili pepper if desired.
Serve immediately. Keeps well in sealed container in fridge for up to 1 week. Freezes for up to 6 weeks but will contain extra water once thawed out (you can add more flour or fresh zucchini).
Editors' Recommendations