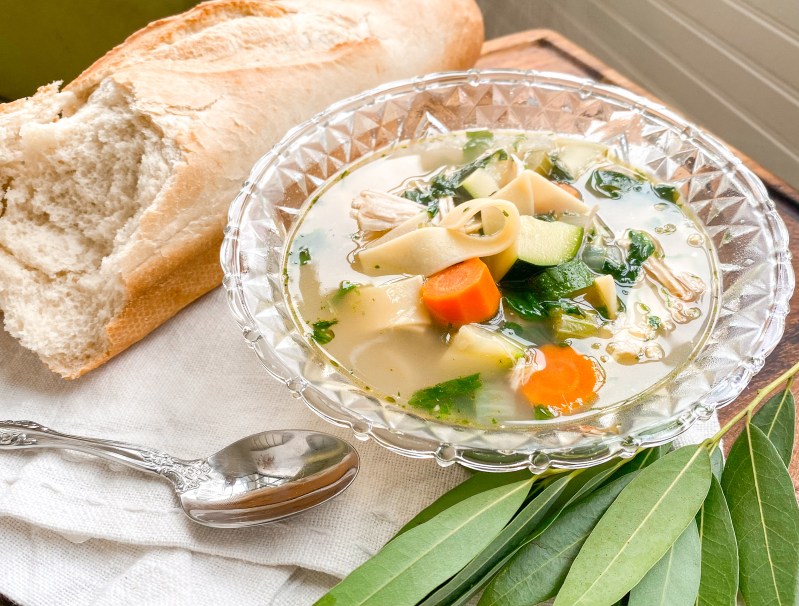 There's comfort food, and then there's chicken noodle soup – the queen of all comfort foods, of cold weather nourishment and stay-in-bed Saturdays. The epitome of neighborly kind gestures and thoughtful acts of goodwill. It's the food that has the power to jolt us straight back to sick days home from school with Bob Barker, a pack of Saltines, and a big steamy bowl of this magic working its way through our tiny bodies, willing us back to good health. Somehow, this soup encompasses all of these wonderful feelings. And now that the weather has gone a bit gray, there's nothing like this old familiar friend to bring back a little sunshine.
This homemade chicken noodle soup recipe is spectacular not only for its ability to envelop you in all of the warm and wonderful feelings already mentioned but – as every good chicken noodle soup recipe should be – it's absolutely packed with rich, hearty, cold and flu-flighting nourishment.
What's even better is that with two simple hacks, this recipe comes together in just about 30 minutes while still tasting like it simmered away on the stove for hours. With the combination of a store-bought rotisserie chicken and one of our favorite secret weapons, Better than Bouillon, no one ever has to know how easy this soup is to prepare.
Chicken noodle soup recipe
Ingredients:
3 tablespoons bacon fat (or butter or vegetable oil)

1 yellow onion, chopped
5 carrots, chopped
3-4 ribs celery, chopped
3-4 cloves garlic, minced
3 bay leaves
3-4 sprigs thyme
1/2 teaspoon red pepper flakes
1 tablespoon Better Than Bouillon (Roasted Chicken Base)
1/2 cup dry white wine
12 cups chicken stock
16 ounces pappardelle, broken into 2-3″ pieces
6 ounces spinach
Juice from 1/2 lemon
Salt and pepper to taste
Method:
Heat bacon fat over medium heat until melted. Add onion, carrots, and celery and cook until slightly caramelized.
To the vegetables, add garlic, bay leaves, thyme, red pepper flakes, and better than bullion. Sauté until fragrant, about 3-4 minutes.
Deglaze the pan with white wine and reduce until most of the liquid has cooked off.
Add chicken broth, shredded chicken, and zucchini. Return soup to a boil, then reduce to a simmer.
Add pappardelle and continue to simmer until cooked through, about 8-10 minutes.
Add spinach and lemon juice, and cook an additional 1-2 minutes.
Remove bay leaves and thyme sprigs before serving.
Serve with crusty bread and butter.
Chicken noodle soup tips and tricks
There's no need to be precise about perfect pappardelle pieces. Just give the closed bag a few good knocks on the counter, and you'll be good to go.
We love the rustic, homemade feel of the broken pappardelle in this recipe, but any pasta you have in your pantry will work beautifully.
Shred the rotisserie chicken while it's still warm. If you wait until after it's been in the fridge for a bit, this job is ten times more difficult.
Better Than Bouillon works wonders for making delicious broth, but it also works to amp up the flavor and add an extra punch to dishes when used with broth, like in this recipe. We love the complexity and depth of flavor that comes from just a small amount.
Editors' Recommendations