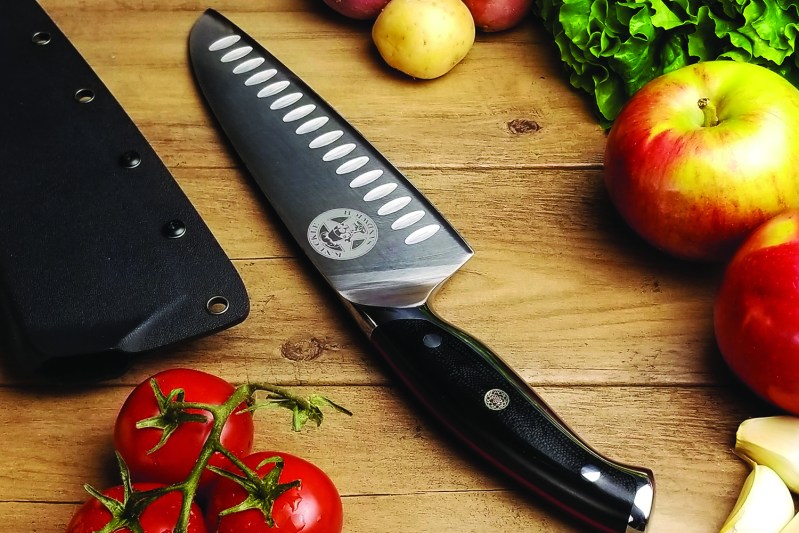 People can give Guy Fieri crap all they want, here at The Manual, we love him. Whether it's his gimmicky persona (and those recognizable-from-a-mile-away-bleached-tips), or the fact that he is a just a genuinely great dude, we can't help but revere all that he's done. Now, to add to the dozens of restaurants, televisions shows, and appearances, bestselling books, and countless other events, Fieri has rebooted his own line of kitchen knives.
Guy Fieri Knuckle Sandwich Knives aren't new – the knives themselves, which are made by ErgoChef, have been out for a few years — but the design has been revamped for the two sizes — a 7-inch Santoku Knife and an 8-inch Chef Knife.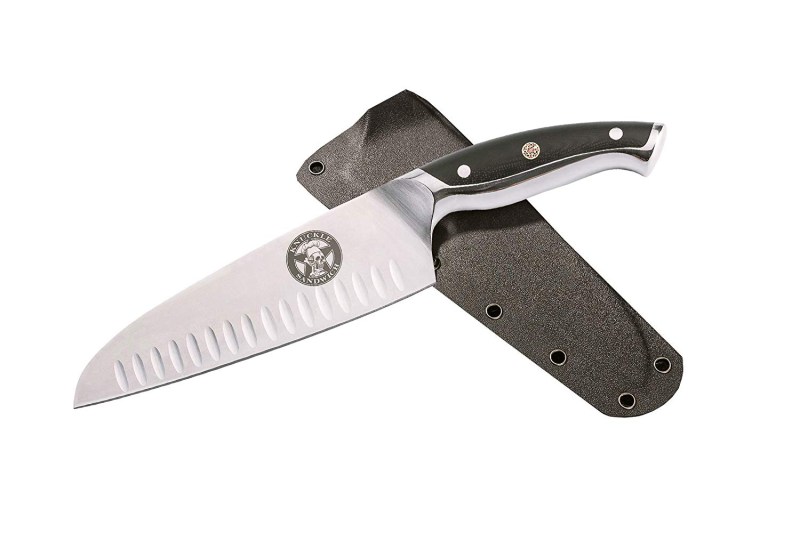 We at The Manual had the chance to test out these knives and were impressed right off the bat. The knives themselves are made from Japanese AUS8 carbon steel, creating a full tang blade that is rust-resistant and incredibly hard. The Santoku knife's tip is rounded and sloped for fine cutting while the Chef knife's tip has a "one-of-a-kind" bowie-knife style tip to make for easier fine knife-point work, such as boning chickens. After a few test uses with each, we didn't notice any decline in sharpness.
The handle, which is fairly heavy, is 4.6" long and is made from military-grade G10 fiberglass resin. The ergonomic design fits easily into most adult hands. While we appreciated the heft of it, we could also see how it might become a little too heavy if you're doing a ton of chopping. Upon first impressions, though, the weight feels good in your hand. You might even be tempted to re-create the knife scene from Crocodile Dundee. (We wouldn't blame you, especially with the Chef knife.)
Carrying the Crocodile Dundee thing a step further, the knives each come with a Kydex sheath, which also happens to have a belt clip – for all of the times that you want to holster your Santoku before patronizing a business in Flavortown, obviously.
While the previous line of the knives (which wee produced from 2010-2012) featured Fieri's signature flames on the blade and handle, we will admit we were disappointed to see those not carried through in the new iteration.
Both knives are available on Amazon. The Santoku knife retails for $125 and the Chef Knife retails for $130.
Editors' Recommendations