We never truly tire of receiving bottles of booze when friends come over for a dinner or party. We don't get sick of giving them, either. But as the holidays approach and our calendars fill with more festive gatherings, we're trying to think of fun, creative ways to say thank you for a night of revelry in someone's home. And really, nothing says you care like a handmade gift, especially one that is edible and delicious.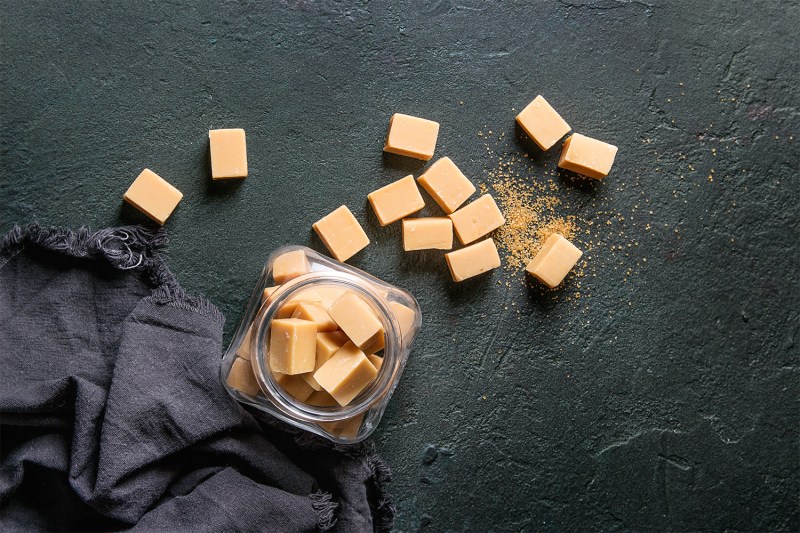 Enter the salted bourbon caramel. Chef Donald Wressell of the Guittard Chocolate Company created this recipe for The Manual, just in time for holiday gift-giving season. These little morsels are simply irresistible, thanks to the addition of bourbon and flaky sea salt that adds a sweet-savory flavor punch. These are perfect for serving at your next holiday soiree, and they make a great gift for even the most discerning party host. Give them to mom, your boss, your kid's school teacher, or even the mailman to bring some festive cheer. Just try not to eat them all yourself (trust us, it will be difficult).
When it comes to the bourbon to use, you have some options as well. High rye bourbons will impart spicy notes while wheated bourbons will contribute to a softer bourbon flavor. Finally, with a bourbon that is heavy on the barley, you'll find toffee and cereal notes. All of these will change the flavor profile of the final product slightly (allowing you more room to experiment as well). If you need some options, check out this list of affordable whiskies.
(Note: 10 grams is equal to around .33 ounces.)
Salted Bourbon Caramels
Ingredients:
35 g water
150 g bourbon, divided
225 g sugar
33 g corn syrup
135 g unsalted butter
215 g heavy cream
1.5 g sea salt (such as Jacobsen Salt Co.'s Flake Salt)
Method:
Combine water, 60 grams of bourbon, sugar, and glucose in a medium saucepan.
Bring to a simmer on high heat until color appears, and continue cooking on medium-low heat to a deep amber caramel. Stir carefully as color deepens to ensure even cooking from middle to center of pot.
Add butter when amber color is reached, stir in until fully emulsified.
Add pre-warmed cream slowly to the pot while stirring with a long-handled whisk. Continue cooking on high while stirring continuously until 120 degrees Celsius is reached.
Add remaining bourbon very slowly while stirring, followed by the salt. Return to 120 degrees Celcius (248 degrees Fahrenheit).
Remove from heat and hand blend until smooth.
Pour into an 8-inch-by-8-inch pan that has been greased lightly, lined with parchment, and then greased lightly again.
Allow to cool for several hours or overnight before unmolding and cutting into squares to wrap in cellophane.
For gifting, place a chocolate bar, such as the Guittard Chocolate 72 percent Quetzacoatl Bar, in a small paper or cellophane bag and fill around the bottom with the individually wrapped caramels. Tie off with a bow or a piece of twine for a simple present.
Editors' Recommendations