Celebrating in style just got turned up a notch. Taking the finest aspects of French and Scottish spirits, Glenfiddich is bridging its award-winning Scotch with the elegance of cuvée. This new expression, Grand Cru, was aged for 23 years in European and American oak casks before finishing in cuvée casks for about six months.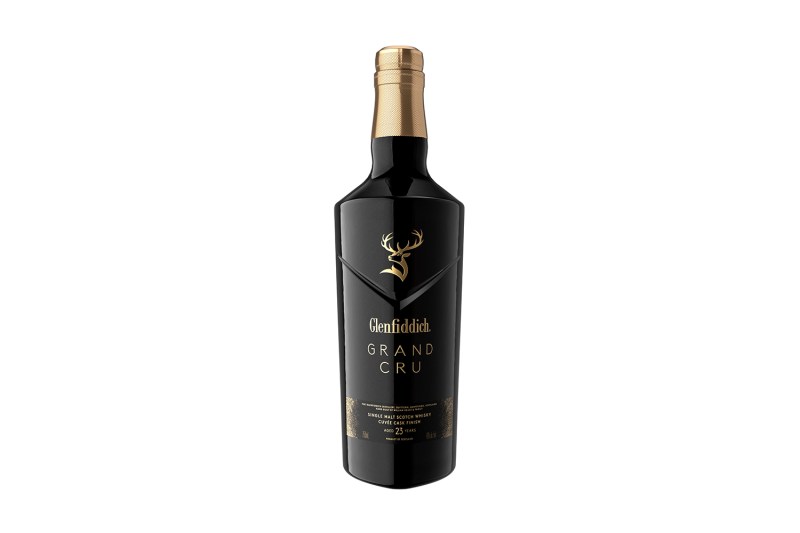 "Breaking category conventions once more, this unusual collaboration presented an exciting opportunity to create a liquid that further proof points our spirit of experimentation," said Glenfiddich Malt Master Brian Kinsman in a press release. "This is the only Glenfiddich single malt to undergo this exceptional finishing in French cuvée casks that once contained the liquid that goes on to become some of the world's most extraordinary sparkling wines."
In the world of French wine and Champagne, Grand Cru classification indicates a vineyard's ability to consistently produce high-quality bottles. Cuvée is a less regulated term that generally evokes a sense of prestige regarding the first, delicate pressing of grapes.
"We experimented to find the optimal maturation and finishing times and hand-selected the right balance of 23-year-old Glenfiddich casks out of our unique collection of old-age malts," continued Kinsman. "Marrying the best of both worlds, the final liquid is exquisite and a special tribute to each individual cuvée cask the malts were finished in."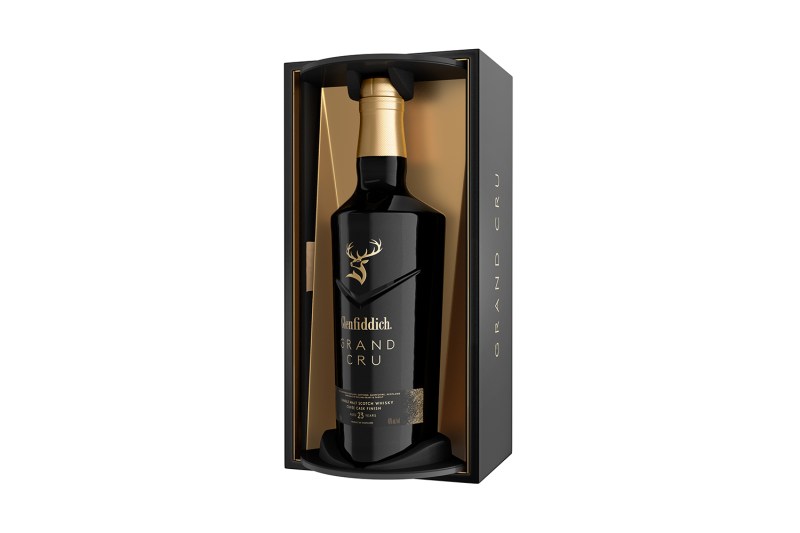 Grand Cru's decadence starts with its packaging, from its firework-emblazoned box to the foil seal on the cap — reminiscent of a Champagne bottle. The nose takes a floral approach with a bready layer that develops into brioche on the tongue. As delicate as it is aggressive, Grand Cru lingers, most significantly with its notes of sandalwood that verge on the edge of musky perfume while remaining palatably pleasing.
"People immediately associate fine sparkling wines with celebratory, social moments," said Tracie Franklin, U.S. Ambassador, Glenfiddich, in a press release. "We set out to craft an expression that honors this while bringing the substance and smoothness of single malt Scotch whisky."
Glenfiddich Grand Cru is rolling out to premium spirits retailers this September at a suggested price of $300 per 750mL bottle with a 40% alcohol by volume.
Tasting Notes
Color: Dark gold.
Nose: An intense aroma of apple blossom, freshly baked bread, and candied lemon.
Taste: Layers of rich vanilla oak, sweet brioche, sandalwood, pear sorbet, and white grape.
Finish: Long, opulent, and sweet.
Editors' Recommendations