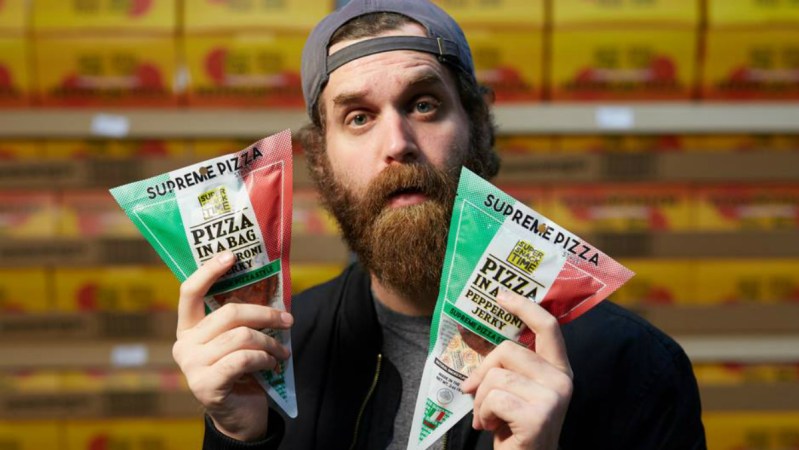 If you became famous for completing insane eating challenges on YouTube, what would be your next step in life? If you are Harley Morenstein, creator of Epic Meal Time, it'd be to go on a diet, then to make a diet-friendly snack that comes in a bag and tastes like pizza. Naturally.
"After the first season of the TV show happened [in 2014, four years after Epic Meal Time premiered on YouTube], I had a moment of realization. 'I saw that I was 285 pounds … I'm 6'6″, but still," Morenstein says. "If you came up to me and pushed me, I'd fall over. It got to the point where my body hurt. I couldn't do it."
Morenstein starting hitting the gym and dieting (including going on the Keto diet) and was able to drop from 285 to around 230. This meant cutting out much of what he had been known for eating (burgers on burgers on burgers, etc) and becoming more vigilant about what he was putting in his body. It wasn't easy, he says, but it was possible even considering the fact that it was slightly antithetical to his brand at the time.
At that point, Morenstein says that the Epic Meal Time crew was also thinking about ways to expand the brand (and not necessarily their waistlines). They had accumulated around 1,000 recipes online already, so they talked about ways to bring some of the ideas (back) to life.
What they decided on, Morenstein says, was to create a snack that demanded attention — just as their show did. There are a lot of products out there, but they are created by people who'd been in the industry for years.
"I felt like it takes someone outside the game to look at it and see what else you can do — to make something bigger," he says.
Considering the name of the show and all, it made sense that Morenstein viewed himself and his crew as the ones to do that. That is, essentially, how the Super Snack Time brand — and the first product, Pizza in a Bag — were conceived.
"It comes in a pizza slice-shaped bag and it's pepperoni jerky. If I walk by, I'd look and think, 'I need to try that.' It's just like Epic Meal Time. You'd come across it online and see it and you'd stop to watch. We wanted to have that for food."
It's hard to argue with that logic. An added bonus that came out of the creation process was that Pizza in a Bag is Keto-friendly. This snack, he hopes, will help fill the pizza void for others on the diet.
Pizza in a Bag currently comes in three flavors: standard pepperoni, supreme (flavored with garlic, oregano, basil, and more), and buffalo. Each 2-ounce bag contains 10 grams of protein and about 200 calories. The company recently rolled out multi-packs, including the Pizza in a Bag 8-Pack, which comes packaged as — you guessed it — a pizza.
Morenstein says they've got more ideas in the pipeline (including more jerky flavors), but for now, they are focusing on getting Pizza in a Bag out there.
You can get Pizza in a Bag online or at Wal-Mart. If you're looking for how to make other super snacks, you can check out the recipe list on the Super Snack Time website.