Chicken is great and all, but next time you cook, it's time for you to think outside the cluck. No, we don't mean turkey, and we don't mean duck or goose either. What we mean is Cornish game hen.
The diminutive Cornish game hen (they usually don't get over three pounds in weight) is a mix of Cornish and White Plymouth Rock Chicken breeds and has been around since the 1950s when a pair of Connecticuters wanted to develop a single-serving bird (like Tyler Durden's single-serving friends, but tastier).
This recipe comes to us from Chef Tim McKee of Market House, an online meat market that sells, among other things, Cornish game hens. (You can read more on them, and pick up your own hens, here.) If you're looking for a simple yet flavorful dish that doesn't use your run-of-the-mill chicken, then you should give Cornish game hens a try.
Cornish Game Hen Recipe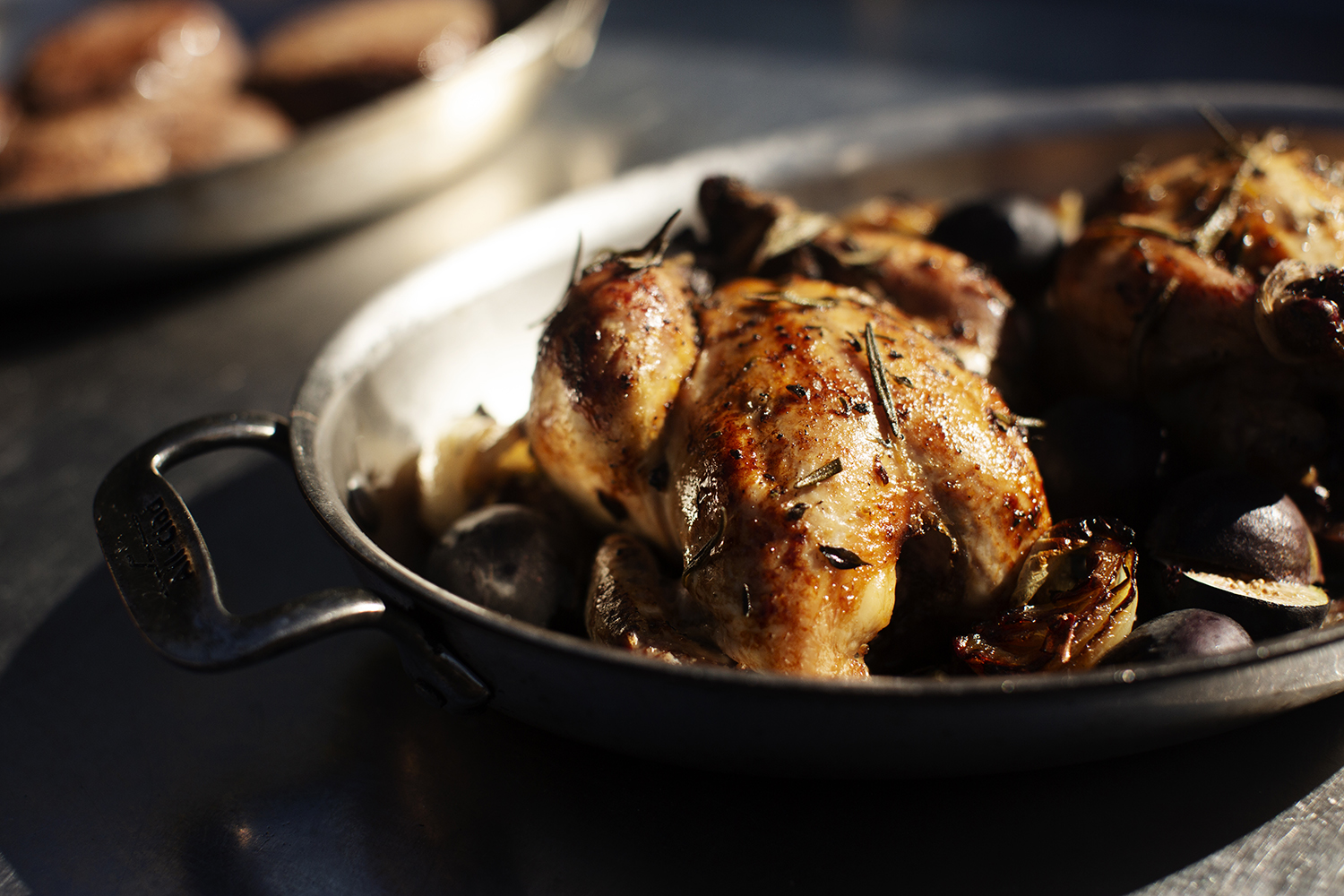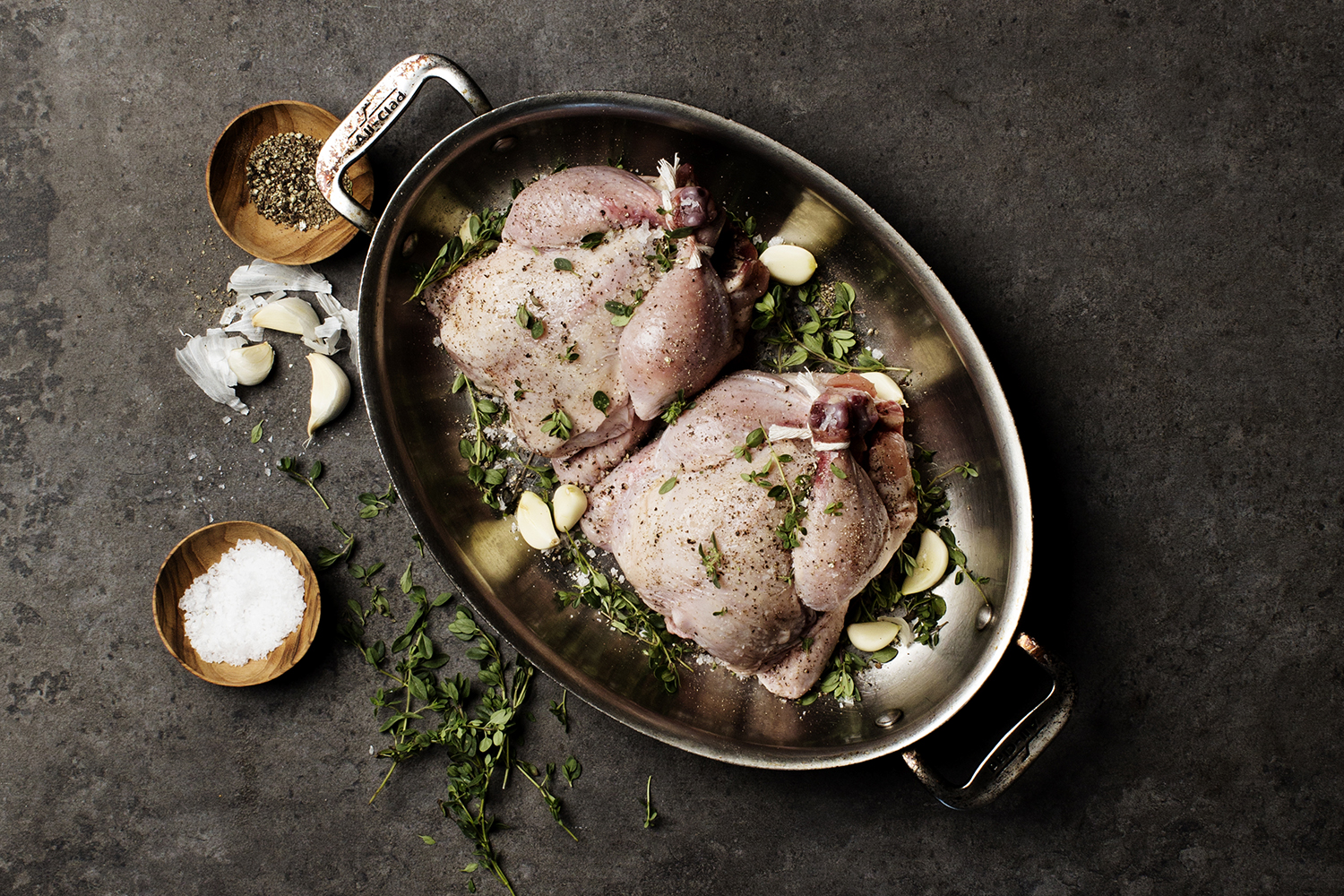 Roasted Cornish Game Hens with Fresh Figs and Rosemary
Ingredients:
2 Cornish game hens
1 onion (halved and sliced into wedges)
4 oz thick cut bacon
4 oz baby potatoes
4 oz fresh Black Mission figs, cut in half
.75 oz fresh rosemary (left on the branches)
5 tsp Kosher salt
2 tbsp extra virgin olive oil
2 tbsp honey
2 tbsp Saba (Balsamic vinegar can be substituted)
2 tbsp light soy sauce
1 tbsp extra-virgin olive oil
1 tsp freshly ground black pepper
1 tsp Kosher salt
.5 tsp freshly ground black pepper
Method:
Remove the Cornish hens from their packaging and allow to air dry in the refrigerator overnight.
Pre-heat the oven to 400 degrees Fahrenheit. Remove the hens from the refrigerator to come to room temperature. Rub the hens with olive oil and season with salt and pepper.
Slice the potatoes 1/8-inch thick, ideally with a Japanese mandoline. Combine the potatoes and onions. Add the olive oil and season with the salt and pepper.
Cut the bacon in 1.5-inch pieces. Mix with the onions and potatoes. Put the mixture on top of the rosemary branches in a 12-inch roasting pan. Chef Tim McKee recommends an All-Clad oval au gratin pan. Roast for 15 minutes.
Remove the roasting pan from the oven, place the hens on top of the vegetables, and return to the oven.
Meanwhile, in a small pan, combine the honey, saba (or Balsamic vinegar), and soy sauce. Bring to a rolling boil and immediately remove from the heat. Add the figs to the glaze and gently mix.
Remove the hens from the oven when the internal temperature reaches 130 degrees Fahrenheit (about 25 minutes). Spoon the figs and glaze over the hens, then return to the oven.
Cook for another 10-15 minutes, or until the internal temperature is 160 degrees Fahrenheit. Remove from the oven, discard the rosemary and let rest for 10 minutes before serving.
Editors' Recommendations