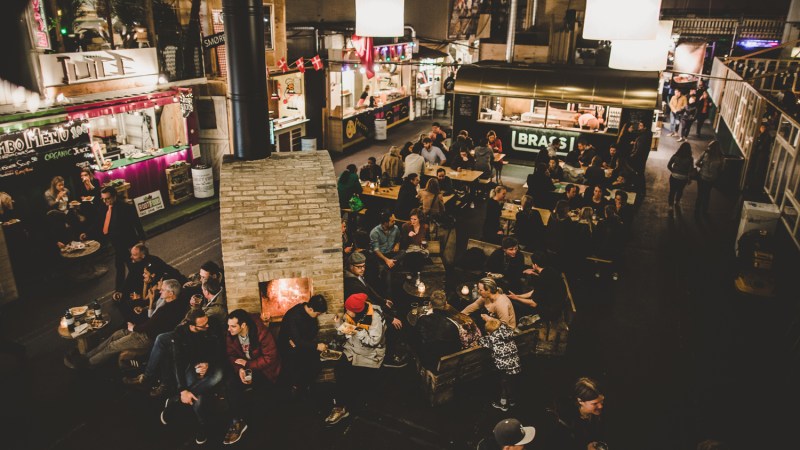 Copenhageners don't give a damn about the weather. Even when the unforgiving Nordic winter extends well into late April (as it did on my visit), they'll still emerge from their homes to congregate around "bodegas" and high-end cocktail bars for a never-ending barrage of Tuborg, aquavit, and chain smokes.
Even though the city doesn't carry the big-name recognition of London or Barcelona, Copenhagen still exudes a sense of dream and wonder for many Americans – and it's something that I still can't quite figure out. Perhaps it's from the high standard of drinking in this city–which was my underlying mission when I arrived: to learn to drink like a Copenhagener. And, when you get a bunch of food and drink-focused journalists in a city for a whisky launch, the first thing they'll do is find a watering hole or two.
First up: one of the city's least refined, but most brilliant drinking places: Copenhagen Street Food – a bustling, hipper-than-thou food hall situated on the shoreline. Before you dive into Korean BBQ, visit Stormly (way in the back) for killer Danish microbrews. Then, get your falafel. Or Thai. Or pulled duck fries. (Things can add up here quick).
Once you've grown tired of bumping into people and losing a quarter of your luscious Danish brew to spillage, head northwest to the Indre By (Inner City). Even on a weeknight, this neighborhood will be full of college students looking to unwind along with young professionals looking for an escape. We found ourselves at Palæ Bar – a tiny pub with the biggest bottle of Scotch this writer has ever seen – on tap. It's a place where the people and drinks don't take themselves too seriously. You'll probably find yourself saddled up next to a game of dice for drinks, which the bartender said was a common thing in Copenhagen, but I didn't really see things go to chance like this anywhere else during my visit. (It's also a relief to see a pint under $5.)
After Indre By, there are two other neighborhoods you can't leave Copenhagen without visiting: Nørrebro and Vesterbro.
Nørrebro is the quintessential gentrifying swath just outside the city's core with plenty of hard-line eateries and drinkeries. An online tip sent us to a coffee shop/beer stop called RETRO just off Nørrebrograde bordering the graveyard/park where Hans Christian Anderson is buried. RETRO is one of those in-between jobs. Not a forever place if you're a service industry worker, but a place to cut your chops and earn a living while doing something else. The duo behind the bar was a good representative of the city: a Hampshire Brit via Australia who moved with his wife for her job, and a stunning, worldly Canadian who's taking advantage of Danish heritage to study in Copenhagen. It's bars like this where you learn the inner workings of a city and where you discover great beers and ciders without a dozen people in line.
The pair directed us to continue our night at The Barking Dog near the southern edge of Nørrebro. This dimly lit cocktail bar is a home for the classics with plenty of sarcasm (just read the menu). A lick of curiosity sent me towards the "Last-Minute Flight," which is a bartender's choice of three spirits as a tasting. After enjoying a Danish gin, local bitter, and a luscious Swedish single-malt, I'd do it again in a heartbeat. Well done, RETRO team, well done.
My last day, fellow whisky reveler Aaron Goldfarb and I decided to do some last minute drinking in Vesterbro. The city's west end, initially home to families moving for industrialization in the mid 1800s, fell into decay with drug use and prostitution in the 20th century and some of the grit still remains, but like all former slums, it's also a great place to imbibe.
In general, Copenhagen has a low-key excellent beer scene and you can't go wrong at a place like KIHOSKH, which has a nondescript downstairs storefront with a great selection of local and regional brews.
While in Vesterbro, Goldfarb couldn't stop praising the Buffalo Wings at Warpigs, which was just a short walk away, so we went back for his second visit and my first. This Danish-cum-Texas BBQ joint didn't disappoint. Plenty of spicy, fried goodness went down with more great local beer. The place has 10-15 taps going at any given time and offers a nice respite. It surrounds a Saturday food market where giant Aperol Spritz's are available all day. Now that's a winning combo.
The mile-and-a-half walk back to our hotel seemed that much easier with a BBQ buzz. Even without Schezuan-glazed lenses, there's a lot to like about drinking in Denmark's capital. Plenty of bars offer big-city drink experiences (with prices to match), but in a community vibe that's sometimes a deterrent from the point of entry.
There's ample opportunity for discovery, just be prepared for the weather.
Drink It:
Copenhagen Street Food: Hal 7 & 8 Papirøen, Trangravsvej 14, 7/8, 1436 København K
Palæ Bar: Ny Adelgade 5, 1104 København K
RETRO Nørrebro, Jægersborggade 14, 2200 København N
The Barking Dog, Sankt Hans Gade 19, 2200 København N
KIOSKH – Sønder Blvd. 53, 1720 København V
Warpigs – Flæsketorvet 25, 1711 København V
Editors' Recommendations