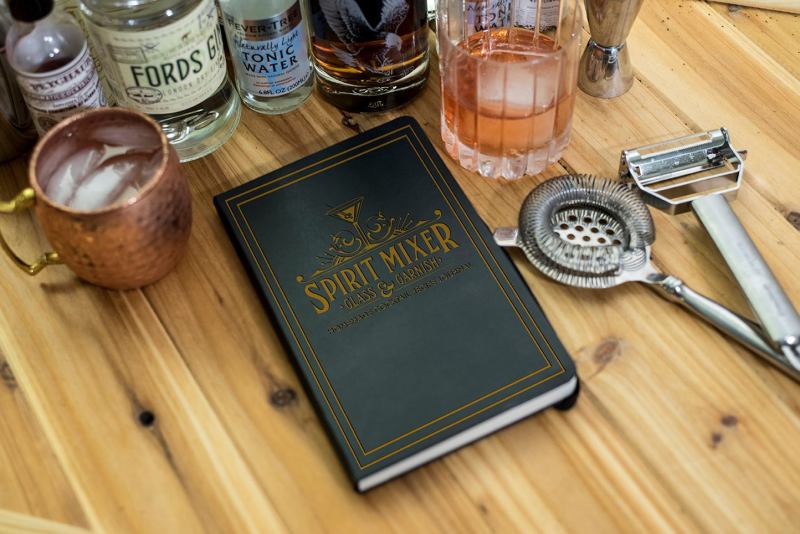 Think for a second. Do you know someone who, when you go to their house, they usually offer you a cocktail and when you ask them what's in it they laugh and say, "Just drink it?"
You probably do. If you don't, you probably are that person. If you or someone you know is that person, then do we have a treat for you. Coming this winter, a new cocktail book and journal Spirit, Mixer, Glass & Garnish may be your new best friend.
Created by Ben Putano and Brett Vance of Cocktail Gear, this 5×7-inch book will be both the bartender's and home mixologist's go-to drinking notebook.
"I tried to focus on the needs of cocktail enthusiasts and high-end bartenders. These people are really passionate about cocktails and attend events like Tales of the Cocktail in New Orleans every year. A lot of them follow the Reddit /r/cocktails subreddit. In fact, the first big break this project had was from a post I made on the thread last week. There's a lot of iterating and experimenting when creating a cocktail, but I think Spirit, Mixer, Glass & Garnish is a great place to record finished recipes and store them on your home bar," Putano says of the project.
Putano hopes that not only will the book provide ample space for those that are already crafting cocktails at home, but it'll give others a chance to experiment some more as well.
"Making great cocktails at home is way easier than most people think, and I think Spirit, Mixer, Glass & Garnish will make cocktails feel more accessible to new enthusiasts," he adds.
On the bartender side, Putano says, the book is meant to be a fitting repository to store the cocktails that are time and time again, beautiful works of art in and of themselves.
"There were a lot of bartenders who have been using index cards, rolodexes, and plain notebooks for keeping recipes, and they've been waiting for something like this. Maybe we'll see some new cocktail recipe books published out of the work people do in the journal."
At 150 pages, Spirit, Mixer, Glass & Garnish offers plenty of space for cocktail recipes as well as recipes for shrubs, infusions, bitters, and more. The book is divided into sections based on spirit, and each recipe template will include space for the cocktail name, date, creator, ingredients, garnish, method, and additional notes. Better yet, the book cover is water resistant (read: when you get drunk and spill the drink you're trying to make, it won't mess the book up).
One copy of Spirit, Mixer, Glass & Garnish will run you around $27 (early birds are $24, but are as of this writing they are nearly gone). You have until November 15 to pledge to the Kickstarter campaign. US deliveries are expected the week of December 11 (international deliveries are expected the following week).
Editors' Recommendations