Feasting is our column dedicated to cooking, grilling, eating and discovering what's on the menu across America and the world.
We always love coming across a dish or ingredient of which we've never heard or tried before. It reminds us of how complex every cuisine is, especially when you start breaking it down into different regions and cities. So when we heard about the delicacy bottarga, we immediately needed to find out more. Luckily, Bottarga Dell'Isola was on deck to answer all of our questions.
Bottarga is a dried, salted and pressed sac of roe, most commonly made from the mullet fish, that lends an umami-rich flavor to any dish it touches. Everything about it is intriguing to us, so we caught up with Bottarga Dell'Isola founder Marc Slakmon to tell us how exactly his product is made and why it's important to his culinary history.
First thing first—why bottarga?
Bottarga is considered a delicacy in many countries, especially those around the Mediterranean Sea, Australia, Japan, Korea, Taiwan (the largest consumer) and Brazil. It turns out that the gray mullet is quite abundant in the United States, and gray mullet roe from the Gulf of Mexico is considered one of the best because of the estuaries the mullet feeds in.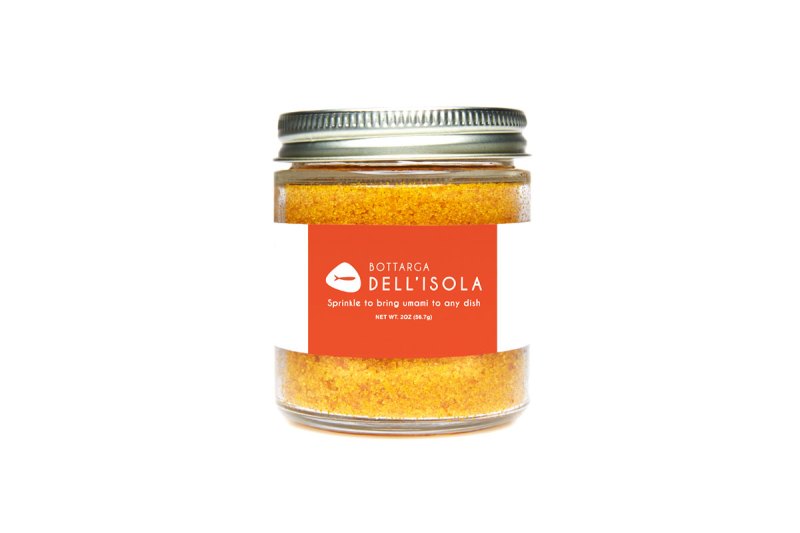 I was born in Montreal. My family, of Sephardic Jewish descent, immigrated there from Tunis, Tunisia, in 1957. Growing up, my grandfathers used to take me to the fish market where mullet would be sold, but the prize roe would be thrown out—so we would offer to take it. This was considered a delicacy in Tunisia and known as the poor man's caviar. Back in Tunis, given that refrigeration was not a given, people would fish the mullet, cut the roe out, salt it and dry it on the rooftops. So back in Montreal, I grew up in the kitchens with my grandmothers that would lay the roe all around the house to dry. I continued this tradition and gifted it to my family.
One day, I went to Eataly in the Flatiron District and noticed they sold bottarga. I was chatting with the buyer Peter Molinari and shared with him that I make it myself. He told me to bring some in next time, which I did. He loved it and suggested I start a business, so I countered that I would if he'd buy it. And it was as simple as that.

How, exactly, is bottarga made?
Bottarga (in Italian) has many different names. Generally, it is from the mullet or tuna. But today, many chefs dry roe from all kinds of fish, even though the mullet's roe is still considered the best. The process requires cutting the roe out of the mullet, cleaning the blood out, salting it with sea salt, pressing it and then drying it. We add a special twist to the process to remove the bitterness that you'll find in most bottarga. We either package it in vacuum packs or in organic white beeswax. We also offer a much drier product that's pre-grated and sold in 2 oz jars. Unlike some producers, we use no additives, colorants, preservatives or pork casings (common in Taiwan).
Is sustainability important to you? Are there certain initiatives you take at Bottarga Dell'Isola to reduce your environmental footprint?
Florida is very strict when it comes to laws on fishing mullet. Only hand-casted nets are allowed to be used, and it's very much a sustainable environment. The roe season is from November to February. The mullet does not go to waste as it is either smoked and packaged or sold to markets around the world. The mullet is considered a very healthy and vitamin-rich fish, but it hasn't gained much popularity in the United States outside of the south. We would love to see the mullet become the next Branzino, given its merits, but the name seems to have a certain stigma attached to it! Unlike any other producer, we actually fish our own mullet to ensure greater quality than the roe that's purchased from packagers.
What is your favorite way to eat bottarga? Any personal suggestions for serving?
My favorite ways to eat it are sliced thinly on its own or with olive oil and bread, or grated over a simple pasta with garlic, chili pepper flakes and olive oil. It can add wonderful flavor to salads, steak tartar, and eggs.
Just as we were getting our first lesson on bottarga, we serendipitously came across a recipe in Katie Parla and Kristina Gill's cookbook Tasting Rome that utilizes the dried roe. Interestingly enough, bottarga arrived in Rome a bit later than many culinary traditions. When Libyan Jews escaped to the Eternal City in the 1960s, they brought bottarga with them.
"The interesting thing about bottarga is that it's widely used in Sardinian cuisine—many of the city's Sardinian fish restaurants grate it over their spaghetti and clams dishes," Parla explained. "I love it like this, as it adds a savory, briny note to a simple classic. The use of bottarga in Roman cuisine, instead, is more closely related to the cucina ebraica (Jewish cuisine)."
So you can get your own taste of Rome's cucina ebraica, we've included the recipe for Spaghetti con Cicoria e Bottarga, a dish made with dandelion greens—which can be found growing wild all over Rome—and briny bottarga. We, of course, suggest using Bottarga Dell'Isola to make this dish the best it can be.
Spaghetti con Cicoria e Bottarga
Serves 4-6
Ingredients:
Sea salt
1 pound dandelion greens
3 tablespoons extra virgin olive oil, plus more to taste
3 garlic cloves, smashed
2 teaspoons peperoncino or red pepper flakes
1 pound spaghetti
.25 cup grated Pecorino Romano (optional)
1 (3-inch) piece bottarga
Method:
Bring a large pot to a rolling boil over high heat. Salt the water. When the salt has dissolved, add the dandelion greens and blanch until tender, about a minute. Transfer to a colander to drain. Allow the dandelion greens to cool, about 10 minutes, then squeeze out any remaining water and coarsely chop the greens. Set aside.
Heat the olive oil in a large skillet over medium heat. When the oil begins to shimmer, add the garlic, and cook until just golden, about 5 minutes. Add the peperoncino and cook until fragrant, about 30 seconds. Add the dandelion greens and cook until the leaves darken, about 10 minutes.
Meanwhile, bring a large pot of water to a boil over high heat. When the salt has dissolved, add the pasta and cook until al dente (usually, this is about 2 minutes less than the package directions instruct, so make sure you taste along the way). Drain and transfer to a large serving bowl. Add the dandelion greens and Pecorino Romano (if using). Toss well, adding additional olive oil if desired.
Divide the pasta among individual plates and grate bottarga to taste over each serving.
Recipe & photo reprinted from Tasting Rome: Fresh Flavors and Forgotten Recipes from an Ancient City. Copyright © 2016 by Katie Parla and Kristina Gill. Photographs copyright © 2016 by Kristina Gill. Published by Clarkson Potter/Publishers, an imprint of Penguin Random House LLC.