Okay, so you've already made your way through our first list of essentials for creating a boozy bookshelf. Great! Congrats! You now know more about cocktails than all of your friends (unless your friends are the ones that wrote the books, and if they are, don't try and upstage them. It won't end well.)
Now, though, like Predator in Predator 2, you're hungry for more. You want more cocktails and more techniques. You want to know how to do everything under the sun. Lucky for you, we want the same thing, so we've put together a second list of essentials to round out your boozy bookshelf.
The Dead Rabbit Drinks Manual
I have ten words for you to convince you that you need this book on your shelf: The Dead Rabbit is the current best bar in the world. If you're not convinced by the accolades, then consider the fact that buying this book lets you into what is practically a Willy Wonka world of inventive cocktails as well as the story behind the owners, Jack McGarry and Sean Muldoon.
Death & Co: Modern Classic Cocktails
If you've spent any amount of time around the New York City cocktail scene and haven't been to Death & Company, you're doing it wrong. All wrong. Having won numerous awards (including best bar in the world as well), Death & Co is a haven for cocktail enthusiasts and their book of modern classic cocktails allows you to recreate the genius that is their cocktails at home.
Bitters by Brad Thomas Parsons
We've said it before, but bitters are essential to most great cocktails. In his book, Brad Thomas Parsons details the history of bitters, their renaissance, and recipes for how to make numerous types of bitters. As far as single-subject books in the spirits world, this is one of the most important, as bitters (when used properly) can make or break many cocktails.
The Craft of the Cocktail by Dale DeGroff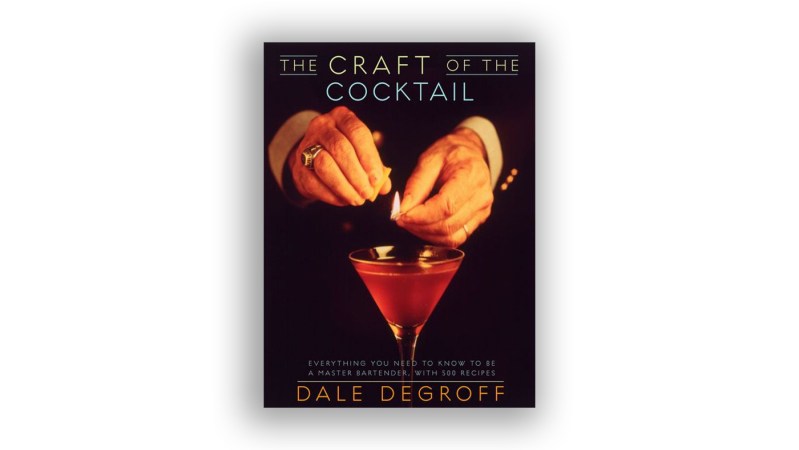 Author Dale DeGroff's nickname is King Cocktail for good reason. He's been bartending since the 1980s and helped to pioneer a variety of methods and drinks we know and love today. In The Craft of the Cocktail, DeGroff not only presents 500 recipes for a wide variety of drinks, but also imparts master lessons through anecdotes, history, and more.
Vintage Spirits and Forgotten Cocktails by Ted Haigh
We had King Cocktail above, and now we've got Dr. Cocktail. Cocktail historian Ted Haigh's book is a dive into lost but rediscovered drinks which also offers historical facts and resources on how to find certain ingredients that have all but gone the way of the wind. While this book is not nearly as expansive as the others listed above, sometimes the best way to learn about what's coming next is to look into the past.
Editors' Recommendations