Given my hectic work schedule, cooking dinner has never been a priority in my adulthood. Amid stressful deadlines and around-the-clock working hours, shopping for groceries and figuring out how to prepare a home-cooked meal seemed burdensome at the end of the day. Getting takeout or heating something up was always the easier and convenient option.
My cooking skills languished, to say the least. But as I venture deeper into adulthood, it's about time I start acting like a real adult and cook on a regular basis.
That's part of the reason why I tried Blue Apron. Along with it's $50-off deal for your first two meals, the convenience of having two dinners delivered to my doorstep sounded too good to pass up. Ordering from the website was a breeze and Blue Apron had a of couple tasty-looking options to choose from. I opted for the Mediterranean package and chose to cook the creamy polenta and spiced tomato sauce with zucchini and Greek yogurt recipe, hoping to re-create a dish I had while visiting northern Italy.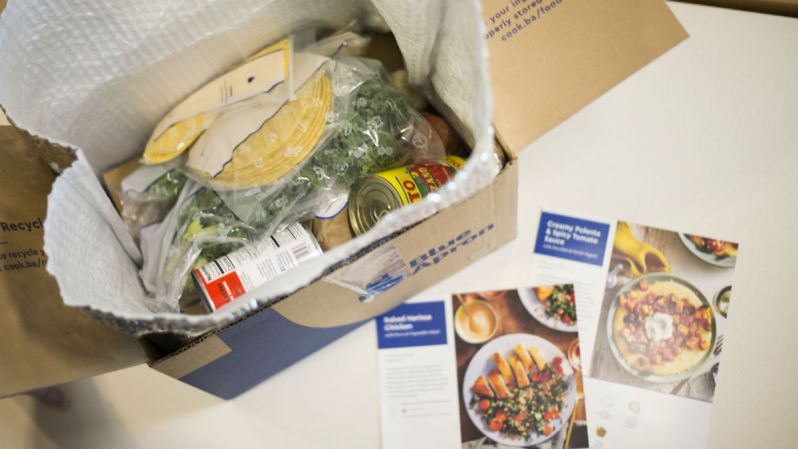 The package arrived promptly and all the ingredients were clearly labeled, making it easy to sort out for this novice who hardly ever cooks with more than two or three ingredients at a time.
Despite my lack of experience, Blue Apron's easy to follow instructions made the setup and cooking process seamless. After unboxing all the ingredients, I washed and chopped the fresh produce while a pot of water began to boil. After I sliced and diced the zucchini, garlic, and onion, it came time to add the polenta to the boiling water.
This is where I thought it might get a little bit tricky: As the polenta cooked, I needed to brown the zucchini in a pan while simultaneously whisking the polenta to make sure it didn't solidify. With a whisk in one hand and a spatula in the other, I multi-tasked over the stove and suddenly realized that my usual trepidation about cooking had vanished — there really wasn't that much too it.
Feeling a renewed sense of confidence, I started mixing ingredients without hesitation. After the zucchini and garlic was set aside, I tossed in the chopped onions and seasonings into the pan, then added the can of peeled tomatoes. As the ingredients blended together, the zesty aroma of my work started to fill the kitchen — again, a rare experience for the occasional cook.
Once the tomato sauce thickened, I added the browned zucchini and garlic and cooked everything for another few minutes before I went back to the pot of cooked polenta and added half of the Greek yogurt and Parmesan cheese.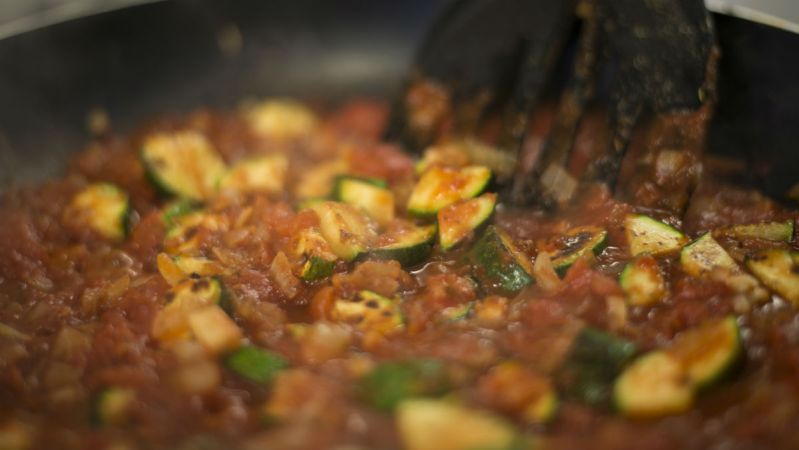 With everything fully cooked and ready, I was ready to try my first fully self-made meal in ages. I spooned the polenta onto a dish, followed by the tomato sauce and zucchini. Finally, I topped it all of with seasoned yogurt and Parmesan for a bit more taste and texture.
Thanks to Blue Apron's box of fresh ingredients and simple recipe, even a rookie like me could pull off making a delicious meal.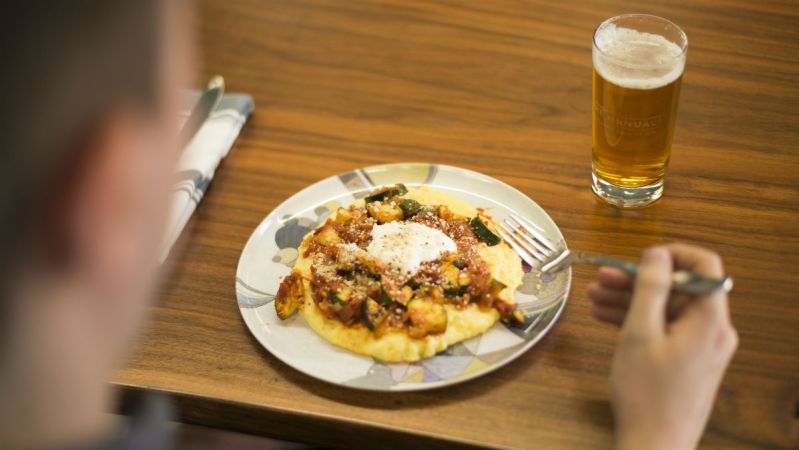 The dish was the just right amount of tangy and sweet, with a little bit of spice thanks to the Calabrian chile paste — giving me that authentic northern Italy taste I was hoping for.
With Blue Apron delivering right to my doorstep, my days of being an occasional cook are soon to be numbered.