Whiskey is one of the most fun things to drink on planet earth. Whether you're just learning how to drink it, or navigating the new and fantastic American single malt category, there's a lot to get lost in. And the coolest part just may be that the U.S. has contributed significantly to the field, having given the world glorious bourbon just as we've given it basketball, email, and chocolate chip cookies.
Because it can be made with a host of grains (in countless different permutations, depending on the label or region it's crafted in), there's really no speculating how broad the taste spectrum of whiskey is. We get that feeling that we're just sampling the tip of the iceberg, inventively moving toward estate grains and and new barreling techniques. It's all music to the ears of the whiskey drinker, who has more to enjoy these days than ever, and perhaps,s even more to look forward to.
According to Encyclopedia Britannica, the earliest account of whiskey making was found in Scottish records dating from 1494. There, it's known as Scotch and attains a smoky flavor from the land's peat moss. In Ireland, whiskey tastes light and fruity, with a floral scent with hints of vanilla and signature oak and caramel flavors. In Kentucky (and Kentucky only), it's known as bourbon and comes from corn mash, giving it a distinct sweet taste that accompanies its caramel color. Aging the grog gives it a more sophisticated flavor profile.
With hundreds upon hundreds of brands out there, it can be difficult to sift the chaff from the wheat, but luckily for The Manual readers, you've got us to deliver the goods. There's already been a number of additions to the whiskey market over the last few months to a year and this post sums up the best (and most exclusive) of the bunch.
Old Parr 18-Year Scotch
Old Parr is a sweet, smoky option where deep flavor has been allowed to set in for almost two decades.
Old Parr 18 Years Scotch, a brand-new permanent addition to the Old Parr portfolio, is a crafted blend made with a mix of the rarest and most characterful malts from Cragganmore. Flowing from the heart of Scotland, the 18-year-old Carmel broth bursts with extraordinary complexity.
Toasts of this scotch commemorate notable occasions and times that are close to the heart. Whether gathering with family or gifting special milestones, Old Parr's 18 Years elevates the drinking experience and the moment that it celebrates, while living life to its fullest.
The scotch arrives in an iconic oval-shaped bottle, reflecting the craftsmanship necessary for a distinct whisky. The vessel's crackled texture resembles ancient, tavern-worn bottles, and is sealed with the Greenlees Brothers signature, a nod to unbending standards that have characterized Old Parr for more than a hundred and fifty years.
Old Parr Aged 18 Years should be enjoyed responsibly neat or on the rocks and arrives with a retail price of less than $70.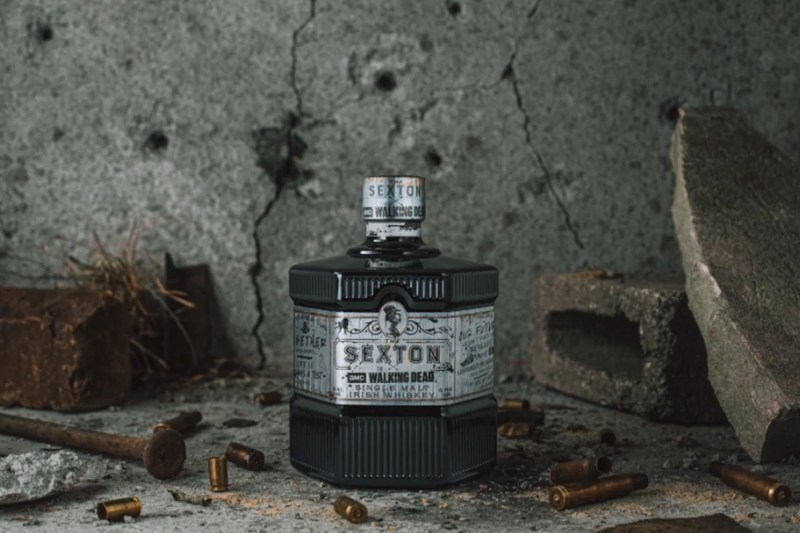 The Sexton Single Malt, Walking Dead Edition
This tasty poteen comes in an undead version complete with a zombie sexton on the label of special edition bottles.
In collaboration with AMC Networks and The Walking Dead, the Sexton Single Malt unveils a feature in an exclusive, co-branded bottle to commemorate the show's final season. To introduce the new release, America's best-selling Irish single malt teamed up with cast member Ross Marquand, the good-natured Aaron who offers optimism in even the darkest of times.
The striking bottle features a decaying silver label, replete with undead corpses parading around the bottle's hexagonal shape packaging. Quotes from cast members Daryl, Herschel, Rick, and Michonne adorn the edition, describing the harsh realities of post-modern existence in an ironic echo of The Sexton's mantra – "Celebrate life."
To the senses, the Sexton Single Malt appears in a rich hue that's bold in taste. The whiskey is triple distilled, matured in former Oloroso Sherry casks, and consciously aged to achieve a perfect balance between rich, dried fruits and memorable toasted oak notes.
The Sexton Single Malt, Walking Dead Edition
Mizunara Cask Finished Whiskey, Glendalough Distillery
From cryptic blue lochs to emerald valleys, Glendalough Distillery adopted an Eastern influence on its traditional Irish whiskey.
Glendalough is Ireland's oldest craft distillery, founded by five whiskey-loving friends who steeped the spirit in Irish legend and lore, which spills over to this single malt.
Mizunara Cask-Finished Whiskey is a seven-year-old Irish single malt aged in very rare Mizunara casks sourced from Hokkaido island, Japan. A relentless pursuit of the most flavorful oak in the world took them wooded mountains in Wicklow (about an hour south of Dublin) to the volcanic northern Japan where Mizunara, the most sought-after oak in the whiskey world, are found.
Mizunara oak trees must grow to be twice the typical age before they can be felled and take three years to dry, and are notoriously difficult to cooper due to their porousness. Herein lies the secret to its deep flavor: The whiskey can seep deep into the wood, resulting in a deep, exotic taste.
The cask-finished whiskey features an intriguing fruity yet floral vibrant nose. Its palate is smooth with dark chocolate orange, sandalwood, and cinnamon notes, as are synonymous with Mizunara whiskeys.
Glendalough 7-Year-Old Single Malt Mizunara Finish carries a $95 retail tag.
Mizunara Cask Finished Whiskey, Glendalough Distillery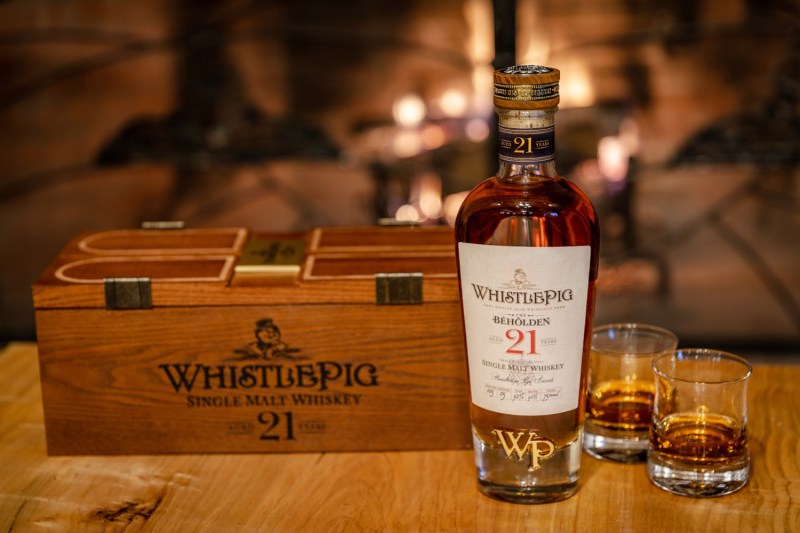 The Béhôlden 21-Year Single Malt, Whistlepig
Billed as the first North American super-aged singe malt, this puppy touts more than two decades of aging. The name could be better, but the liquid inside will leave you speechless. Just 18 barrels are on deck for the spring 2023 release, which will be bottled individually. It's an approach borrowed from rye and applied to the fascinating American Single Malt category.
This one is aged 21 years in American oak, especially former bourbon barrels. It was finished for four weeks in WhistlePig rye barrels. The result is something deep and a little spicy, with a complexity and wisdom that comes from all those years of maturation.
How much? The brand began offering bottles for $800 but they've since mostly been gobbled up by other retailers. At the moment, a bottle will run you about $1800.
The Béhôlden 21-Year Single Malt, Whistlepig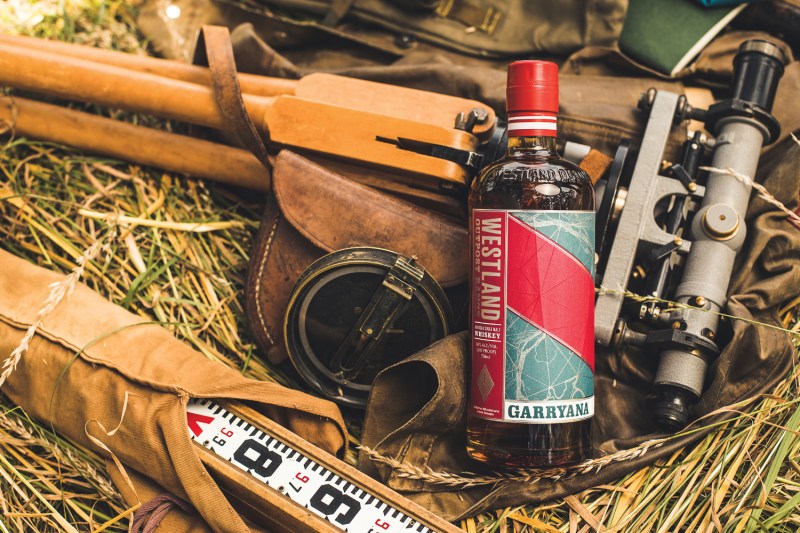 Garryana American Single Malt, Westland Distillery
Westland has been pushing the single malt approach for a while now. The Pacific Northwest distillery is revered for its work, which offers a purity in terms of grain bill and big, lasting flavors. This release is no different, a cool examination of local wood (specifically oak). Some 6,900 bottles were recently released and the whiskey spent time in both virgin Garry oak barrel as well as Syrah and Cabernet Sauvignon barrels from Washington state wineries. The result is beautiful, showing molasses, cider, and some woodsy undertones.
This release is impeccably balanced and while not cheap, well worth the asking price. There's a lasting spice and fruit element that reminds of tea and the mix of berries, orchard fruit, and pepper on the palate is ideal.
This highly-anticipated release, the seventh of the series, goes for about $175.
Garryana American Single Malt, Westland Distillery
Starward Vitalis
This Aussie whiskey made its US debut last November and rightfully turned a lot of heads. It's a lovely take on the single malt approach from Down Under, aged in red wine barrels. The release is at once a celebration of the brand's 15th birthday and a mix of a half dozen whiskey lots. There's toffee, tropical fruit, roasted nuts, and golden raisins on the palate. And this finish simply does not want to quit.
It comes wearing a lovely label and is the work of one of the real rising powers in the global whiskey circuit. Based in Melbourne, Starward is creating some excellent spirits. While you can get a taste of what they're up to with a different release at a lower price, this one is well worth the three-figure plunge.
You can get your hands on one for about $120. Just remember it's cask strength, so take your sweet time.
Editors' Recommendations