Ah, whiskey, the brown elixir. The bracing spirit can be made from any number of grains — corn, rye, barley, or wheat. Whiskey is produced in a number of countries and retains a distinctive character in each because of differences in the method of production, the type and character of the cereal grains, and the quality and character of the water employed.
According to Encyclopedia Britannica, the earliest account of whiskey making was found from Scottish records dating from 1494. There, it's known as Scotch and attains a smoky flavor from the land's peat moss. In Ireland, whiskey tastes light and fruity, with a floral scent with hints of vanilla and signature oak and caramel flavors. In Kentucky (and Kentucky only), it's known as bourbon and comes from corn mash, giving it a distinct sweet taste that accompanies its caramel color. Aging the grog gives it a more sophisticated flavor profile.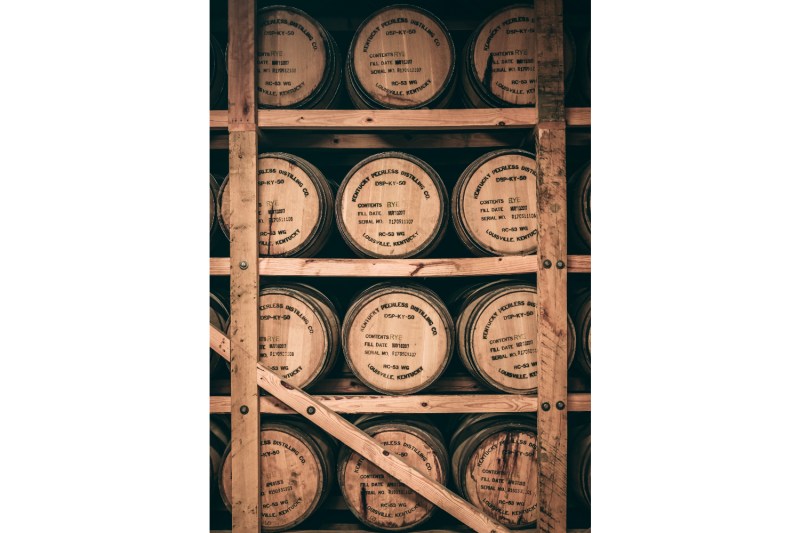 With hundreds upon hundreds of brands out there, it can be difficult to sift the chaff from the wheat, but luckily for The Manual readers, you've got us to deliver the goods. There's already been a number of additions to the whisky market in 2022 and this post sums up the best (and most exclusive) of the bunch.
The Reach 81-year-old Single Malt, Macallan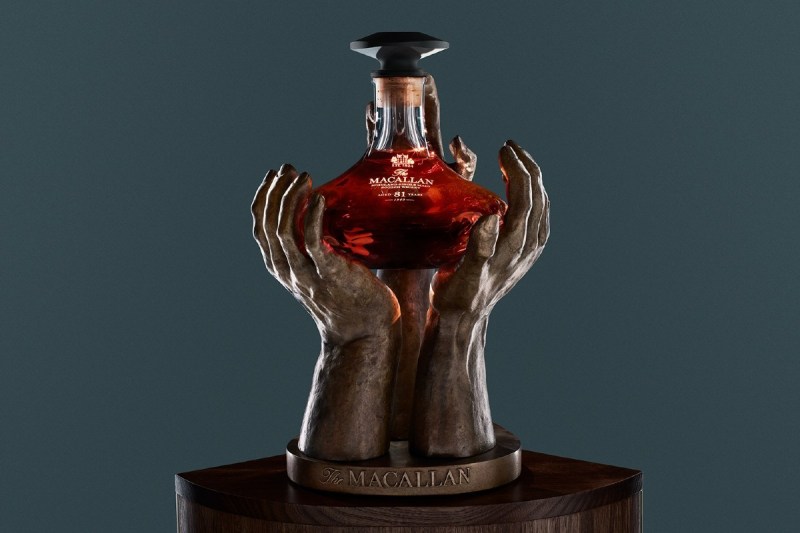 We begin with a monster, The Reach from the Macallan distillery.
The ultra-rare 81-year-old single malt whisky was distilled in 1940 during the Second World War, the oldest expression ever released. The Scot spirit maker aligns this extraordinary moment in time to exemplify an enduring spirit at the heart of the Macallan brand for almost 200 years.
The Reach was created from a single sherry-seasoned oak cask, but was laid to rest before the distillery was compelled to close its doors before finding its footing again in the 50s.
The dark single malt is encased in a mouth-blown decanter, cradled by three disembodied bronze hands. Each hand represents a character in Macallan's history. One commemorates the distillery workers of 1940 who crafted the spirit in challenging times. Another is the hand of one-time chairman, Allan Shiach, whose grandfather headed the company when The Reach first found its cask. The third is that of today's Master Whisky Maker, Kirsteen Campbell, who decided that now was the time to share this precious whisky with the world.
The Reach's shade is a deep auburn and is described in aromas of red currant jelly, pink grapefruit, peat, sweet cinnamon, plums, leather, and dark chocolate. On the tongue are hints of licorice, jam, ginger, pineapple, pecans, coffee, charred pineapple, woodsmoke, and nutmeg.
If you have an extra $125,000 ready, The Reach from The Macallan is available for purchase.
Old Parr 18-year-old Scotch
For those who can't afford a $125,000 bottle of whiskey, Old Parr is a sweet, smoky option where deep flavor has been allowed to set in for almost two decades.
Old Parr Aged 18 Years, a brand-new permanent addition to the Old Parr portfolio, is a crafted blend made with a mix of the rarest and most characterful malts from Cragganmore. Flowing from the heart of Scotland, the 18-year-old Carmel broth bursts with extraordinary complexity.
Toasts of this scotch commemorate notable occasions and times that are close to the heart. Whether gathering with family or gifting special milestones, Old Parr's 18 Years elevates the drinking experience and the moment that it celebrates, while living life to its fullest.
The scotch arrives in an iconic oval-shaped bottle, reflecting the craftsmanship necessary for a distinct whisky. The vessel's crackled texture resembles ancient, tavern-worn bottles, and is sealed with the Greenlees Brothers signature, a nod to unbending standards that have characterized Old Parr for more than a hundred and fifty years.
Old Parr Aged 18 Years should be enjoyed responsibly neat or on the rocks and arrives with a retail price of $70.
The Sexton Single Malt, Walking Dead Commemorative Edition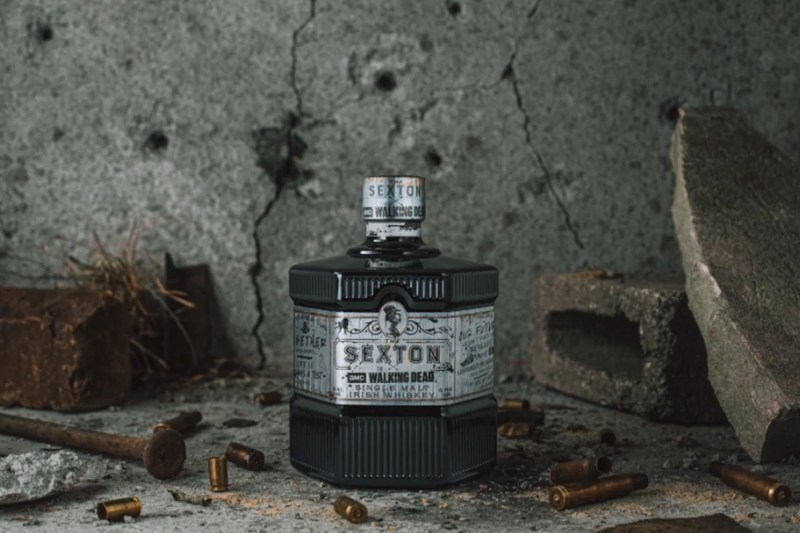 This tasty poteen comes in an undead version complete with a zombie sexton on the label of special edition bottles.
In collaboration with AMC Networks and The Walking Dead, the Sexton Single Malt unveils a feature in an exclusive, co-branded bottle to commemorate the show's final season. To introduce the new release, America's best-selling Irish single malt teamed up with cast member Ross Marquand, the good-natured Aaron who offers optimism in even the darkest of times.
The striking bottle features a decaying silver label, replete with undead corpses parading around the bottle's hexagonal shape packaging. Quotes from cast members Daryl, Herschel, Rick, and Michonne adorn the edition, describing the harsh realities of post-modern existence in an ironic echo of The Sexton's mantra – "Celebrate life."
To the senses, the Sexton Single Malt appears in a rich hue that's bold in taste. The whiskey is triple distilled, matured in former Oloroso Sherry casks, and consciously aged to achieve a perfect balance between rich, dried fruits and memorable toasted oak notes.
Available now for pre-order for $34.
Related Guides
Mizunara Cask-Finished Whiskey, Glendalough Distillery
From cryptic blue lochs to emerald valleys, Glendalough Distillery adopted an Eastern influence on its traditional Irish whiskey.
Glendalough is Ireland's oldest craft distillery, founded by five whiskey-loving friends who steeped the spirit in Irish legend and lore, which spills over to this single malt.
Mizunara Cask-Finished Whiskey is a seven-year-old Irish single malt aged in very rare Mizunara casks sourced from Hokkaido island, Japan. A relentless pursuit of the most flavorful oak in the world took them wooded mountains in Wicklow (about an hour south of Dublin) to the volcanic northern Japan where Mizunara, the most sought-after oak in the whiskey world, are found.
Mizunara oak trees must grow to be twice the typical age before they can be felled and take three years to dry, and are notoriously difficult to cooper due to their porousness. Herein lies the secret to its deep flavor: The whiskey can seep deep into the wood, resulting in a deep, exotic taste.
The cask-finished whiskey features an intriguing fruity yet floral vibrant nose. Its palate is smooth with dark chocolate orange, sandalwood, and cinnamon notes, as are synonymous with Mizunara whiskeys.
Glendalough 7-Year-Old Single Malt Mizunara Finish carries a $100 retail tag.
Chattanooga Whiskey Batch 023: Rye Malt Aquavit
Chattanooga Whiskey is getting funky with dreaming up different brown nectars. Takes its new Batch 023 — a rye malt aquavit.
Chattanooga takes one of its typical, stellar rye malts and melds it with the Scandinavian classic in a second distillation that's replete with flavors of caraway (black licorice), star anise, dill seed, and other aromatic botanicals.
After distillation, the spirit is finished in both Chattanooga Whiskey Rye Malt Whiskey casks and Pedro Ximenez Sherry casks. The result is a sweet and spicy dram that's recommended to sip as a post-meal digestif. Skål!
Editors' Recommendations