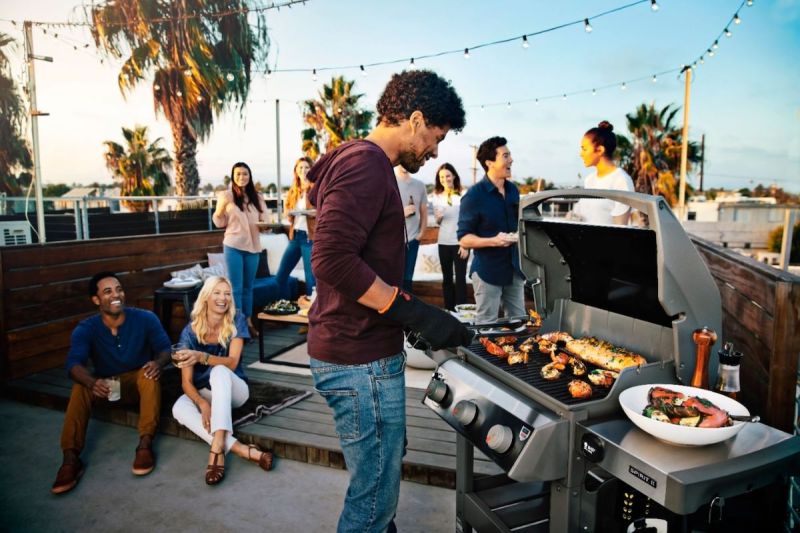 Spring is upon us, and Memorial Days is right around the corner. With Memorial Day will come the unofficial kickoff of grilling season, and great Memorial Day deals on grills. Perhaps you've got your mind set on learning how to grill the perfect steak, or perhaps you just want to make good use of your backyard and patio this year. Whatever the case, a grill is a great thing to gather around, and Memorial Day deals are a good thing to pounce on. There will be so many great Memorial Day deals going on that keeping track of where to find them can be overwhelming. But whether you're looking for Memorial Day deals on the best gas grills or Memorial Day deals on the best tailgating gear, we're here to help you navigate the best grill deals this Memorial Day sales season.
When Do the Memorial Day Grill Sales Start?
Memorial Day in 2022 is on Monday, May 30. Like every year, that gives a full month of potential ramp-up to what's likely to be a Memorial Day weekend culminating in great deals. You can expect to find some great Memorial Day grill deals and deals on other grilling equipment, like the best grill thermometers and the best grilling gifts, throughout the month of May, with the excitement picking up during the week leading into Memorial Day weekend.
And while the entire month of May is a great time to keep an eye out for Memorial Day grill deals, there's potential for the most enticing deals to come as the calendar gets closer to Memorial Day. Certainly this is when you'll find the most Memorial Day grill deals, as all of the top retailers will be waist-deep in sales on the best charcoal grills and the best gas grills. You're even likely to find great deals on the best portable grills and the best camping grills, as Memorial Day often kicks off the summer camping season, and retailers will be looking to get great grilling gear into your hands.
The weekend of Memorial Day, and Memorial Day itself, are most likely to be when you'll find the best Memorial Day grill deals, as well as when Memorial Day grill deals will be in full supply. If you haven't found a deal on a grill before we reach the end of May, you can be certain Memorial Day weekend will be full of great grill deals to pounce on.
Where Are the Best Memorial Day Grill Deals?
With Memorial Day being one of the premier shopping weekends of the year, you can bet all of the largest retailers will be looking to capitalize. Any retailer in which you're likely to find a grill for sale is likely to offer great Memorial Day grill deals, and this includes retailers like Amazon, Wayfair, and Walmart. You can even expect to see retailers like Home Depot, Cabela's, and even Z Grills to participate in the Memorial Day deals taking place, as their customer base is heavy with people interested in grills and the activities that come with them, such as how to smoke meat and how to conquer the best grill recipes.
But the specifics aside, one of the best places to find the best Memorial Day grill deals is right here. We're constantly on the lookout for all of the things that can make your backyard experience better this summer, whether that consists of the best backyard gear to turn your yard into an oasis, the best backyard party essentials, or the best fire pit deals you can find at any given time. We'll be keeping an eye on all of the Memorial Day grill deals going on throughout May, and we'll be right there at the finish line ready to relay all of the best deals to you when they heat up on Memorial Day weekend.
Should You Buy a Grill on Memorial Day?
Knowing which sales are worth paying attention to can be tricky. This always seems to be the case, as there always seems to be another holiday weekend looming. In this case, Prime Day is around the corner in July, which is when Amazon offers some of its best deals of the year. There's no telling what grill deals may be in store come Prime Day, but there is the likelihood you can catch a better deal on a grill on Prime Day than you can during the grill deals that will accompany Memorial Day weekend.
But because there's no telling what future deals may manifest, it's good reasoning to go ahead and pounce on a great Memorial Day grill deal if you see one that suits you. A good rule of thumb is that the best discount is the one that's guaranteed, so if you find a Memorial Day deal on a great new grill and don't want to wait until deeper into the summer to bring it home, there's no reason you shouldn't pounce on it and get grilling.
There is reason to believe you can catch a great deal on Prime Day, as Amazon always brings its A-game when it comes to discounting, and that may be worth waiting out the Memorial Day sales. But Memorial Day weekend and the weeks leading up to it are going to be offering all sorts of great discounts on grills and grilling equipment, and if you find a deal that sounds good to you, you should always pounce. There's risk involved in waiting, as the deal you're looking for may never turn up, or even worse, you may not be able to act quickly enough to grab a deal before it expires or sells out.
So if you see what you're looking for, or if you simply just can't wait for a better deal to come around, then let these Memorial Day grill deals lead to a new grill for your backyard, and fire up your new grill knowing you got a deal you liked.
Editors' Recommendations