Are you looking for the best Instant Pot deals available today? Instant Pot multifunction pressure cookers have reshaped the cooking habits and versatility of millions of home chefs. You can buy Instant Pot models with six to 10 cooking functions, with cooking capacity ranging from 3-to-8 quarts, and with different levels of automation. There are Instant Pot deals galore year round and we located some of the best sales for you. If you already have an Instant Pot and want to try something new, check out the air fryer deals as well.
Today's Best Instant Pot Deals
Instant Pot 6-Quart Duo Stainless Steel Pressure Cooker, Red —

$89, was $99

Instant Pot Duo Plus 9-in-1 Electric Pressure Cooker —

$110, was $140

Instant Pot Duo Crisp 11-in-1 Electric Pressure Cooker with Air Fryer Lid, 6 Quart —

$125, was $150
Instant Pot 6-Quart Duo Stainless Steel Pressure Cooker, Red — $90, was $99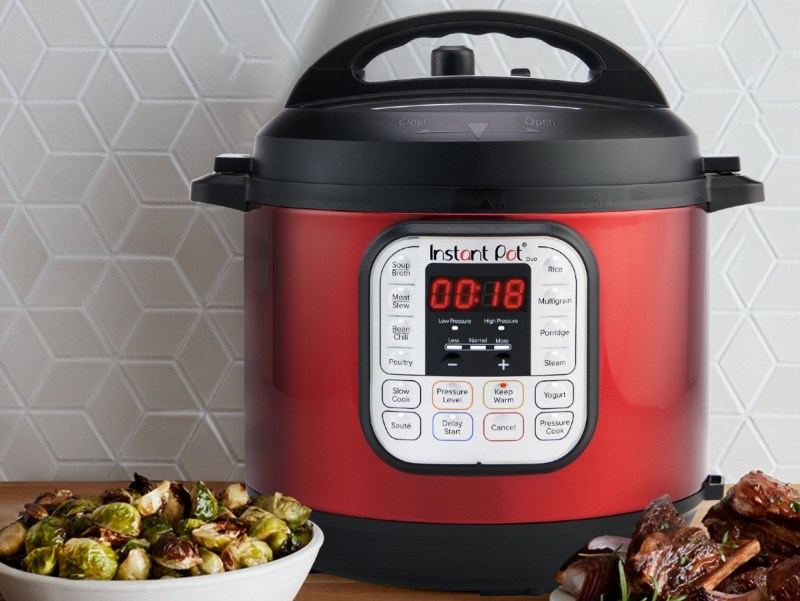 Why Buy
Versatile multifunction cooker saves counter space and takes the place of seven different appliances
The convenience of 13 preprogrammed customized cooking settings
A 6-quart Instant Pot is the right size for most families of four to six people
Red stainless steel finish adds a festive note to your kitchen
You already know that Instant Pot multifunction pressure cookers can replace a long list of countertop cooking appliances to prepare delicious meals quickly. Perhaps you already own an Instant Pot and would like a second unit for parties or big crowds or because you'd like to prepare double-size batches of food or two different meals at a time. In either case, why not take this opportunity to add a little color to your kitchen? This Instant Pot Duo 6-quart model has a red stainless steel outer finish, which is sure to put smiles on faces when almost everyone else has the standard stainless steel finish.
The 6-quart Instant Pot Duo 7-in-1 multifunction cooker is the best-selling model in the Instant Pot line. Six quarts is the recommended size for a family of three or four people. You can use the Duo as a rice cooker, slow cooker, pressure cooker, yogurt maker, sauté pan, steamer, and food warmer.
Even the list of cooking functions doesn't tell the whole story of the Instant Pot Duo, however, because a close look at the informative digital control panel reveals one-touch preprogrammed buttons to cook multigrain dishes, porridge, poultry, soup or broth, chili, and more. So all of these features and functions plus it's red. What fun. This model isn't always available so we suggest that you don't wait if you want one, and buy it now.
Check Price
Instant Pot Duo Plus 9-in-1 Electric Pressure Cooker — $140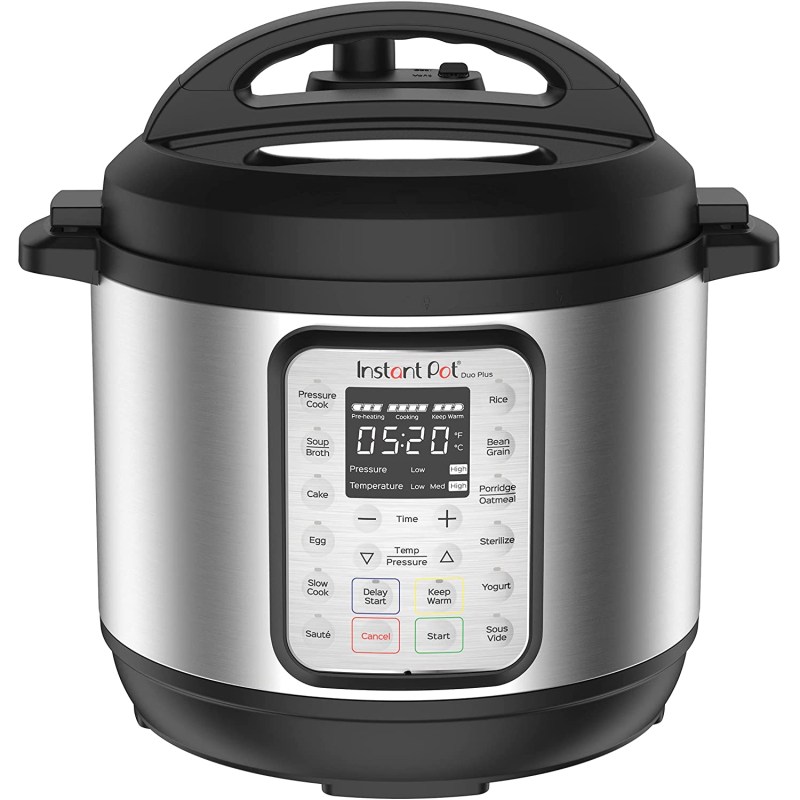 Why Buy
Large-capacity 8-quart multifunction cooker is the right size for large families or parties
Digital control panel keeps you informed about the cooking progress of your meal
Save time by cooking up to 70% faster than conventional methods
You'll get access to thousands of Instant Pot recipes online
If you entertain often or your family has more than four people, you'll want to buy an 8-quart Instant Pot model, especially for eager eaters who enjoy your meals even more than usual when you start cooking with an Instant Pot. The Instant Pot Duo Plus 8-quart model has nine cooking functions including pressure cook, slow cook, rice cooker, yogurt maker, steamer, saute, sterilizer, and food warmer.
The Duo Plus models have feedback bars that show the progress of your current cooking function so you'll stay on top of your schedule and know when the food will be done. You can also let the Instant Pot Duo Plus switch to warming mode when the cooking is done to keep your food at a safe temperature ready to eat.
Like other Instant Pot models the Duo Plus 9-in-1 has a dishwasher-safe inner pot and multi-cooker lid. This model also has extra convenience features such as a lid holder on the pot and a convenient steam vent. For guided recipes using your Instant Pot Duo Plus you can also download the Instant Pot Connect app with more than 1,500 easy-to-follow recipes written specifically for use with Instant Pots.
Check Price
Instant Pot Duo Crisp 11-in-1 Electric Pressure Cooker with Air Fryer Lid, 6 Quart — $117, was $150

Why Buy
One appliance take the place of two of the most popular cookers: an Instant Pot and an air fryer with crisper
One-touch cooking with pre-programmed controls for all cooking functions
Fast and easy cleaning with dishwasher-safe lid, food-grade stainless steel inner cooking pot, and accessories
Exterior is fingerprint-resistant
Air frying adds healthy cooking with little or no oil to the already versatile Instant Pot.
If you're wondering why you should buy an Instant Pot if you haven't already, the Instant Pot Duo Crisp is the answer. This countertop cooker tops other models in the line because it comes with a second top that converts the multifunction pressure cooker into an air fryer. Here's a list of what you can do with the Instant Pot Duo Crisp: air fry, roast, bake, dehydrate, pressure cook, slow cook, cook rice, make yogurt, steam food, sauté, sterilize, and keep food warm. All that in a single appliance, and now it's on sale.
You don't have to be an expert cook to take advantage of this model. Like all Instant Pot deals, the Instant Pot Duo Crisp has loads of cooking functions and if you wish, you can set the time and temperature manually. You can also use one-touch buttons on the digital control panel. You can also refer to the Instant Pot Connect app to find more than 1,500 Instant Pot recipes.
The Instant Pot Duo Crisp comes with everything you need to cook. In addition to the base unit, this multicooker includes a stainless steel inner cooking pot, steam rack, broil and dehydrate tray, an air fry lid, and a dishwasher-safe multicooker lid. Clean up is simple when you put the stainless steel cooking pot, the multicooker lid, and accessories except the air fry lid in the dishwasher.
Check Price
How to Choose an Instant Pot
When shopping for an Instant Pot product, you need to ask yourself what is the main cooking feature you're after. Buy now, you've probably realized that many product functions cross over into multiple product categories. Meaning, there are pressure cookers that air fry. Some air-fryers can bake, as well as multi-cookers. The number of features that Instant Pot products have, although convenient and thoughtful, can become overwhelming when deciding which product you should actually buy.
A good rule of thumb is making a top-three list of features you're looking for in your Instant Pot. Whichever the number one feature is, look to see if that product category exists, then shop that category. If not, move down to number two, then three, and so on. Chances are that there will be a product category for at least one of your top-three desired features. Now let's break down each Instant product category and its capabilities.
Pressure Cookers
Pressure cookers are one of Instant Pot's top-selling product categories and one of the most sought-after cookers. All Instant Pot pressure cookers accelerate the cooking times of dishes up to 70% faster than traditional cooking methods. All models also have easy, one-touch cooking programs for things like poultry, soup, or yogurt. If you're looking for the Instant Pot with the most features, the Duo Crisp offers 11 pre-programmed cooking features and can be converted into an air fryer. However, there are features not included in the Duo Crisp that are included in others, like Wi-Fi functionality in the Smart Wi-Fi pressure cooker, or the ability for customizable programs like in the Duo Evo Plus, where you can customize up to 48 cooking time and temperature settings.
Blenders
Blenders are an Instant Pot category that doesn't have the product feature crossover capabilities as the others do. Essentially because you but a blender for one job: To blend. There are two models of Instant Pot Blenders; the Ace Nova and the Ace Plus. Each model is designed with a specific task in mind. The Ace Nova is best for frozen desserts, while the Ace Plus is best for nut butters. Although that's not all they're good for, whichever type of blending you think you'll be doing more of, you should lean towards that model.
Air Fryers
Air Fryers are another big moneymaker for Instant Pot. Two air fryer models are designed with air-frying as their primary purpose; the Vortex and the Vortex Plus. Yet, in classic Instant Pot style, each model is capable of other cooking functions. Both can also bake, roast, and reheat. But, the Vortex Plus can also dehydrate and broil. Instant Pot also has a series of compact and combination ovens that can air fry along with an array of other capabilities. As mentioned, the Duo Crisp pressure cooker also has air-frying capabilities. However, if air-frying is all you're really looking for, stick with the Vortex or the Vortex Plus. You can save some money by cutting back on the features.
Rice Cookers
The Instant Pot Zest rice cooker cooking line is designed with perfect rice and grain cooking in mind with the push of a button. They range from a standard 8-cup capacity to a large 20-cup capacity. They all can steam and sauté veggies, fish, and other foods. If you enjoy healthy cooking methods and are a fan of ancient grains, the Zest cooking line could be for you.
Multi-Cookers
If you simply can't decide which cooking feature is most important to you, choose a multi-cooker and have them all. The Instant Pot multi-cookers come in two models; the Aura and the Aura Pro. You can slow cook, sauté, roast, bake, steam, stew, make rice/grains, use as a warmer, and make yogurt in these highly functional devices. You can even make a cake in the Aura, while in the Aura Plus you can sous vide. Although they live in the air fryer category, the Instant Pot Vortex and Omni ovens are also multi-cookers of sorts. They utilize dry heat cooking methods and have some features like dehydrate, broil, rotisserie, and toast. The wet-cooking Aura models don't.
We know this is a lot of info to process. This Instant Pot comparison chart is a helpful tool that breaks down all products and their features. Happy shopping!
Editors' Recommendations