You don't need to wait any longer for Instant Pot deals. If you are shopping for Instant Pots for yourself or to purchase as gifts, the best Instant Pot deals you'll find are here. Instant Pot continues to add to its line of multifunction cookers, and we found the following deals waiting for your fast decision. This isn't a year to hem and haw because inventories are leaner than usual, so when you see a deal on an Instant Pot model you want, buy it.
Best Instant Pot Deals 2022
Instant Pot 6-Quart Duo Stainless Steel Pressure Cooker, Red —

$89, was $99

Instant Pot Duo Plus 9-in-1 Electric Pressure Cooker —

$110, was $140

Instant Pot Duo Crisp 11-in-1 Electric Pressure Cooker with Air Fryer Lid, 6 Quart —

$125, was $150
Instant Pot 6-Quart Duo Stainless Steel Pressure Cooker, Red — $89, was $99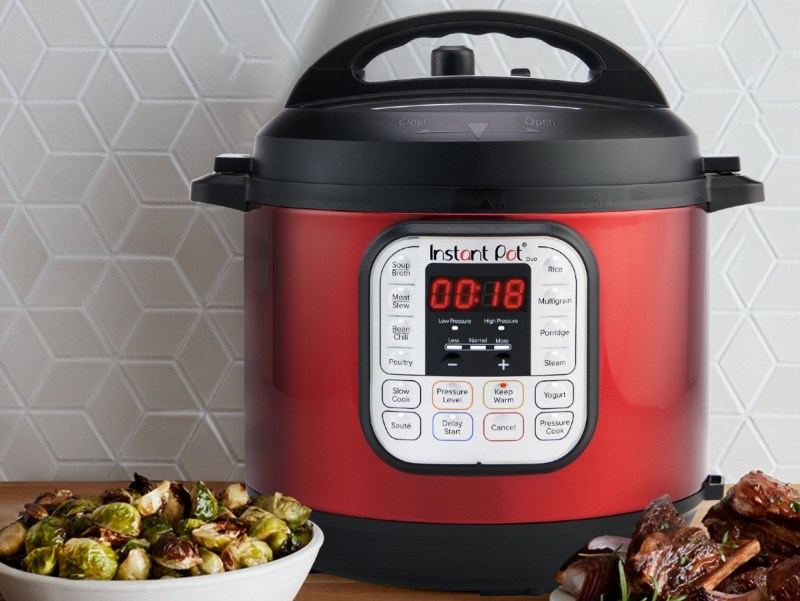 Why Buy
Versatile multifunction cooker saves counter space and takes the place of seven different appliances
The convenience of 13 preprogrammed customized cooking settings
A 6-quart Instant Pot is the right size for most families of four to six people
Red stainless steel finish adds a festive note to your kitchen
You already know that Instant Pot multifunction pressure cookers can replace a long list of countertop cooking appliances to prepare delicious meals quickly. Perhaps you already own an Instant Pot and would like a second unit for parties or big crowds or because you'd like to prepare double-size batches of food or two different meals at a time. In either case, why not take this opportunity to add a little color to your kitchen? This Instant Pot Duo 6-quart model has a red stainless steel outer finish, which is sure to put smiles on faces when almost everyone else has the standard stainless steel finish.
The 6-quart Instant Pot Duo 7-in-1 multifunction cooker is the best-selling model in the Instant Pot line. Six quarts is the recommended size for a family of three or four people. You can use the Duo as a rice cooker, slow cooker, pressure cooker, yogurt maker, sauté pan, steamer, and food warmer.
Even the list of cooking functions doesn't tell the whole story of the Instant Pot Duo, however, because a close look at the informative digital control panel reveals one-touch preprogrammed buttons to cook multigrain dishes, porridge, poultry, soup or broth, chili, and more. So all of these features and functions plus it's red. What fun. This model isn't always available so we suggest that you don't wait if you want one, and buy it now.
Check Price
Instant Pot Duo Plus 9-in-1 Electric Pressure Cooker — $110, was $140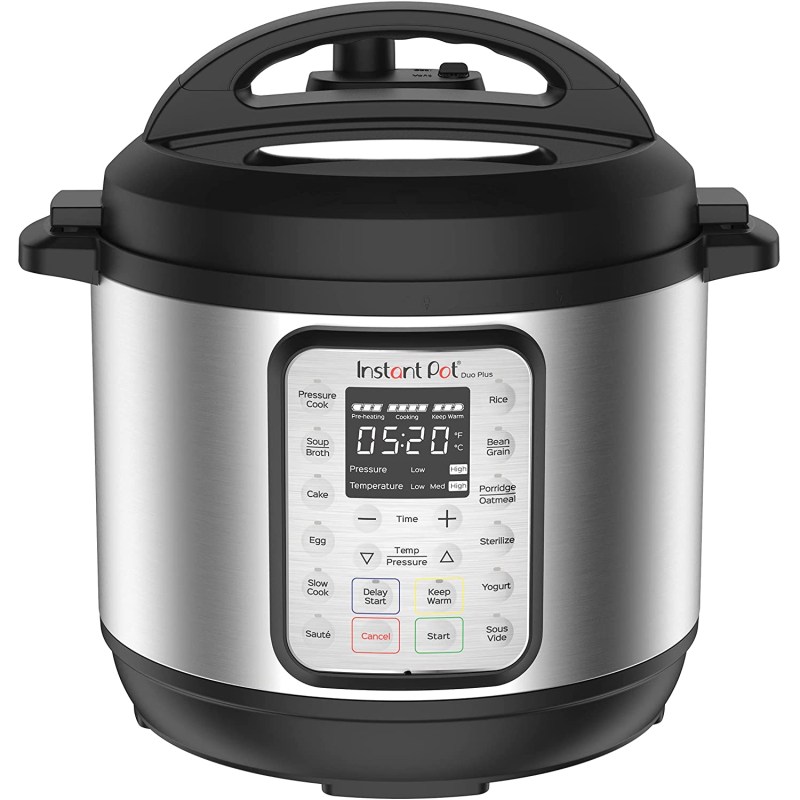 Why Buy
Large-capacity 8-quart multifunction cooker is the right size for large families or parties
Digital control panel keeps you informed about the cooking progress of your meal
Save time by cooking up to 70% faster than conventional methods
You'll get access to thousands of Instant Pot recipes online
If you entertain often or your family has more than four people, you'll want to buy an 8-quart Instant Pot model, especially for eager eaters who enjoy your meals even more than usual when you start cooking with an Instant Pot. The Instant Pot Duo Plus 8-quart model has nine cooking functions including pressure cook, slow cook, rice cooker, yogurt maker, steamer, saute, sterilizer, and food warmer.
The Duo Plus models have feedback bars that show the progress of your current cooking function so you'll stay on top of your schedule and know when the food will be done. You can also let the Instant Pot Duo Plus switch to warming mode when the cooking is done to keep your food at a safe temperature ready to eat.
Like other Instant Pot models the Duo Plus 9-in-1 has a dishwasher-safe inner pot and multi-cooker lid. This model also has extra convenience features such as a lid holder on the pot and a convenient steam vent. For guided recipes using your Instant Pot Duo Plus you can also download the Instant Pot Connect app with more than 1,500 easy-to-follow recipes written specifically for use with Instant Pots.
Check Price
Instant Pot Duo Crisp 11-in-1 Electric Pressure Cooker with Air Fryer Lid, 6 Quart — $130, was $150

Why Buy
One appliance take the place of two of the most popular cookers: an Instant Pot and an air fryer with crisper
One-touch cooking with pre-programmed controls for all cooking functions
Fast and easy cleaning with dishwasher-safe lid, food-grade stainless steel inner cooking pot, and accessories
Exterior is fingerprint-resistant
Air frying adds healthy cooking with little or no oil to the already versatile Instant Pot.
If you're wondering why you should buy an Instant Pot if you haven't already, the Instant Pot Duo Crisp is the answer. This countertop cooker tops other models in the line because it comes with a second top that converts the multifunction pressure cooker into an air fryer. Here's a list of what you can do with the Instant Pot Duo Crisp: air fry, roast, bake, dehydrate, pressure cook, slow cook, cook rice, make yogurt, steam food, sauté, sterilize, and keep food warm. All that in a single appliance, and now it's on sale.
You don't have to be an expert cook to take advantage of this model. Like all Instant Pot deals, the Instant Pot Duo Crisp has loads of cooking functions and if you wish, you can set the time and temperature manually. You can also use one-touch buttons on the digital control panel. You can also refer to the Instant Pot Connect app to find more than 1,500 Instant Pot recipes.
The Instant Pot Duo Crisp comes with everything you need to cook. In addition to the base unit, this multicooker includes a stainless steel inner cooking pot, steam rack, broil and dehydrate tray, an air fry lid, and a dishwasher-safe multicooker lid. Clean up is simple when you put the stainless steel cooking pot, the multicooker lid, and accessories except the air fry lid in the dishwasher.
Check Price
How to Choose an Instant Pot
After perusing this list, you probably realize that there is a multitude of different Instant Pots to purchase, all with varying features and benefits. There are four main things to think about when choosing which Instant Pot is right for you.
Pick Your Size
Even the smallest Instant Pot holds a decent amount of food. Instant Pots come in 3-, 6-, or 8-quart capacities. If you're cooking for a large family or small army, the 8-quart options might be best. If you're cooking for yourself or one other, 3 quarts should be more than enough.
Know What You Want to Cook
All Instant Pots come standard with Manual, Pressure Cook, Saute, Slow Cook, Steam, Keep Warm, Rice, Meat/Stew & Soup/Broth cooking functions. However, depending on the model, there are between four and nine preset cooking functions exclusive to that specific Instant Pot. For instance, if making homemade yogurt is important to you, every Instant Pot model has a yogurt function except the Lux. So, when you're shopping for a cheap Instant Pot, take note of the cooking functions. If there's a specific cooking setting that's not standard on all models, make sure you get the one that has that feature.
How Tech-Savvy Are You?
There's a surprising amount of tech that goes into most kitchen appliances these days, and Instant Pots are no exception. While cooking with an Instant Pot is relatively simple (add ingredients, push button), a couple of models have more tech than others, and the price reflects that. The Smart Wi-Fi edition of Instant Pot allows you to control your cooking from your smartphone. The Instant Pot Max is the most high-tech model with canning, sous vide, and NutriBoost technology. Also, if you live in a high-altitude area, the Max will automatically adjust your food's cook time. If figuring out how to work these fancy functions, a lower-end model is probably best.
Know Your Budget
When it comes down to brass tacks, price always plays a role in any decision-making process. Even with the great Instant Pot deals and sales you see above, they're still an investment. Like any sound investment, you want to determine the ROI (return on investment). Just like tricking out a new car or truck with leather seats and a retractable sunroof, the more features that are in an Instant Pot, the more you'll pay. Maybe you can get by with just 10 cooking functions instead of 17? Will you honestly use every setting? We can't answer that question for you, but if you got the dough, make the bread.
Editors' Recommendations