If you're shopping for Keurig deals, you're in good company. The choice, convenience, and economy of Keurig single-serve coffee makers all contribute to their growing appeal and massive popularity. Keurig K-Cup single-serve pods command yards of grocery store shelf space with an endless variety of coffee brands that want their share of the Keurig market. Keurig now manufactures a wide range of coffee makers to meet the needs and desires of many types of coffee drinkers. We monitor deals and sales of the best Keurig coffee makers so when you're ready to buy, we have the data you need to decide and act fast.
If you're a single-serve coffee fan but prefer coffee makers compatible with Nespresso pods, we also track the best Nespresso deals.
Best Keurig Deals
Keurig K-Slim Coffee Maker —

<strong>$90</strong>, was $130

Keurig K-Duo Essentials Single Serve and Carafe Coffee Maker —

$109

Keurig K-Elite Single Serve K-Cup Pod Coffee Maker —

<strong>$130</strong>, was $190
Keurig K-Slim Coffee Maker — $105, was $130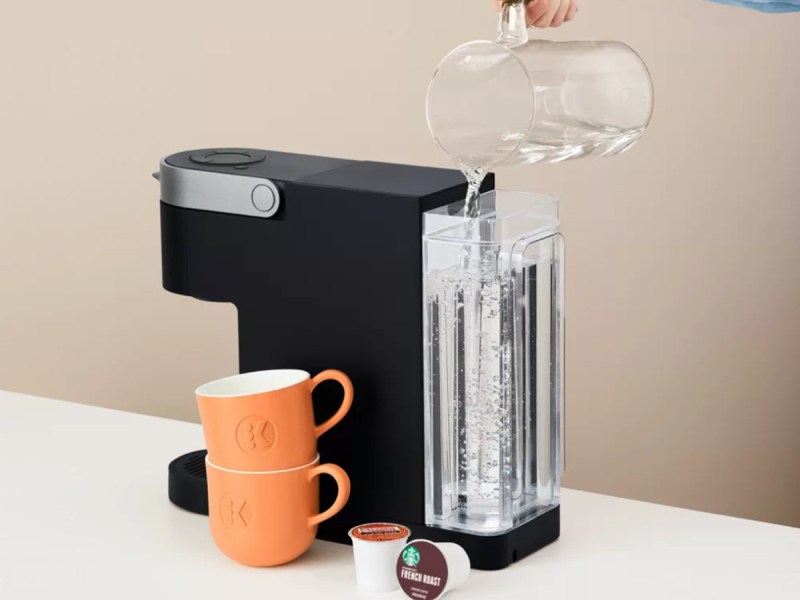 Why Buy
Saves counter space with its slim design
46-ounce water reservoir lets you brew multiple K-Cups
Selectable cup sizes plus travel mug compatibility
Fast-brewing and energy-saving features in one appliance
If you're looking for a fast-brewing Keurig single-serve coffee maker for two or maybe three people that doesn't cost a ton and also cuts the hassle of adding water before brewing every cup, the Keurig K-Slim is an excellent choice. At only 5 inches wide, the K-Slim doesn't hog counter space either.
Keurig's K-Mini single-serve coffee makers are convenient and even a bit smaller than the K-Slim, but with the K-Mini and K-Mini Plus you have to add water for every cup. The K-Slim holds up to 46 ounces in its water reservoir so you can make up to four 8-ounce cups of coffee, for example, without the need to add more water. Adding water to compact, fixed, single-cup reservoirs requires a bit of dexterity to avoid spillage, so the K-Slim's larger reservoir means less cleanup, too.
Versatility and convenience lead with Keurig single-serve coffeemakers, and the K-Slim is no exception. You can brew cups in three sizes: 8 ounces, 10 ounces, and 12 ounces. You can also fill a travel mug as long as it's not taller than 7 inches. A large part of the K-Slim's charm is that with a full water reservoir, it can brew coffee drinks, tea, or hot cocoa with different brands and flavors as easily as switching K-Cup pods in the top front of the coffee maker. Maybe you just need a quick cup to go in the morning, and using a conventional coffee brewer would inevitably waste coffee grounds because it's too easy to make too much. With the Keurig K-Slim, you can make just as much coffee as you want. If you want your brew a bit milder, just make a slightly larger cup. If you want the strongest brew, stick with the smallest brew size. Versatility rules, and you don't have to give counter space or a lot of money with the Keurig K-Slim.
Buy at Amazon
Buy at Walmart
Keurig K-Duo Essentials Single Serve and Carafe Coffee Maker — $79, was $109

Why Buy
Brew single cups with K-Cup pods or a carafe from ground coffee
Save money and buy just one coffee maker
Conserve counter space with a single, compact coffee maker
Satisfy individuals who want a specific brand or coffee flavor
When considering the best Keurig deals, shoppers may wonder if it's cheaper to have a Keurig or a standard coffee maker. If you are faced with the same quandary, the Keurig K-Duo Essentials Single Serve and Carafe Coffee Maker is the answer. With the K-Duo you can have both a single-serve coffee maker and a multiple-cup coffee brewer.
How much coffee do you want? The Keurig K-Duo Essentials brews 8-, 10-, or 12-ounce single-cup servings or 8, 10, or 12 cups of brewed coffee in the included carafe. The K-Duo Essentials coffee maker also accepts travel mugs up to 7-inches tall so you can take your brew on the road.
The Keurig K-Duo Essentials is a low-cost solution to the dilemma of missing out on one type of coffee maker when you buy the other kind. You'll be hard-pressed to find a combination of a separate single-serve coffee machine and a brew machine that costs less than the K-Duo Essential. You also save on counter space because you only need to make room for one machine. To make life even simpler, both the K-Cup mechanism and the brewed coffee component use the same 60-ounce water reservoir, so you only have to fill one water source for both coffee makers. The best deal is always the one that saves money and over-delivers on your expectations. In this case, the best Keurig deals can easily come down to the K-Duo Essentials Single Serve and Carafe Coffee Maker.
Buy at Walmart
Keurig K-Elite Single-Serve K-Cup Pod Coffee Maker — $140, was $190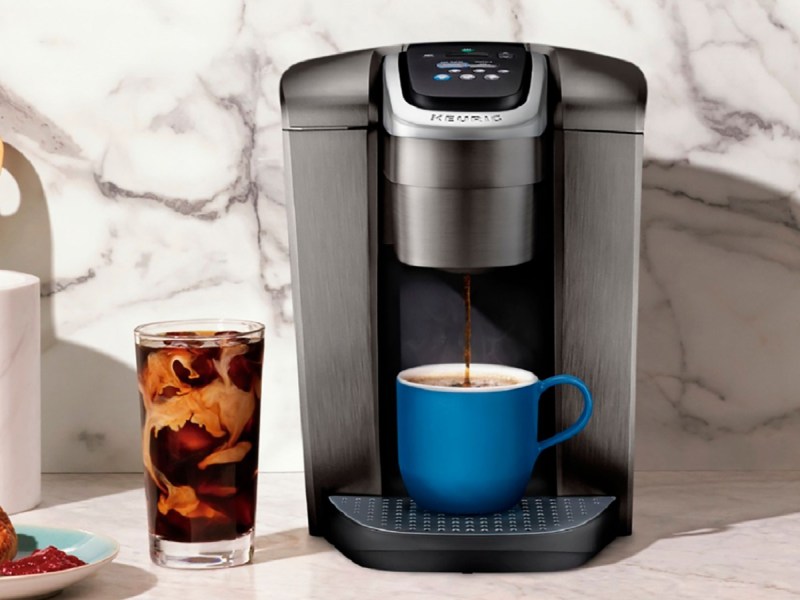 Why Buy
Built-in water filtration means better-tasting coffee
Selectable brew strength lets you individualize to everyone's preference
Convenient removable water reservoir means less spillage
The K-Elite's 75-ounce reservoir lets you brew up to nine 8-ounce cups before refilling
If you or other coffee drinkers in your home or office have specific preferences in their daily brew, the Keurig K-Elite single-serve coffee maker may be in order. You can control the variables and fine-tune the brewed output with the K-Elite to an extent not possible with many other Keurig models.
Start with water filtration from the K-Elite's integrated permanent water filter. If you already have a water filtration system this feature may not matter as much, but not everyone has that luxury, and the final taste of our coffee can be tainted by unfiltered water. If you want your coffee to taste the way it's supposed to, starting with filtered water gives you a neutral start.
In addition to filtered water, the K-Elite also allows you to control the brew strength of each brewed cup. Select the cup size and brew strength with the single-touch buttons on top of the K-Elite. You can even use a setting for perfect iced coffee drinks. Size matters, too, of course, and you can select from five brew sizes with the K-Elite, including travel mugs. The Keurig K-Elite's removable water reservoir is another significant selling point. The reservoir's 76-ounce capacity is good for up to nine 8-ounce cups, six 12-ounce mega-cups, or a dozen 6-ounce cups of coffee. You won't have to run back and forth refilling the water reservoir often if you have four to six enthusiastic coffee drinkers around. The larger water reservoir also means your coffee station will be neater, too, because taking the reservoir to fill at a sink results in fewer water spills than refilling a fixed reservoir on other models. Overall, the Keurig K-Elite is a worthwhile investment for a good-sized group of coffee lovers.
Buy at Best Buy
Buy at Amazon
Editors' Recommendations