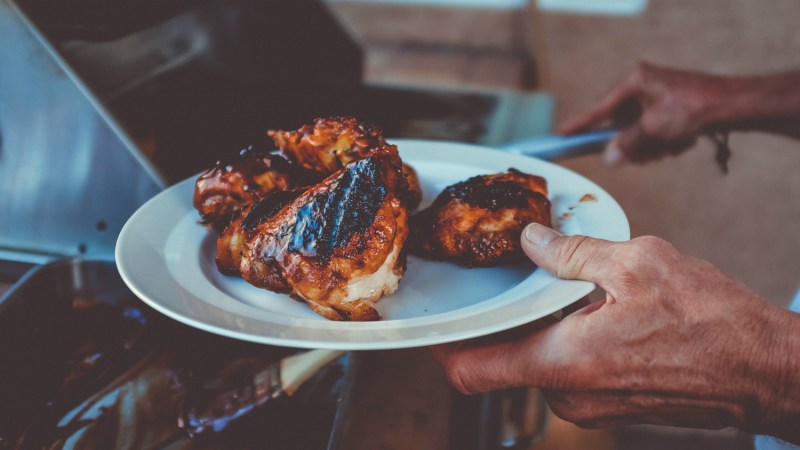 With Thanksgiving a mere few days away, we're preparing like mad to get everything in order for the big meal. We've brushed up on safety precautions for how to deep fry a turkey, made our shopping list for the side dishes and stocked our bar with plenty of wine, beer and spirits. And while we love the traditional menu and recipes, we wanted to switch things up this year by including one of our favorite American culinary traditions — good old Southern barbecue.
To give us a few tips on how to make the top eating holiday even better this year, we got in touch with our friends at the newly opened Lewis Barbecue in Charleston, South Carolina. Owner and pitmaster John Lewis knows his smoked meats and succulent southern sides. He grew up in El Paso, Texas, and moved to Austin at 18 to embark on his culinary career. There, he helped his friend Aaron Franklin open the famous Franklin Barbecue. He partnered with LeAnn Mueller to open La Barbecue in 2012. Then, in 2015, he moved to Charleston and opened Lewis Barbecue.
Lewis' dedication to barbecue is unmistakable. He welds his own smokers and rises at 4 am to tend the fire. From prime beef brisket to Texas hot guts sausage, he knows his meats from nose to tail. So we asked him to give us a few barbecue turkey tips along with a recipe for hatch green chile corn pudding that'll have your Thanksgiving guests asking for seconds and thirds.
The Manual: With so many people complaining that turkey tastes dry and bland, why don't more people want to experiment with other meats on Thanksgiving?
John Lewis: I think it's more about tradition than anything else. Plus, it's always a little scary trying a new recipe or technique when you're having a big dinner party.
TM: Do you have any tips for keeping the turkey juicy and flavorful?
JL: Don't overcook it! I know that sounds obvious, but people are so scared of serving raw turkey that they go way over the right internal temperature. At Lewis Barbecue, we just cook the turkey breasts, so it's easier to regulate. I cover the meat with a flavorful dry rub (sorry, secret ingredients!) and then smoke it low and slow in our custom-made pits for about two and a half hours. We let the breast rest, and then it's sliced to order at the meat counter. As for a trick that any home cook can do — soak the slices in the turkey jus. It adds an intense flavor before it hits the plate.
TM: What about BBQ? How can Americans incorporate different meats and sides from the BBQ tradition into their Thanksgiving meal?
JL: At my Thanksgiving table, I always serve brisket, but I'm a tad biased. Anyone can incorporate a little smoke into their meal though, whether you smoke the meat on the grill or even add liquid smoke to the turkey brine. My advice is to try out the recipes before the big day so you can wow your guests without stressing out about timing.
TM: What is your favorite classic Thanksgiving side? What about a new dish you can't live without at your table?
JL: I love super creamy mashed potatoes. A new dish that we always have on the table is our Hatch Green Chile Corn Pudding. It's a traditional Southern side dish with a twist. We roast the green chiles on our pits, but you can sub them for store-bought. The dish is rich with a bit of heat.
Hatch Green Chile Corn Pudding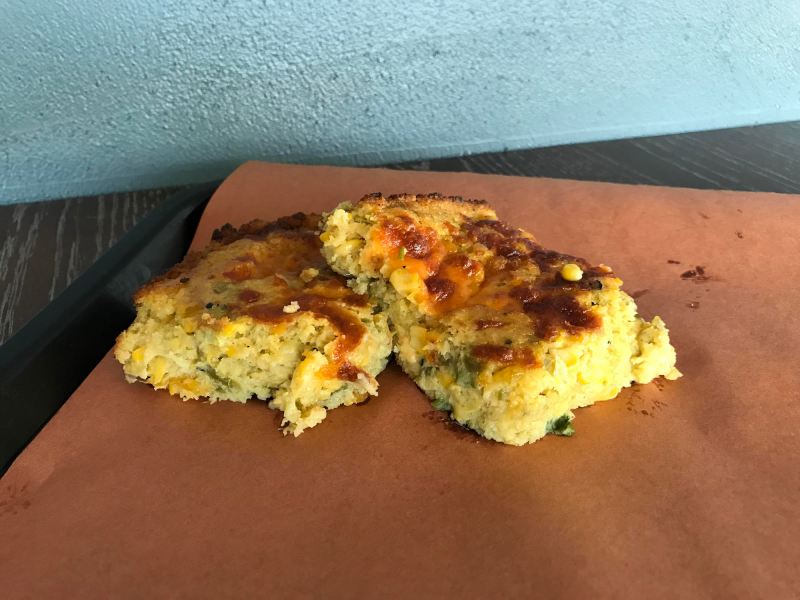 Servings: 4-6
Ingredients
1/4 cup chopped roasted hatch green chiles (about 2 or 3 chilies)
1/2 lbs frozen corn kernels, pureed
1/4 cup all purpose flour
1/4 cup yellow cornmeal
2 tbsp granulated sugar
1 tbsp kosher salt
1/2 tsp baking powder
1/4 tsp granulated garlic
3 large eggs
2/3 cup heavy cream
1/2 cup mild cheddar cheese cut into .5 in. cubes
2/3 cup corn kernels, freshly cut (1 ear of corn)
2 tbsp butter
1/4 cup shredded mild cheddar cheese
Method
Roast the hatch green chiles over a hot open flame until the skins blacken and separate, about 4-5 minutes each side. Place the roasted chiles in a ziplock bag and allow them to steam in their own heat for 1 hour. Peal the skins and remove the seeds. In a food processor, roughly chop the chiles.
Defrost the frozen corn kernels and chop in a food processor until pureed.
Combine the flour, yellow cornmeal, granulated sugar, salt, baking powder and granulated garlic in a mixing bowl and blend together until homogeneous.
In a separate mixing bowl, beat the eggs and whisk in the heavy cream. Add the frozen corn puree, chopped and roasted Hatch green chiles, cubed mild cheddar cheese and fresh corn kernels.
Pour the dry ingredients in the the wet ingredients. Whisk together until homogeneous.
Preheat a medium cast iron pan in an oven set to 375°F.
Take the heated cast iron pan out of the oven and add the butter. Allow butter to heat until foaming and milk solids are lightly toasted. Be sure to allow the butter to fully coat the bottom.
Pour corn pudding batter into the hot cast iron pan with foaming butter. Sprinkle the shredded mild cheddar cheese on the batter and return to the oven.
Cook for 30 minutes at 375°F. The cheese should be nicely browned and the pudding should be set, but not firm in the center.
Allow to rest for 5 minutes and serve.
Editors' Recommendations