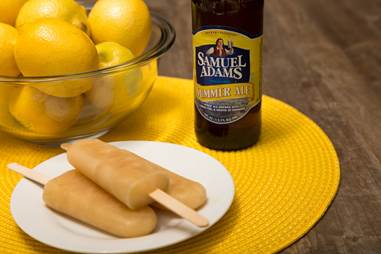 No matter what the Pumpkin Spice Overlords at Starbucks say (or, for that matter, every craft brewery putting out or about to put out their own pumpkin beer), it is still summer, people, and summer means light-hearted, drunk fun.
Labor Day is one of the last chances to do this on a week day, so we've put together some treats that you can drink or make that'll help you say goodbye to wearing white and welcome the return of the brown spirit months.
Boozy Popsicles: Because it's still summer, and you need fun treats that will help you keep your buzz going. These pops, from Sam Adams, are fresh and citrusy—perfect for the last days of summer.
Sam Adams Summer "Ale-Fresca" Popsicle
Juice from 3 small to medium sized lemons (make sure they smell aromatic), about 1/3 cup
Juice from 1 pink grapefruit, about ¼ cup
2 tbsp sugar
1 Bottle Summer Ale
1 tsp lemon zest
1 tsp grapefruit zest
Method: Juice the lemons and grapefruit.  Combine the juice with sugar and stir until completely dissolved.  Add the Sam Adams Summer Ale slowly to prevent too much foam from forming.  Add the zests.  Taste the mix and adjust the sweetness by adding 1 – 2 tbsp more sugar if needed.  Use ice cube trays or 2 oz paper cups as ice pop molds.  Pour the mixture into your molds.  Cover with aluminum foil and poke tooth picks into the center of each one.  The aluminum foil will prevent the stick from falling sideways.  Allow to freeze overnight and enjoy.
Canned Cocktails: Slow & Low Rock & Rye Cans are small, but mighty. At just 100ml each, these cans pack more punch than an entire six-pack of half-proofed Jack and Cokes bottles. Clocking in at 84-proof, these make every other canned cocktail look like it's made of seltzer (and we're not talking those new hard seltzers, either).
Related: 5 Brown Liquor Drinks For After Labor Day
Candy and Cider: Wine isn't the only thing you can pair with chocolate or candy. Check out this pairing from Angry Orchard, using their latest release, Old Fashioned, a cider aged in oak barrels.
Angry Orchard Old Fashioned + HI-CHEW Cherry: Angry Orchard's Old Fashioned may just be aged with dried tart cherries, but the HI-CHEW cherry flavors makes the cider taste like a full bag of fresh picked cherries.  Try chewing one before you take your first sip, then another as you continue to drink. The sweetness in the HI-CHEW will help bring out the flavor nuances in the Angry Orchard.
Need other ideas? Check out our Labor Day Cocktails.
Editors' Recommendations